'Left-Hook Lounge': Vivek Wallace's Mailbag feat. Hatton, W. Klitschko, Gamboa, Tyson, and more!!!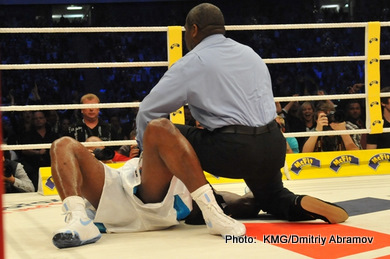 Elvin H. (Greater London, UK): Ricky Hatton appears to be at a very low point in his life. What are your thoughts about him and all these other athletes and their drug addictions?

Vivek W. (ESB): Too much money, too much time, too little ambition, and too little to do (with their time). That basically sums it up. A week ago, I stated that this very same problem is perhaps the greatest culprit in the recent out-of-ring struggles of Floyd Mayweather jr. When an athlete is young, hungry, and motivated, he's more likely to spend every waking moment in clear pursuit of his ultimate happiness. The problem with guys like Hatton, Calzaghe, and more recently Floyd Mayweather, is the fact that these are men who have reached a status where hit or miss, sink or swim, they have pretty much touched the ceiling of their ambition and there's little else in life that motivates them. Aside from this, in the case of Calzaghe and Hatton, neither man will probably ever have another opportunity to take part in the blissful high associated with a transcendent mega-fight again, so like others in life without beneficial motivation, they search for this 'high' in all the wrong places.

I feel really bad for each of these men. As Fathers, husbands, and beyond, they have more than enough reason to pull themselves from the mental 'dumps' of life, yet they can't see the forest for the trees.. Sad. Very sad. Personally, I don't see myself doing what many others of the media do by making mockery of them. I wish them all well, and I wish even more that those around them were more instrumental in helping them to find success in life itself. At some point, every man will find himself floating on a wing and a prayer. Often in life, what separates those who are able to 'fly' from those who remain grounded isn't the "wing" alone or the prayer alone. It's the people around them who help lift them up by temporarily carrying across a finish line they may not have otherwise crossed. I've been there....have you been there?

Gaston E. (Orlando, FL): If you had to list 10 fighters over the last 20 years who you enjoyed watching the most, who would they be?

Vivek (ESB): For starters, I don't think anyone can answer this question without leaving someone out. That being said, I can't condense it to 10, but I'll give you my top 15. in no specific order: 1.) Roy Jones Jr. (absolutely amazing fighter. Arguably the most physically gifted fighter in this era of the sport), 2.) Hopkins (Never had blazing hand-speed, never had one punch KO power, but did far more with far less than any fighter I can think of) 3.) Toney, (Arguably one of the most technically sound fighters of this era. Fearless, and has no problem getting down and dirty with the best of 'em) 4.) 'Prince' Hamed (Totally unorthodox, totally off the beat-and-path, but he also totally earned my respect with his punching power and ability to get the job done).

5.) Trinidad (Great deal of intensity, great guy, and he came to fight every night....gotta love 'em), 6.) Mayweather (Best pure fundamental fighter of this era, and one of the best chess-masters in the history of the sport), 7.) Pacquiao (Most fierce competitor I've seen since a young "Iron" Mike Tyson. Great speed, a ton of heart, and sheer will puts him on a level few others will ever see in the sport). , 8.) Marquez (Precision punches at a high premium, and a sound tactician. One of my Top 3 favorites in the sport today), 9.) Tyson (Need I say any more? His name says all needed to be said. He lost his way, but in his prime, this man was as exciting to watch as any other fighter in the history of the sport....internationally transcendent).

10.) Vitali Klitshcko (Vastly under-rated by many, but this is the most sound big-man in the game since Lennox Lewis...speaking of which...) 11.) Lennox Lewis (Wasn't the most exciting to watch, and a rather dull personality didn't help, but the man aged like fine wine and will go down as one of the best). 12.) Ricky Hatton (There was just something about the "Rickster"! I liked his energy and his "British Bulldog" style! Great to watch). 13.) Zab Judah (Excellent young fighter when he hit the scene. The only thing he lacked was vision....3-D 'vision'. Defense, determination, and discipline. That 'vision' is the only thing that separated he and FMWjr.). 14.) Shane Mosley (Yeah, yeah, I know there was a doping allegation, but this man epitomized what I like to see in a fighter early in his career, and I loved to watch him). 15.) Oscar De la Hoya (I hated the way he evolved, becoming a total diva with the mega-fight demands, but in his day, I loved watching him go to battle).

Andrade S. (Miami Lakes, FL): I still find Wladimir Klitschko to be extremely boring. Who do you think (if anyone) possess the biggest threat to him in the sport?

Vivek W. (ESB): At this point I think it's safe to assume that David Haye isn't ready to take this challenge. I would follow that in saying that although Adamek has the heart to take the challenge, the height and reach advantage, coupled with the devastating power Wladimir brings with it would virtually guarantee us that Adamek would never see the "championship rounds" to give himself a chance to demonstrate that huge heart of his. I probably shouldn't be so quick to remove men like Chambers, Arreola, and others from the table, but the reality is that they are no more ready or prepared to climb this 'mountain' than Haye or Adamek. Truthfully, the ONLY person out there who I think would not only possess a threat to him, but would stylistically be all wrong for him, is a man we'll never see him face. That man is older brother Vitali! Wladimir has a tendency to try to feel an opponent out and get use the strategical tactic of hugging and wrapping an opponent up to tire them out.

In unison with his very formidable jab, those tactics work brilliantly. The ONLY man in the sport who could offset those tactics is Vitali. A style like Vitali's, coupled with his own height and reach advantage with power to match would nullify everything about Wladimir. It would remove his comfort zone of being able to 'feel out' an opponent, and it would nullify his frequent attempts to jab-and-hold, tiring out his opponent out. In this fight, he'd be required to fight from the first bell to the last one, as Vitali is very aggressive and certainly has enough power and ring-tools to hurt, and maybe even stop him. I don't know if we ever see this fight happen, but Vitali aside, you can blame the weak state of the division or whatever you like, but there's no other option to unseat him as champ.

Francisco V. (Kendall, FL.): What were your thoughts on Gamboa's victory this weekend?

Vivek W. (ESB): I thought Gamboa's victory was a bit bittersweet one. It was great that he got the nod, but the more I see him, the more I realize there's an evolution related issue he faces, as well. He's at an odd stage where he's heads and shoulders above many of his contemporaries, yet he's such a young prospect that it's easy to see that and be coaxed into putting him in with someone he may actually not be ready for. He has the hand-speed, the power, and the style, but he still has bad footwork that often makes some think he has a weak chin. He doesn't have a weak chin, as he gets right up every time he hits the canvas, and he has never been seen really buzzed.

He gets knocked down because more often than not, he's off step and off balance. A simple fundamental element like foot work and balance can make the difference in a point loss that results in a match loss. These are the kind of things that Gamboa's evolution hasn't quite afforded him, yet if he loses, it will be the primary reason why. I love the kids talent and I think he's amazing, but the best sign of truth to my theory was the decision to keep him away from Celestino Caballero when the opportunity came up recently. He can't be held out of marquee fights for too much longer, so ready or not, the time has come. We'll see if he can wing-it! I hope he can. He says he wants JuanMa and others. Those days may be closer than the thinks. Hope he's ready, as he looks to be, but apparently may not. Stay tuned.

(I WOULD LIKE TO TAKE A MOMENT AND ASK EVERYONE TO SAY A SILENT PRAYER FOR OUR LOST COMPADRE.....A MAN WHO WAS TRULY ALL HE WAS SUPPOSED TO BE....."COACH" TIM WALKER. THIS WAS A MAN WHO REACHED OUT TO ME ON THIS VERY SITE AND OPENED A FRIENDSHIP THAT WILL NEVER DIE. MAY HE REST IN PEACE, NOW, AND FOREVER MORE. AUM....PEACE....AMEN)

(Vivek Wallace can be reached at vivexemail@yahoo.com, 954-292-7346, Youtube (VIVEK1251), Twitter (VIVEK747), Facebook, and Myspace).

Article posted on 13.09.2010
previous article: Kudriavtsev looking to derail the Murray machine
next article: Is Shannon Briggs The Man To Test A Klitschko? "The Cannon" Gets His Chance Next!