Biosse-King Brawl at Twin River! Photo Gallery & Report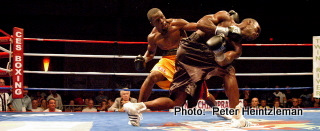 By Trish Kilcullen & Pete Heintzleman - America's Labor Day started early for two super middleweight boxers, at the Twin River Event Center, In Lincoln, Rhode Island, as Vladine Biosse and Ibahiem "The Almighty" King duked it out for the New England Super Middleweight Belt.

In spite of the long holiday weekend, Jimmy Burchfield's Classic Entertainment & Sports hosted the card, and a sizeable attendance of hearty New Englanders turned out for the fights Friday night. The weatherman reported threats of hurricane storms in New England; what he mis-predicted, was the hurricane hit inside, not outside, as the headliners, Biosse and King treated the fans in attendance to a super eight round bout of hurricane force at the Event Center..

Vladine Biosse, now 8-0, 4 KO's, recently signed by Jimmy Burchfield, holds lots of promise for New England boxing fans, as he has shown great athletic skills, transferred from a family lineage of athletes, and a college football history at
the University of Rhode Island, where he defended his teams goal line from the attack. His last fight, before tonight, was against New England gatekeeper,Joey McCreedy, where Biosse also bested his opponent, showing great defense and jabbing prowess, keeping the mauler, McCreedy at bay, when others had failed. Stick, jab and circle bested the favorite McCreedy that night, in such impressive style, that Burchfield gave him the nod for the main event this evening.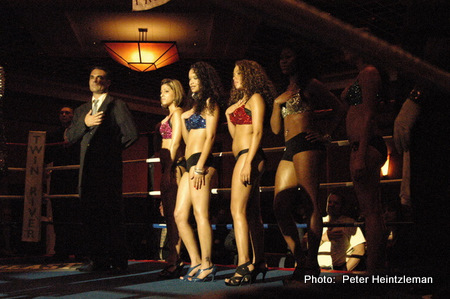 After the national anthem, and the clearance of the ring girls, when the first bell rang, King came right after Biosse, and was greeted by a stiff right jab to the head. Yet King came to win, not just to fill a late "TBA" slot on the main event.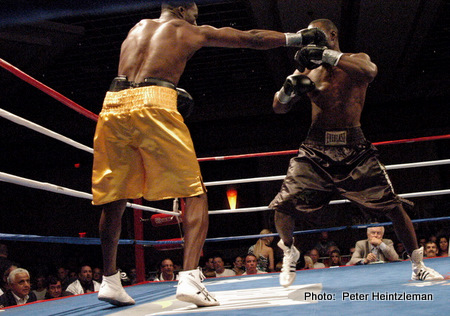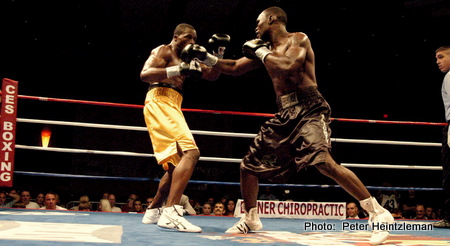 And fill a slot he did, as he answered the almost-patented effective jabs of Boisse, with effective jabs of his own. Although the visitor was busy trading shots with the home town man, he ate a lot of leather in return. It was if he didn't care: King was relentless in his pursuit of Boisse, and King won over a lot of fans this evening, as many in press row had expressed surprise that Boisse had such a tough time with his foe. King hosted Boisse's inaugural trip to the canvas; the first in his pro career.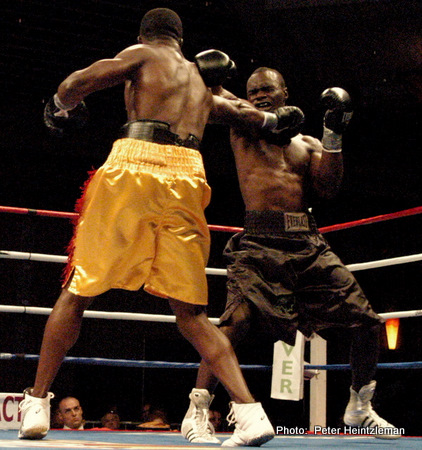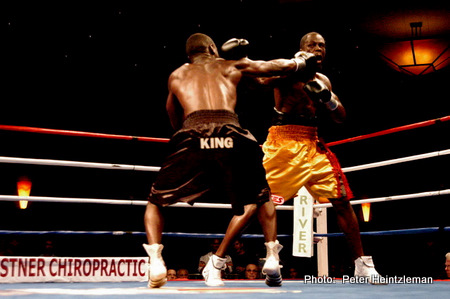 Kudos to Ted Panagiotis, in making the match, as the fight was closer than most seasoned eyes expected, and set the stage for what may have been New England's fight of the year so far.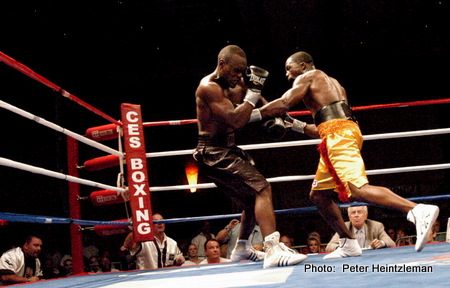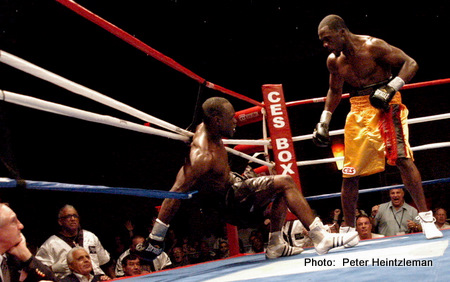 As the final scores were announced in favor of Biosse, "The Almighty" King, while his gloves were being unlaced by his corner, responded, "You want a rematch? I'll give you a rematch. And next time: I will win!" Vladine glared; Jimmy smiled.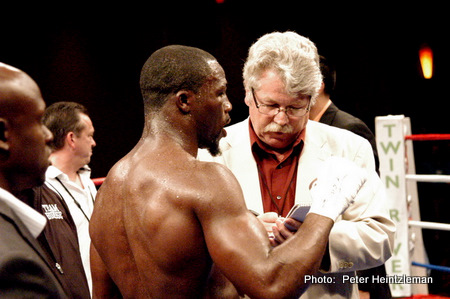 In the post fight ring interview with Bob Trieger, Boisse commented: "I threw a punch – a wild hook – and he checked me with a right," Biosse said about his first knockdown. "Give it all to him. He's a veteran, an Olympic qualifier, who has fought a lot of top guys. He came to fight; well prepared and in shape. The knockdown was a blessing. I learned that I need to be patient from that knockdown. I hurt him and then chased, going for the knockdown, and he caught me off balance. I learned that if the knockdown comes, great, but a victory is what really counts."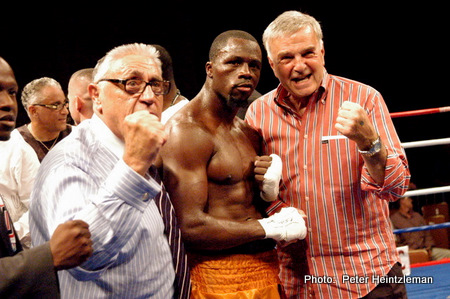 You gotta love it. We want Ibahiem King back again. What a fight! Article posted on 07.09.2010
previous article: Amir Khan Agrees To Face Marcos Maidana On Dec. 11th – According To The WBA 140-Pound Champ's Twitter Page
next article: Promoter Frank Warren Asks, "Why Does David Haye Only Fight Twice A Year?" - Also Says Haye Is Avoiding Both Klitschkos