Bradley-Abregu-Angulo-Alcine News Conf Quotes
RANCHO MIRAGE, CALIF. (July 15, 2010) -- Undefeated World Boxing Organization (WBO) junior welterweight champion and Top-10 pound for pound fighter TIMOTHY "Desert Storm" BRADLEY, his opponent, undefeated Top-Five-rated welterweight contender CARLOS ABREGU, No. 1 junior middleweight contender ALFREDO "Perro" ANGULO and his opponent, former World Boxing Association (WBA) super welterweight champion JOACHIM ALCINE, hosted their final news conference today at Agua Caliente Casino • Resort • Spa in Rancho Mirage, Calif.

The fighters will be featured atop an all-action card, in separate 12-round bouts. Angulo vs. Alcine will be a World Boxing Council (WBC) super welterweight title elimination bout. Bradley vs. Abregu will be a non-title welterweight bout..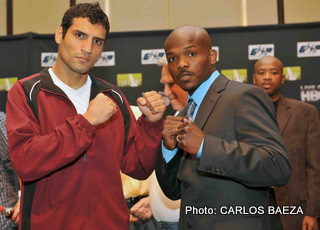 Promoted by Gary Shaw Productions and Thompson Boxing Promotions, the Bradley-Abregu / Angulo-Alcine doubleheader will take place This Saturday! July 17, at The Show at Agua Caliente Casino • Resort • Spa in Rancho Mirage, Calif.. HBO Boxing After Dark will televise both bouts live, beginning at 9:45 p.m. ET/PT (delayed on the West Coast.)


TONY MORGAN (ALCINE'S TRAINER):

We have just finished up a tough training camp. We're prepared. Come Saturday, there will be a war. Angulo... Hang on!

JOACHIM ALCINE:

I know it's not going to be an easy fight with Angulo. He can bang but so can I. I am coming with a mission and that is to make the victory mine.


The guy can fight but I can hit too. I have not underestimated him and he had better not have underestimated me. I was a world champion by accident. I had the wrong type of training. This camp has been a lot different. I've worked harder for this fight that I ever have before.

I have the talent and the right people behind me. That's the reason that I'll be at my best on Saturday night.

CLEMENTE MEDINA (ANGULO'S TRAINER):

Angulo has been my fighter for years. I can tell you for sure he is coming to win. I don't know if it will be my KO or decision but I know he will in.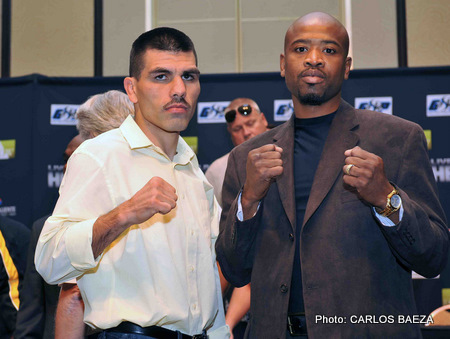 ALFREDO ANGULO:

When Gary suggested I fight Alcine, I said 'yes' right away. This Saturday is going to be a great show. I haven't underestimated him, I never underestimate anybody. This show is not going to be an exception. I would like to thank Daryl Hudson. I am going to show everyone what a great job Daryl has done with me and my conditioning .

LUIS BARRAGAN (HBO, DIRECTOR OF PROGRAMMING):

HBO is excited about this card. This card is important. The 140-Pound division is the deepest talent-filled division wihich includes Devon Alexander, Marcos Maidana and Amir Khan. It's a real marquee division that's had fighters such De La Hoya, Pacquiao, and Mayweather. We're excited to have Tim Bradley with us on HBO. He is fighting a tough punching opponent.

HECTOR ROCA (ABREGU TRAINER):

We have a fighter ready. He doesn't talk much but he's come to take it on Saturday night. Abregu did what he had to do to win his last fight in Mexico. Abregu has never lost and he doesn't know how to.


CARLOS ABREGU:

I have worked hard for this fight and I am ready for this fight. I know Tim is a great champion. This fight is important for me and is even important for Tim. I can't wait to fight and win and take on other fighters in the same division.
I will impress HBO with my performance in beating Bradley

TIM BRADLEY

I have a tough task ahead of me. I respect Abregu. He can hit hard but I trained extremely hard to move up to 147 pounds. I trained harder for this camp than any camp I have ever had. I mean above and beyond. I respect Abregu's punching power. I'm hungry. I want to fight Abregu really badly, right now. My whole career is riding on this fight. I have to stay smart and pick him to pieces. I've seen tape of his last three or four U.S. fights. He reminds me of Gatti. He comes off the canvas to win. I know he's going to be in my face He's a bulldog. I weigh 148 today and expect to weigh 154 the night of the fight. I have a lot of emotions running through me now. You're going to see an exciting fight on Saturday night, I promise you.



FRIDAY'S OFFICIAL WEIGH-IN (1 P.M. PT), at Agua Caliente Casino • Resort • Spa, will be OPEN TO THE PUBLIC.

Bradley (25-0, 11 KOs), from Palm Springs, Calif., will be venturing into the heavier welterweight division for the first time when he battles Abregu (29-0, 23 KOs), of Argentina, in a 12-round welterweight rumble.

Angulo (18-1, 15 KOs), a native of Mexacali. Mexico, trains in Maywood, Calif. His last 14 victories have been by knockout, dating back to 2006. Angulo will be going toe-to-toe with current Top-Five contender Alcine (32-1, 19 KOs), of Montreal, in a 12-round WBC super welterweight title elimination battle.

These four gladiators boast a combined record of 104-2 (68 KOs).

Remaining tickets, priced at $180, $150, $130, $90 and $45, and box seats - $225, can be purchased at The Show box office, by calling 800-585-3737 and online at www.HotWaterCasino.com/TheShow . Article posted on 16.07.2010
previous article: David Tua: "Klitschko's beatable like anybody else"
next article: WBA Super Champ Felix Sturm returns on September 4