Open Workout Photos: Kentikian vs Mucino, Alekseev vs Lebedev, Brähmer vs Lakatos - This Saturday In Schwerin, Germany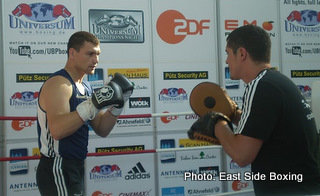 A press conference was held Monday in Schwerin, Germany for Saturday's "Universum Champions Night" event featuring two world title bouts and an important WBO eliminator. The combatants faced off today for the first time.

"This will be no easy task," said WBO light heavyweight champion Jürgen Brähmer who faces challenger Alejandro Lakatos. "Lakatos is a stinker and a fighter who never gives up."

Killer Queen Susi Kentikian stated "Everybody has a weakness, even Arely. I will find it and exploit it in the ring!" Rumblings were also heard from cruiserweights Alexander Alekseev and Denis Lebedev, who collide to determine the mandatory challenger for Marco Huck.

In the most notable fight, local hero and world champion Jürgen Brähmer (36-2, 29 KOs) returns to Schwerin to take on veteran Alejandro Lakatos (31-5-2, 23 KOs) of Spain..

"He's very experienced," said Brähmer, "a compact kid, very strong. I saw his fight against "The Tiger" (Dariusz Michelczewski) in 2001 because I boxed on the same event. He's very seasoned and packs a powerful punch. It won't be easy and he'll certainly have prepared very well. He is a stinker and a fighter who never surrenders. But we've had the right sparring partners and I'll heave the ring on Saturday as a winner."

He adds "I am wildly glad, in any case, that I can box again in Schwerin. When I found out that I would be fighting here, I was gigantically happy. This is a great thing for me. Clearly at home one has a little bit more pressure than in Hamburg. But I want to fight just as well in this Hanseatic town. I've worked very hard in the preparation."

Lakatos stated "Jürgen Brähmer is a very strong boxer with a great will. But I don't want to reveal too much. I'm only concentrating on the fight on Saturday. I'm a warrior. I have fighting in my blood and I'll show everyone on Saturday."

His trainer Jose Ramon Martinez added, "In this weight class no one is immune from defeat. Anything can happen. Even a champion can lose. We'll see what happens on Saturday. "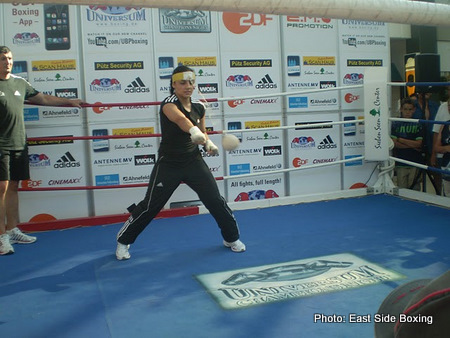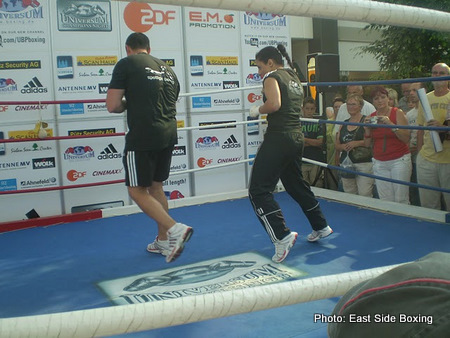 In the second world title fight, unbeaten WBO/WBA/WIBF flyweight champion Susi Kentikian (27-0, 16 KOs) defends against fellow unbeaten Arely Mucino (11-0-1, 6 KOs) from Mexico.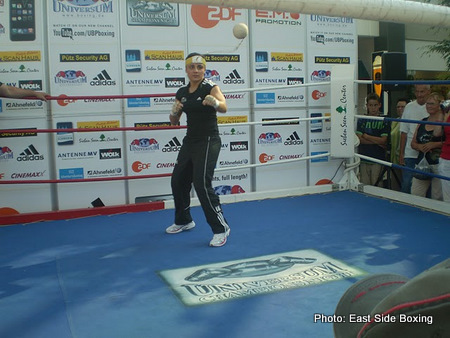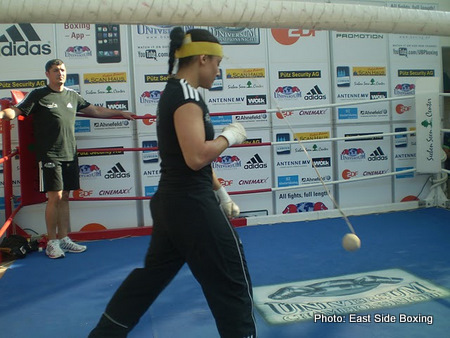 "My preparation was great," said Kentikian. "I'm happy to to be here in Schwerin and to be in the ring on Saturday. The castle is very beautiful. I think I'll come more often to Schwerin."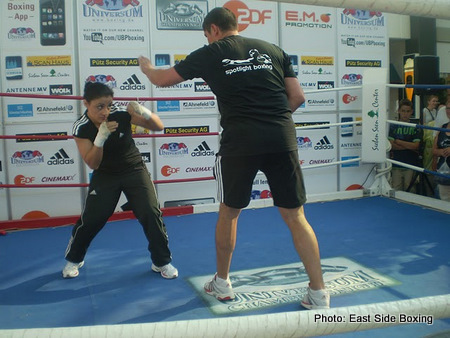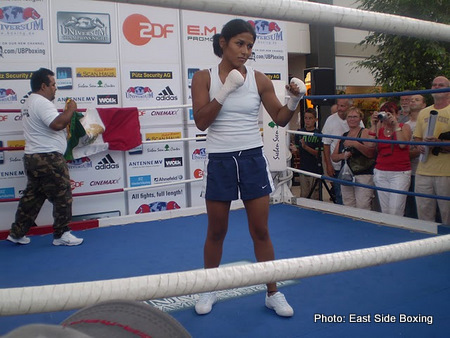 "About the fight, I'm perfectly willing to give everything. Arely is very tough, aggressive and won't take a backward step. But everyone has a weakness and I will find it and exploit it in the ring. I'm doubly motivated as the main event fighter. That's really great exposure and if you win it's a great feeling."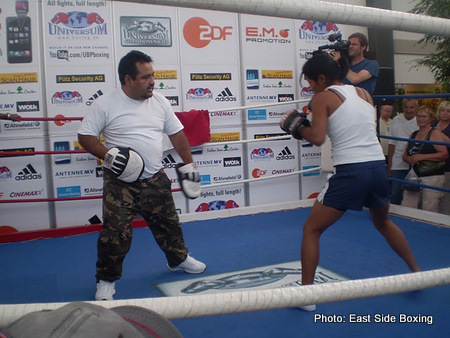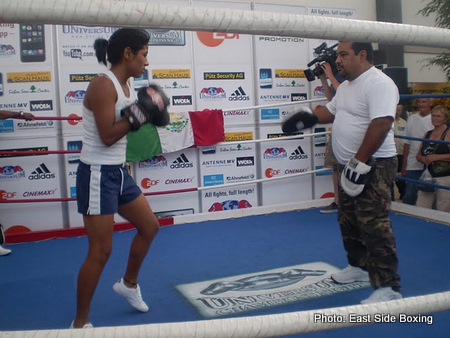 "It was a long and hard journey from Mexico," Arely Mucino stated. "More than 16 hours. But I an super prepared and certain that I'll squeeze everything out of Susi. We had enough time to prepare perfectly. This was my hardest training camp. The boxing fans can expect me to do something on Saturday. The temperature here is very comfortable for me. In Mixico it's a lot hotter. I can handle it well."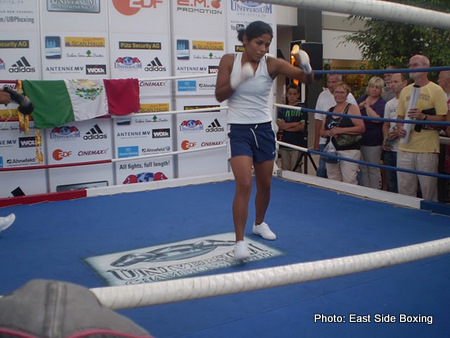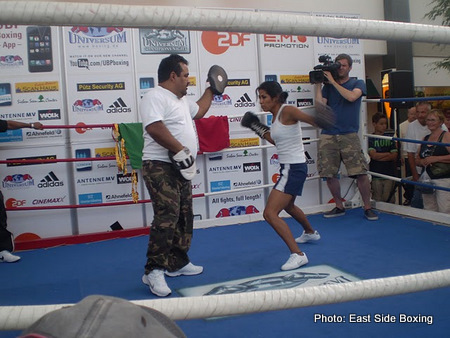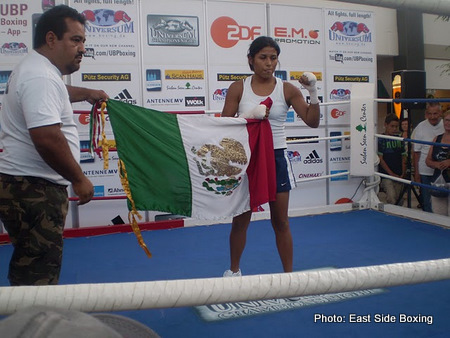 Her trainer/father Luis Mucino added, "Of course, Susi isn't a three-belt champion for nothing. She's very strong, but expect something sensational to happen in the ring. My daughter will give everything and surprise everyone on Saturday."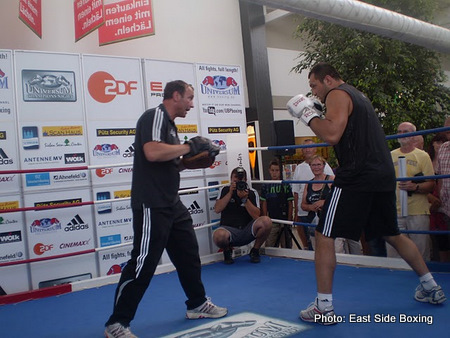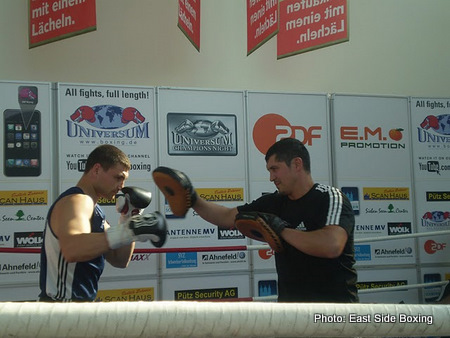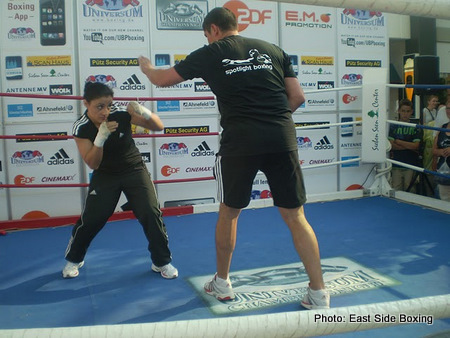 The third major fight on the card is a WBO eliminator to determine the mandatory challenger for Marco Huck between Alexander Alekseev (19-1, 17 KOs) and Denis Lebedev (20-0, 15 KOs).

"I am very happy about this opportunity," said Alekseev. "I've been waiting very long for this moment. This fight is very important for me and I'll take advantage of this opportunity. I am fully focused on the fight. Later I'll think about Marco Huck. Now it's only Lebedev!"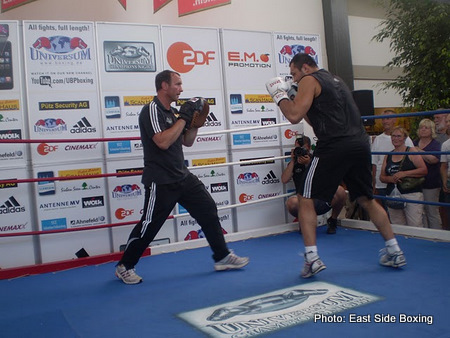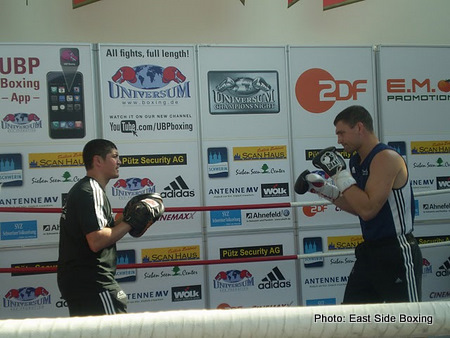 His trainer Magomed Schaburow commented "I think Lebedev's fight record speaks for itself. He is from the former Soviet Union and that's a good school to come out of. It's a very difficult fight for Alexander. He must push himself to his limits."

"I think the fight will be very intense," said Lebedev. "We'll get to see everything, the good and bad sides. And above all, hard punches by me! Alekseev is strong, but I am in top form and will win here!"

Lebedev's manager Vladimir Hryunov also weighed in. "Thank you to Universum for the great promotion of this important fight. The fight will be exciting and hard to beat for tension. It will be a fight on the same scale as Holyfield versus Tyson. Of that I'm sure!"

Also on Saturday's card is unbeaten featherweight Marcel Meyerdiercks (16-0, 5 KOs) versus Venezualan puncher Hermin Isava (9-5, 5 KOs), heavyweight Christian Hammer (7-1, 4 KOs) against unbeaten Mariusz Wach (21-0, 9 KOs) and super middleweight contender Eddy Gutknecht (18-1, 7 KOs) meets Tarek Kaidouri (12-11-2, 0 KOs) in his first fight after his defeat to WBO champion Robert Stieglitz in April.

Universum promoter Klaus-Peter Kohl summed it all up: "Brähmer, Kentikian and a world title eliminator – for me this is the strongest card we have had in Schwerin ever. We're really delighted about this Champions Night. Everyone will get their money's worth." Article posted on 15.07.2010
previous article: Exclusive: Travis Walker Talks About His Amazing War With Alex Leapai - "I Knew That Fight Was Beautiful"
next article: 2010 USA Boxing National Championships Quarterfinal Action is Contested in Colorado Springs