Thoughts from The Brain - Andre Ward: Son of God or The Second Coming of Calzaghe?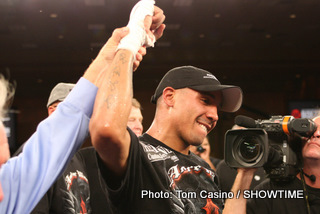 by Martin 'The Brain' Potter of the Boxing Clever podcast - With a nickname like 'Son of God', Andre Ward, WBA World Super Middleweight Champion and Super Six leader, has given himself a lot to live up to. Whilst we shouldn't compare him to Christ just yet, Ward will be hoping that he is the man to continue to lead the Super Middleweight division into the light and prove himself a worthy successor to the great, undefeated Welshman, Joe Calzaghe.

Many boxing pundits and fans alike have already started to draw comparisons between Ward and modern American greats of a similar weight, such as Bernard Hopkins and Roy Jones Jr, but I prefer to compare Ward to the Super Middleweight benchmark that is Calzaghe. So how does the new champ on the block compare?

Although stylistically the fighters are not identical, they do have many common characteristics in the ring. Both fighters have quick hands and awkward, although technical styles. Both also apply pressure, throwing numerous fast combinations, and have unquestionable talent and a supreme belief in their own ability which comes across in the manner they do business in the squared circle.. Ring generalship and the innate ability to impose your will and style on a fight are sometimes underrated qualities in top level boxing but when two gifted athletes are evenly matched in speed, technique and power, it is these other qualities that win fights and Ward appears to have these in abundance, as did Calzaghe.

Prior to his dominating victories over Allen Green and Mikkel Kessler in the Super Six, people didn't really know if Ward could genuinely 'mix it up' on the inside. How would he cope if dragged into a war? Could he handle the pressure at 'world' level? Ward has answered those questions emphatically, roughing up and demoralizing the pre-tournament favorite Kessler and then fighting on the inside with great success against the big punching Green. In these two fights, Ward has demonstrated a versatility that great fighters posses and a mentality that says, 'You want to box, we can box, but if you want a war, we can go to war'. This is also something that Calzaghe showed throughout his career, completely out-boxing the likes of Lacy, whilst brawling wildly with the likes of Byron Mitchell.

Another parallel that can be drawn between the two champs (present and former) is the timeline of their careers. Calzaghe took his first world title belt (WBO) aged 25 and in his 25th bout against a vastly experienced, teak-tough, former champion, who was slightly past his peak but still extremely dangerous in Chris Eubank. Ward took his first world title (WBA) also aged 25, in his 21st bout against a vastly experienced, teak-tough, champion (Mikkel Kessler) who was slightly past his peak but still extremely dangerous. Sound familiar?

We all know what Joe went on to achieve (and I don't mean an early exit from a reality dance TV show and front page of the newspapers for his, how shall we say, 'indiscretions'). Although some knock Calzaghe's unbeaten record and ability, I think these criticisms are (unlike the criticisms of his dancing) largely without merit. 46-0, a 70 per cent KO ratio for a supposed 'slapper', over 11 years as a champion and 25 world title fights, every major belt at Super Middleweight annexed and Ring Magazine champion in two weight divisions – these facts speak for themselves. Enough though about Calzaghe, the current question is can Ward emulate and maybe even surpass Joe?

My feeling is that Ward will win the Super Six and finish the tournament without tasting defeat (although he can still win the tournament even if he loses his next bout to Andre Dirrell). That achievement alone would put him on a par with Calzaghe in many people's minds. To win five fights in a row against the top fighters in the world in his weight class (Lucian Bute aside) is something that very few fighters do, certainly in modern boxing. Most world champions will have one or two fights against top level, genuine world class fighters at the peak of their powers, then will have an 'easy' fight against a hand-picked opponent, before going back to world level again. Winning the Super Six, especially if he goes unbeaten, will propel Ward straight into the pound pound-for-pound top five and I believe he will deserve to be there. From there, only one viable option will be open to Andre, a fight with undefeated Lucian Bute (assuming he to is still an unbeaten world champion at that stage).

Ward, like Joe before him, has his faults – what fighter doesn't? He has tasted the canvas early in his career and people questioned his chin and his rate of progress in the professional ranks. Ward continues to answer those questions with superb displays against top line opposition, but it is my guess that the critics will forever be in the shadows waiting to pounce on any slip up (well, that is our job…). Andre though shouldn't take this to heart as every champion, from Sugar Ray Leonard to Roy Jones Jr to Floyd Mayweather Jr (and of course Calzaghe), has to face the haters at some stage.

Andre Ward my not be the finished article just yet, but when the dust settles on the Super Six boxing fans should get ready to bow down to the 'Son of God', the second coming of a Super Middleweight superstar.

Martin 'The Brain' Potter is part of a fortnightly boxing podcast, available on iTunes or at www.boxingcleverpodcast.libsyn.com

Article posted on 10.07.2010
previous article: Chavez Junior Vs. Hearns Junior - Who Wins?
next article: HBO Sports to replay Juan Manuel Marquez vs. Juan Diaz 2009