'Left-Hook Lounge': Vivek Wallace's Mailbag, feat. Froch/Abraham, Mayweather/Pacquiao, Povetkin/Wladi-K, and Margarito!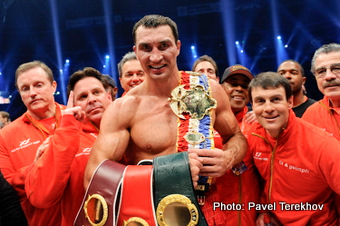 Casey J. (Boca Raton, FL): HBO recently dropped themselves from any boxing coverage containing the Klitschko brothers. I think this is solely based on them not being American. I live in America, but I'm a huge fan of theirs. Do you not think this was based on the same reason?

Vivek W. (ESB): The short answer to your question is yes, you nailed it! It is SOLELY because they aren't American. That's if you want to see it from a cynical view. The deeper explanation is that it has absolutely nothing to do with prejudice behavior, or any type of discriminatory action. HBO is in the business of promoting any good fights. Truth is, it's hard to really say when was the last "good" one we've seen these guys involved in. HBO has the right to broadcast and/or promote anyone they want to, and decline the right to broadcast or promoted anyone they don't wanna to. Regardless of how you (or anyone else) interprets the action, I think you should first start by viewing the 'cause' that gave this 'effect'. That 'cause' can be found in the actual verbiage of HBO Sports President (Ross Greenburg) - which I'm not sure if you actually had a chance to view..

His most defining statement was that "they (the Klitschko fights) are staged in Europe and on tape delay" here in the U.S.; and basically the fact that there's "limited interest" in the states, as it relates to the heavyweight division itself. Many of us may not like the final action, but as a rule of thumb, don't ever examine the final action without first examining the initial one that prompted it. His statements are absolute in volume, and were deadly accurate on what the U.S. heavyweight pulse truly is, overall. Many Americans like these fighters, (myself included), but HBO is a "business", and I've never heard of a business without a 501- C3 that was NOT established to make money. This "business" is no different. If the product isn't selling, it won't be on the shelf long. Simple as that!

Gerry I. (London, U.K.): Froch has vowed to destroy Abraham. I'm a Froch fan and have no question that he can pull it off? What do you think the odds are that he will make this an easy go against him?

Vivek W. (ESB): I think the fight can play out several different ways. While I can totally understand your plight, (based on the question you just asked), I think like life itself, you have to view this all in a matter of perspective. Yes, Abraham is coming off his first pro loss. But, the flipside of that is the fact that so is Froch. To take it a step further, we could easily say, "Oh, well, Froch, or Abraham, is coming off of their first loss, so they're gonna be a beast and they won't take losing for an option this time"; but the reality is that one of them has to lose, and beyond that, considering that neither has before, we simply don't know HOW they'll respond when adversity confronts again. Contrary to popular belief, you don't have to take a savage Margarito/Cotto bloodbath type beating to become somewhat damaged...ask Kelly Pavlik!

What I can tell you is that of the two, Froch was in more of a war. Some would view that as a testament of heart. I would personally view that as more of an issue, because as slick as he can be, he was actually hit a helluva lot. What happens if Abraham is able to land at a decent connect rate? Yes, we know he starts slow....but what happens if he steps that up with a quicker start and is able to engage and connect on his target as easily?

So, there are a lot of variables that we can look at here. Yes, Froch is coming off his first loss. Yes, so is Abraham. When these two men enter the ring it will play out however it was designed to play out. But, as for Froch's recent comments on "inflicting a beating on Abraham", he may well do that. I just hope that when he enters the ring that night he realizes that "inflicting a beating" puts him in a prime location to take one too. Only difference here is that this kind of beating - (from a power puncher) - could leave him star-gazing from his back on the deck in the arena. Very good fight to see. Who wins is anyone's guess. After all, this is two of the best super-middleweights world wide, and just like we never saw them losing a fight before, someone will have to bear that cross again. Stay tuned.

Jason W. (Reseda, CA): Rumor has it that Margarito/Pacquiao will take place over in Mexico if the Mayweather/Pacquiao fight doesn't happen. Have you heard anything of this possibility?

Vivek W. (ESB): Yes, that particular rumor has been in circulation for quite some time now. Considering that Margarito hasn't been licensed in the U.S., and there's no indication of when he may, that would be a valuable option to Top Rank, because both men have a following (a very strong one for Pacquiao) in Mexico. That being said, as much as I would love to see the stylistic clash involved here, I have a major fundamental problem with this fight ever materializing. It all stems from two things. One, Margarito was suspended, and technically still is, because the state which suspended him has yet to reinstate him. Secondly, Even if he was fully reinstated, what has he truly done to maneuver his way back to contention on the mega-fight level like this to earn a shot at one of the sports top cash cows? That's a helluva picture to paint!

I promote one man who was suspended for padding his gloves; and since we can't get a fight for him in the U.S., we're gonna put him in a multi-million level fight across the border with an opponent who refuses to take a steroid test within 14days of a fight. (This isn't to say Pacquiao is guilty, but the his 14-day stance is well documented, and simply doesn't bode well in a fight with a suspended athlete). It truly sets the tone that Top Rank is running a dirty house, which couldn't be farther from the truth, yet comes off as highly possible when you make assumptions from afar. As much as I'd like to see the stylistic clash involved here, I think it technically makes something clear that I said a long time ago, and Gary Shaw ended up saying recently.

And that is basically the fact the Arum has cornered things off by pinning his mega stars against one another to ensure some stake in immediate future mega-fight opportunities. I've never been in his shoes so I can't say I'd have the mental fortitude to hold off from such a keen business move myself, to keep it real. It's just one of those things.....we may not like it, but have to accept it. And as it relates to the fight itself....If Mayweather doesn't sign, we may find ourselves adding to the pockets of a man who took away from the sport we love!

Stanley B. (Miami Gardens, FL): I noticed that you posted recently on your facebook page that the Mayweather/Pacquiao fight was pretty much a done deal and agreed to by both parties. There has yet to be an official announcement. Any idea what's the hold up?

Vivek W. (ESB): I don't think ANYONE on this planet knows precisely what's the hold up. What I will say is that I took the lead of two independent sources who confirmed this to be true. One was a fairly new source that I've never worked with, but have great respect for; the other was a source I've done business with for quite some time. To get the same information from two independent sources, with very few details contrasting was a situation that I felt very solid about, and in turn, felt compelled to publish. I've heard a number of reasons on why things are being held up. Everything from taxes, to promotions, to the lawsuit, and everything in between. Is it time to rule the clash out entirely? Absolutely not.

Bob Arum gave a definitive deadline of "mid-July". Recently learning a few other details about this potential breakthrough leaves me feeling very comfortable about what my sources told me - as it relates to a potential "mid-July" time frame. Also, few seem to remember that the ball was in Mayweather's court against Mosley when the world said "he would find a way out of the fight" before, and after a delay that few could explain we learned the fight was alive and well. So, I don't think it's time to shut the door close just yet. As a matter of fact, if what one of my sources told me is accurate (which parallels Arum's deadline), within the next week or so we should be receiving some truly "breaking" news, because it will shatter all news topics on the web and newspaper forums.

Felix R. (Brooklyn, NYC): I'm not completely sold on Alexander Povetkin. How do you rate him as a heavyweight and what shot do you give him at becoming champion?

Vivek W. (ESB): I think Povetkin is arguably one of the most skilled heavyweight contenders in the game today. For some odd reason, many seem to sleep on his ability, but this kid didn't win a gold medal in '04, and a ton of others while competing internationally by accident. He truly has great skills. I like his heart, his will, and his passion to win. All that being said, he happened to cross the heavyweight division at a point where it stands in the midst of a very odd sequence. In one breath, it's as weak as it has arguably ever been. The flipside to that argument is that it's run by two men who offer very little chance to those looking to unseat them.

Povetkin, (in my observation), has the skills to beat anyone of the current crop of contenders. But his 6'2" frame and modest reach won't allow him - even with his better than average skills - to overcome the reach and height issues, coupled with the power and skill issues he would meet facing the K-bros. Teddy Atlas' ability to coach a plan that would allow him to crack the 'height and reach' code could come as a plus, but I just don't think Povetkin can do it. Aside from that, despite his great amateur accomplishments, he has only fought 90 pro rounds to date. His opponent will have logged in 263 (rounds) to date, and wasn't too shabby in the amateur ranks either. Should be a more competitive fight than many seem to think, but I see the same script playing out when the headlines print around the world!

(Vivek Wallace can be reached at vivexemail@yahoo.com, 954-292-7346, Youtube (VIVEK1251), Twitter (VIVEK747), Facebook, and Myspace).

Article posted on 05.07.2010
previous article: Caballero and Saenz Score First Round KOs In Ontaro
next article: John David Jackson: "Kessler brings the pain and if he can get you out of there, he's going to get you out of there"