Enzo Maccarinelli Talks About His Upcoming Bout With The Undefeated Alexander Frenkel, Says His Confidence Is "Sky High"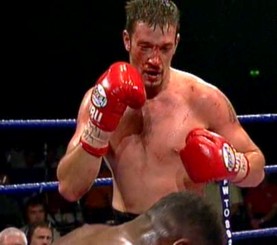 by James Slater - Big-punching Welshman Enzo Maccarinelli believes he shut a lot of people up back in April, when he travelled to Moscow, Russia to take out the somewhat-hyped Alexander Kotlobay inside a single round to win the vacant European cruiserweight belt. The 29-year-old former WBO 200-pound champ improved to 32-4(25) with the win and, most importantly, he exorcised the demons that had been bothering him since his truly awful 2009 - a year that saw Macca lose by stoppage twice.

Now set to make the first defence of his EBU crown, Maccarinelli is excited about his scheduled September 18th clash with the unbeaten German-based Ukrainian, Alexander Frenkel. Maccarinelli will face the 22-0(17) 25-year-old on promoter Frank Warren's "Magnificent Seven" show in Birmingham, and he has been talking to BBC sport about the fight.

"He's got a pretty similar record to Alexander Kotlobay, who I beat in Russia last time out," Maccarinelli said of Frenkel. "They've fought similar guys, he's another dangerous up-and-comer who wants my name on his record. But my confidence is sky high. I went over to Kotlobay's hometown and flattened him in a round.."

As great as Maccarinelli indeed looked against Kotlobay, I think he's making a mistake by comparing Frenkel - a man who says he has a lot of respect for Maccarinelli - to Kotlobay. True, Frenkel may not have beaten any fighters of real note (as is the case with Kotlobay), but he has at least taken care of a couple of well known U.S fighters, such as former champs Kelvin Davis and Arthur Williams. Also, Frenkel has had more fights than has Kotlobay, and he's a good deal younger.

Frenkel himself, in speaking to this writer, said he was not too impressed with Maccarinelli's quick win over Kotlobay; saying the one-round win proved little. Frenkel, who spars with bigger guys than himself, also told me he is not too concerned about the Welshman's power. A most interesting fight, very much having the look of a 50-50 affair to it, Macarinelli-Frenkel could, in my opinion, go either way.

Enzo says he is back to being the fighter he was five years ago, and that he is back on the lookout for another world title challenge. But first he must get past the ambitious, young and talented Frenkel.

"That win over in Russia just shut people up when they were saying I was finished," Maccarinelli said to BBC. "This is the Enzo of four or five years ago. I'm on the crest of a wave, feeling good, strong and very fit having gone back to basics. I've got the eye of the tiger back.

"I'm not looking past Frenkel, but I will be after another world title shot."

As hard as he can bang, a quick KO win for Maccarinelli cannot be ruled out in this fight, but if Frenkel can get through the initial few minutes of the fight, the younger, fresher man could well cause Maccarinelli a lot of problems - and Frenkel's own power is not inconsiderable; can he crack the somewhat vulnerable chin of the defending champion?

A quick win would be a most impressive result for Maccarinelli, but anything could happen in this fight. One thing's for sure, if Enzo does lose, his career at top level will have ended. Can Maccarinelli close out 2010 with another comeback win?




Article posted on 05.07.2010
previous article: At 30-1, Hopkins Sets Sights On Berto!
next article: Lucian Bute-Jesse Brinkley Looks Likely For October