Ibragimov Beats Mccall For The NABA Title: Ringside Report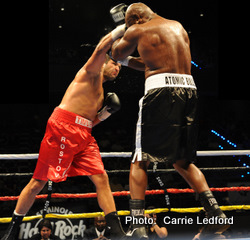 by Pavel Yakovlev - Timur Ibragimov won the North American Boxing Association (NABA) heavyweight title by decisively outpointing Oliver McCall last week. Ibragimov, an Uzbekistani native now living in Hollywood, Florida, easily won most of the rounds with fast, shifty footwork and peppery long-range combination punching. Although McCall relentlessly stalked and pressured his foe, he could not compensate for disadvantages in hand and foot speed, and was battered by Ibragimov's rights for much of the bout. The final scores were lopsided in favor of Ibragimov: 119-109, 117-111, and 117-111.

For Ibragimov, victory was sweet for several reasons. For one, NABA is affiliated with the World Boxing Association (WBA), and as the NABA champion, Ibragimov will now be ranked among the WBA's top 15 heavyweight contenders. Furthermore, by beating McCall, Ibragimov acquired a signature win over a "name" opponent and simultaneously established that he does not shirk from high stakes bouts against dangerous opponents. Most importantly, this victory erases the stigma of Ibragimov's 2006 loss to Calvin Brock.. That defeat – a 12 round decision on HBO before a national audience – made a bad impression on American fans and television executives, leading to several years of management and promotional limbo for Ibragimov. Last week's win buries the memory of the Brock loss and puts Ibragimov at the pinnacle of his ten year professional career.

The victory marks a psychological turning point for Ibragimov as a fighter, too. The manner in which Ibragimov won signals his "Americanization" as a boxer. Ibragimov did more than simply jab and box against McCall: whenever necessary, he held his ground inside and traded punches with his powerful opponent. Anytime he was tagged by a heavy shot, Ibragimov reasserted himself by firing back with right hands. He frequently hooked to the body. On the outside, Ibragimov let his hands go frequently, displaying American style aggression in addition to using the European boxing tactics for which he has always been known.


PREFIGHT SPECULATION

In the days before the bout, pundits agreed that the winner would be whichever boxer imposed his fight on the other. The match represented a classic pairing of styles: the technical boxer (Ibragimov) against the powerpunching infighter (McCall). Experts foresaw the quicker, more mobile Ibragimov winning as long as he kept the fight on the outside. Simultaneously, McCall was expected to prevail if he could force his way inside, where he could use his superior upper-body strength and brutal kayo power to overwhelm Ibragimov. Everyone agreed that McCall could score a one-punch knockout at any point in the bout.

Oddsmakers installed Ibragimov as the betting favorite based on his youth (Ibragimov is 35, ten years younger than McCall), speed and technical skill. The odds favored the UzbekIstani by margins of anywhere from 3 to 1 to slightly less than 2 to 1. Nonetheless, many experts and fans expected an upset in light of McCall's vaunted strength and power. Noted handicapper Charles Jay for example, recommended bettors to wage on McCall. In Jay's words, "McCall is a heavyweight who can not only bang but also has a good chin. It is doubtful that Ibragimov, with just 15 KO's among his 27 wins, is going to be able to take out McCall, which means he better be able to move and box for the whole route. Maybe he can, but McCall does possess the power in greater abundance, and that may be what turns this fight in his favor."

At the weigh-in before the fight, the striking contrast in the boxer's physiques supported the perception that Ibragimov could not afford to let McCall establish himself on the inside. At 246 lbs, McCall's upper-body looked much bigger than that of the 224 ½ lbs Ibragimov. McCall's shoulders, chest, back, and upper-arms seemed stacked with multiple layers of powerful muscles. In contrast, the wiry Ibragimov looked almost like a lanky basketball player. To the surprise of many, however, during the fight Ibragimov proved strong enough to hold his own with McCall during the close quarters mauling.


THE FIGHT

Ibragimov won the first five rounds with fast, purposeful footwork and slick combination punching from long range. After a slow first round, in which both fighters felt each other out, Ibragimov increased his punch output in the second. By the third, Ibragimov was connecting frequently with rights, and he dominated the fourth and fifth with a steady stream of stiff jabs and right crosses. McCall never stopped applying pressure, incessantly moving forward and trying to find the range with his powerful jab. But Ibragimov's foot movement was so effective that McCall almost never came within punching distance. In the fifth, Ibragimov connected with so many rights hands that the unthinkable seemed possible: that McCall might fall in the later rounds from a combination of fatigue and punishment.

Whenever McCall got close, Ibragimov had no trouble tying-him up. McCall – despite his advantage in upper-body strength -- could not break Ibragimov's vice-like grip in the clinches. Furiously, almost like a bull bucking a cowboy, McCall pushed and tossed Ibragimov in an effort to break the clinches; rarely did he succeed. Always, after the referee broke the fighters, Ibragimov danced away and resumed peppering McCall with lefts and rights.

However, the character of the fight changed in the sixth round. For some reason, Ibragimov stopped moving on his feet, instead remaining flatfooted and mauling with McCall on the inside. Now, McCall forced his fight on Ibragimov. McCall connected more often with thudding jabs, and once he rocked Ibragimov with a big right hand. Although Ibragimov fought effectively on the inside, ripping hooks to the body and head, he was no longer moving. It seemed as if McCall's incessant pressure was wearing Ibragimov down. The pattern continued into the seventh, as the fighters clinched and mauled, with Ibragimov landing more punches, but McCall connecting with the heavier shots and taking control of the fight. Toward the end of the seventh, McCall had his best moment yet, rocking Ibragimov with a huge right uppercut, followed by a left hook and overhand right to the head. Ibragimov hung on, but he was now cut over his left eye. In the eighth, the mauling and infighting continued; Ibragimov scored well on the inside, but McCall continued to land the stronger punches, including one heavy right to the head. The pundits who foresaw McCall wearing Ibragimov down seemed to have made the correct call: Ibragimov's foot movement was gone, and he was now fighting on McCall's terms.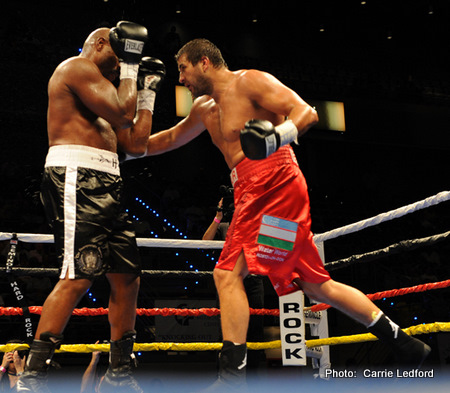 Standing in their corner between rounds, McCall and his trainer Michael Moorer made a fearsome looking pair. The two battle hardened former world champions calmly nodded at each other, seemingly confident that McCall had imposed his fight on Ibragimov. Now that McCall had gotten his opponent to stop boxing, it was time for the "Atomic Bull" to unload his bombs. Awaiting the start of the next round, McCall's fierce facial expression, shaven skull, and hulking upper-body muscles made him look almost like a gladiator in combat armor, coolly prepared to continue his grim business.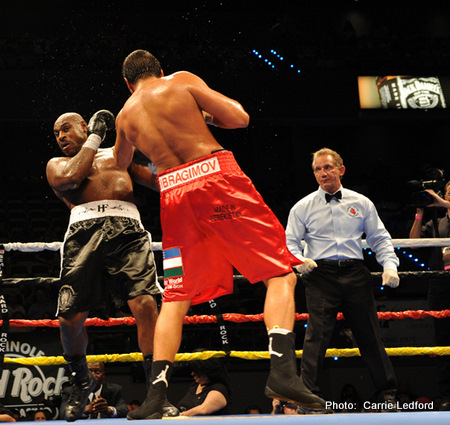 But there was someone even meaner looking than McCall in the ring that night. Upon returning to his corner after the eighth, Ibragimov received an angry, intense glare from his trainer, Luis Lagerman. Lagerman is normally a calm and easygoing man, but he was enraged by his fighter's failure to stick to their well-conceived strategy of boxing and moving. Ibragimov and Lagerman made eye contact, and the fighter got the message. Afterwards, Ibragimov said, "I took one look at Luis's face and I knew what he meant. So I no fight with McCall anymore. I box him again."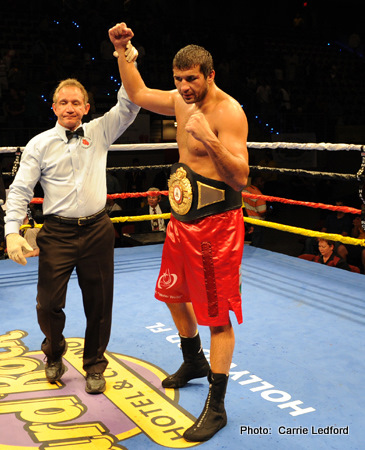 Ibragimov boxed and moved throughout the ninth, easily pulling away from McCall's heavy combinations. When the Uzbekistani resumed firing stiff jabs and rights to the head and body, McCall must have known the fight was lost. Ibragimov increased his dominance in the tenth, blasting McCall with repeated rights. Twice in this round huge waves of sweat flew from McCall's head after he absorbed stiff right hands. Ibragimov continued his hit-and-run attacks in the eleventh, connecting often with his right, and a huge lump appeared over McCall's left eye. In the final round both fighters slowed down, but Ibragimov still had the upper hand due to his footwork and accurate punching.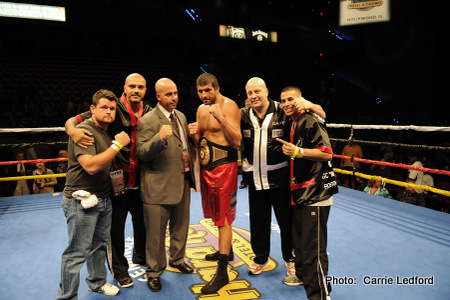 WHAT NEXT?

The victory improves Ibragimov's record to 28-2-1, including 15 kayos. As a WBA top 15 (possibly even top ten) contender, Ibragimov is now eligible for a title fight with world champion David Haye. Assuming Haye survives his mandatory defense against Ruslan Chagaev, it is conceivable that Ibragimov could be a future opponent for Haye. Business and political complications are likely to postpone Haye's showdown with either of the Klitschkos for another year (possibly forever), and the Englishman will seek opponents for optional defenses in the meantime. No doubt, many scoff at Ibragimov's prospects against Haye. In truth, however, Ibragimov stands a good outside chance of upsetting the WBA champion. Although Haye has athletic advantages over Ibragimov in most areas, Ibragimov is the vastly more durable fighter. Given that styles make fights, a Haye-Ibragimov pairing could produce strange and unforeseen results. In this fight, Haye would be forced into the unfamiliar role of the hunter, and could make mistakes chasing the elusive, backpedaling Uzbekistani. Under these conditions, Haye might be open to Ibragimov's sneaky rights.

Another intriguing possibility is Chris Arreola. Interestingly, HBO considered Ibragimov for Arreola's first comeback fight in December; maybe they will do the same after Arreola's loss to Tomasz Adamek. Given the trouble the ponderous, free-swinging Arreola has with lateral-moving boxers, it is reasonable to believe that Ibragimov might upset Arreola. Ibragimov's ability to clinch and maul with the powerful McCall suggests that he could prevent Arreola from using superior size and strength to dominate the bout. To win this fight, however, Ibragimov would have to box, clinch, and move as much as possible, and not resort to the sustained, flat-footed brawling tactics he showed in the middle rounds against McCall.

Ibragimov is confident regardless of what comes next. He feels he has matured as fighter. "When I fought Brock, I was not ready mentally. It was my first big fight on television, and I did not know how to go all out to win in a big fight like that," said Ibragimov. "But I am different now. I have grown. The way I fought McCall, I would have beaten Brock…I know it."

As for McCall, now 54-10, with 37 kayos, his career may or may not be over. On the positive side, McCall has led a Spartan existence for the past two months, his legal troubles are resolved, and there is reason to believe he will remain focused and disciplined in the future. He appears to have trained hard for Ibragimov. During the fight, this writer sat next to a Miami boxing insider who believed McCall looked better than usual on this night. "I'm surprised…I didn't expect this. McCall looks better prepared than before, like more of a complete fighter. He's using his jab more and setting up his rights. His problem is that stylistically he's in with the wrong opponent," explained the observer. The negative for McCall is that at age 45, his legs have slowed considerably, and he is vulnerable against fast, mobile boxers. If McCall continues his career, his handlers should match him against foes who brawl, not box.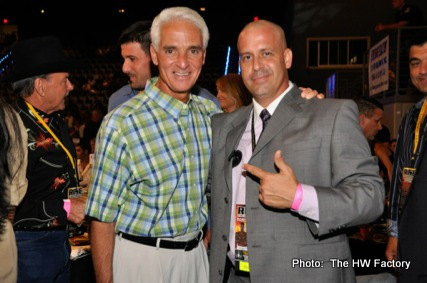 UNDERCARD ACTION


Henry Fuentes stopped Dieuly Aristilde in the third round with a single, devastating left to the jaw. Aristilde was out cold and the referee waived the bout off without counting. The ending was sudden and dramatic, as the fighters boxed on even terms until the southpaw Fuentes unleashed the fight-ending blow. Fuentes, a Cuban native who defected to the United States several years ago, avenged an earlier loss through this win. Fuentes weighed 230 ¼ lbs and is now 11-1 (seven kayos). Aristilde, who has a local reputation as an upset artist of sorts – he stopped Elijah McCall in addition to previously beating Fuentes – falls to 7-3 (one kayo). The Haitian-born Aristilde weighed 222 ¾ lbs.

Former Cuban amateur star Luis Ortiz stopped veteran Charles Davis in four rounds. Ortiz controlled the action easily, raking Davis with combinations until the referee waived the bout off. The 6'4", 233 ½ lbs Ortiz is now 2-0 (two kayos) as a professional and is already drawing the attention of fight experts worldwide. Ortiz accumulated an amateur record of 343-19 before defecting to the United States. The victory represents a serious upward step in competition for Oritz, as Davis has rarely been stopped in his forty fight professional career. Davis, 229 ½ lbs, previously beat Javier Mora and Elieser Castillo, and fought a draw with powerpunching Bermane Stiverne. Just months ago Davis lasted the distance against Dominick Guinn. Thus, Oritz's handlers are moving him quickly.

James Bryant, 249 lbs, advanced his record to 3-0 (three kayos) with a first round TKO over Lujan Henderson. The 228 ½ lbs Henderson had no answer to Byrant's firepower, which prompted the referee to end the one-sided contest. Henderson is now 2-4 (one kayo). Bryant, 24 years old, is a former University of Miami football star who began boxing only in the last two years. The Heavyweight Factory is hoping to transition Bryant from football to boxing much as other heavyweights, such as Jameel McCline and Randall "Tex" Cobb, successfully did in the past. Like Cobb and McCline, Byrant had no amateur boxing career, and is learning the fight game as a pro. On this subject, it is worth noting that Rocky Marciano began boxing at the age of 23, having previously been a football and baseball player. Marciano had minimal amateur boxing experience, learning his craft only as a professional.

Yasnay Consuegra, another Cuban amateur standout who recently defected to the United States, won a four round decision over Harvey Jolly. The scores were 40-36 39-37, and 39-37. Consuegra's powerful right hand kept Jolly on the defensive for most of the bout. Consuegra, 227 ½ lbs, is now 3-0 (one kayo) as a professional. In the amateur ranks, Consuegra won 249 of 278 bouts and acquired a junior world championship. Jolly, 201 ¾ lbs, falls to 11-15 (six kayos).

In other bouts, Michael Greeson, 223 ¾ lbs, stopped Clive Lowe in the first round. Lowe, 232 ¼ lbs, rocked Greeson with repeated power shots before being dropped by a single left hook to the head. The devastating blow knocked Lowe unconscious and the referee ended the bout without counting. Greeson is now 1-0-1 (one kayo), while Lowe falls to 0-1. In a four rounder, Robert Turner 3-2 (two kayos) won a unanimous decision over Robert Alvarez (0-2). All three judges scored the bout 39-35. Turner weighed 212 ½ lbs to Alvarez's 235 ½ lbs. In a welterweight bout, Anthony Woods (7-13; three kayos) scored an upset decision over Eisa Al Dah (6-2; three kayos). The scores read 38-37, 39-37 for Woods against 38-37 for Al Dah. Woods weighed 142 ½ lbs; Al Dah tipped the scales at 149 ¼ lbs.


IBRAGIMOV W12 MCCALL: ROUND-BY-ROUND DESCRIPTION

ROUND ONE
This is a slow round as both fighters feel each other out. Ibragimov is light on his feet, circling away from McCall's right. McCall fights flatfooted, constantly inching forward behind his jabs, all of which miss. Ibragimov connects with several jabs, one of which snaps McCall's head back. Ibragimov continues to back away from the forward-moving McCall. McCall connects with a powerful left jab. The fighters clinch. From long range, Ibragimov connects with a long left jab and fast, straight right to the body. McCall is the aggressor, but he is unable to connect against the fleet-footed Ibragimov. Ibragimov cinches every time McCall gets inside.

IBRAGIMOV'S ROUND


ROUND TWO
Ibragimov continues to control the action with his long-range boxing and effective foot movement. McCall constantly storms forward, but lacks the foot speed to catch up with his opponent. Ibragimov escalates his punch output and is now connecting repeatedly with left jabs, followed sometimes by stiff rights to the head. Ibragimov quickly circles to his right every time McCall bulls him into the ropes. Ibragimov clinches anytime McCall gets inside. Late in the round, McCall connects with a strong overhand right to the top of Ibragimov's head; the blow lands with a heavy thudding sound. Ibragimov closes the round with more boxing and jabbing.

IBRAGIMOV'S ROUND


ROUND THREE

McCall continues to press forward, jabbing and attempting occasional rights; none of the punches connect, however, as Ibragimov constantly dances away from danger. Ibragimov continues to score with light, fast jabs and rights to the head. Ibragimov clinches every time McCall gets close, and McCall responds by furiously using his upper-body strength to break the clinch and bull his opponent backwards. Despite McCall's superior strength, Ibragimov is effective at maintaining the clinches when necessary. On the outside, McCall connects with a straight, powerful looking left jab that snaps Ibragimov's head back. Afterwards, Ibragimov moves quickly on his feet and connect with several jabs.

IBRAGIMOV'S ROUND


ROUND FOUR
Ibragimov continues to control the fight with his fleet-footed boxing, constantly jumping backwards when attacked. Ibragimov connects with more light jabs. McCall is more aggressive this round, and several times he forces Ibragimov to the ropes; always however, Ibragimov feints, circles to his right and dances back to center ring. During the clinching, McCall is especially aggressive, perhaps trying to drain Ibragimov's strength by using grueling, manhandling tactics. Ibragimov lands more jabs from the outside. At close distance, McCall connects with a heavy right to the head, his best punch of the fight thus far. On the outside, Ibragimov scores with a long left jab to the body. Ibragimov is now increasing his punch output; he connects with a solid left hook and two stiff rights to the head. Ibragimov continues to box from long range, and connects with a sharp left jab followed by a strong right to the head. McCall lands a solid left to the head. Later in the round, Ibragimov connects with several rights to the head. McCall is now losing the fight badly, but he is completely unfazed by Ibragimov's punches, and relentlessly continues to press his attack.

IBRAGIMOV'S ROUND


ROUND FIVE
Ibragimov continues to control the action with his hit-and-run tactics. McCall moves forward relentlessly – he never takes a backward step – but he cannot get his punches off and is constantly peppered by Ibragimov's long-range punches. From long range, Ibragimov lands two long, straight left jabs. McCall forces his way inside and they clinch again, followed by furious mauling and wrestling as McCall attempts to break the clinch. From the outside, Ibragimov connects with a heavy, hooked right hand to the body, but the blow lands on McCall's waistline. Moving in circles in center ring, Ibragimov scores with several jabs, followed by a strong left hook to the head. At close quarters, the fighters maul each other, and Ibragimov snaps McCall's head back with a sharp right uppercut. Although McCall is taking punishment, he is impossible to hurt or slow down, and is actually fighting more aggressively now. Both fighters connect with jabs, and then Ibragimov drives a heavy left hook to the body, his best body punch of the fight so far. Ibragimov boxes from long distance, then slams McCall's ribs with a wide right hook thrown from the outside. Ibragimov boxes some more, and then connects with a heavy right to the head. During close quarters mauling near the round's end, each fighter connects with a solid right to the head.

IBRAGIMOV'S ROUND


ROUND SIX
The nature of the fight changes in this round, as Ibragimov rarely moves on his feet and now engages McCall at close quarters mauling. Although constantly tied-up by Ibragimov, McCall appears to have established his battle conditions in the ring, turning the fight into a brawl. On the inside, Ibragimov is landing more punches, but McCall is forcing the action, furiously bulling Ibragimov into the ropes, and connecting occasionally with heavy, short punches. Whenever the fighters break, McCall steadily presses forward behind his jab, and Ibragimov is no longer dancing away. Ibragimov connects with two sharp left jabs as McCall attacks, then the fighters clinch. Ibragimov connects with a straight, stiff right to the head. McCall lands a solid, thudding left jab. McCall continues to force his way inside, where he bulls Ibragimov. During the infighting, McCall connects with a solid right to the head, and Ibragimov responds with a left hook-right hand combination to McCall's jaw. They continue to maul each other on the inside. McCall connects with another heavy left jab. Near the end of the round, McCall scores with a heavy right uppercut.

MCCALL'S ROUND


ROUND SEVEN
McCall continues to press the action, moving forward calmly but relentlessly behind his left jab. Ibragimov continues to meet McCall head on, clinching and standing flat-footed at close quarters. For some reason, Ibragimov is no longer dancing on his feet. The fighters engage in much roughhousing on the inside, and McCall is now imposing his superior size and strength on Ibragimov. During the infighting, Ibragimov slams a solid left hook to the body; later, he snaps McCall's head back with a sharp left hook. The fighters continue to maul on the inside, with McCall using his arms and shoulders to push Ibragimov backwards. Ibragimov scores with another solid left hook to the body. McCall connects with a strong right hand. Ibragimov lands a solid left hook to the head, but the punch has no impact on McCall, who continues to impose himself on the inside. As the fighters maul each other, McCall unleashes his best salvo of the fight: he blasts Ibragimov with a huge right uppercut, followed by a left hook to the head and a heavy overhand right. Despite being rocked by the powershots, Ibragimov absorbs the blows well and clinches. Furiously, McCall attempts to break the clinch by using all his might to shake and manhandle Ibragimov, but Ibragimov continues to hold on. When the fighters break, a small cut is visible over Ibragimov's left eye. The round closes with McCall bulling Ibragimov into the ropes.

MCCALL'S ROUND


ROUND EIGHT
The fighters continue to maul and fight at close quarters. Ibragimov seems to have abandoned his earlier strategy of boxing and dancing on his feet. McCall continues to attack relentlessly; he looks more poised and intense than in earlier rounds, perhaps sensing that he may have worn Ibragimov down. On the inside, Ibragimov lands a thudding left hook to the body. Moments later, Ibragimov scores a stiff right hand to the head. McCall however is unstoppable, and continues to force his way inside, connecting with occasional short hooks from both hands. The fighters continue to maul and clinch, and McCall rocks Ibragimov with a heavy right to the head; Ibragimov responds with a slashing left hook to the jaw. The mauling and infighting continue for the rest of the round, and although Ibragimov lands more punches, McCall connects with the heavier shots. McCall is pressing the action and seems to be forcing his terms on Ibragimov.

MCCALL'S ROUND


ROUND NINE
In this round the tide of combat shifts sharply in favor of Ibragimov, who resumes boxing and moving effectively on his feet. McCall inexorably presses forward, but now Ibragimov is dancing away, sidestepping and jabbing from long range. At close quarters, Ibragimov ties-up McCall and pulls away after the break. Ibragimov connects frequently with long, slashing left jabs and straight rights to the head. Occasionally Ibragimov throws quick, straight left jab-right hand combinations to the body. McCall's never stops attacking, but his punches constantly miss the quick-footed Ibragimov.

IBRAGIMOV'S ROUND


ROUND TEN
Ibragimov continues to box and move on his feet, never allowing McCall to establish himself inside. Early in the round Ibragimov connects with several left jabs and straight rights to the head. The boxers often clinch, with Ibragimov returning to long range after the break. From the outside, Ibragimov connects with more jabs, and he sometimes throws hard, straight rights to McCall's midsection. Twice in the round Ibragimov rocks McCall with big rights to the head, sending huge waves of sweat flying across the ring. The blows do not hurt McCall, but he seems unable to block the punches and has totally lost control of the fight. McCall continues to attack, and connects with a thudding left jab. Ibragimov jabs and circles around McCall, then lands a wide right hook to the body, thrown from the outside. Late in the round McCall connects with a good right to the head, but Ibragimov immediately fires back with a stiff right of his own. McCall now has a huge lump on his forehead, above his left eye.

IBRAGIMOV'S ROUND


ROUND ELEVEN
Ibragimov continues to move on feet, dancing in circles and dodging McCall's blows. Ibragimov connects with his left jab from long range. The action slows down in this round, and there is more clinching than in previous rounds. Ibragimov, however, no longer remains inside trading punches unnecessarily. McCall connects with a stiff left jab. From long range, Ibragimov connects with three solid rights to the head. At one point McCall takes a right and wobbles slightly with his back to the ropes, most likely from fatigue, and not because he is hurt. The fighters clinch and maul again on the inside. Both boxers connect with rights to the head. Late in the round, Ibragimov scores a stiff left hook and right to the head.

IBRAGIMOV'S ROUND


ROUND TWELVE
McCall stalks his opponent, throwing left jabs and rights, all of which miss the mobile Ibragimov. Ibragimov connects with a right to the body, then dances away. Ibragimov connects with a right to the head. The fighters fall into a clinch, then Ibragimov resumes moving on his feet. McCall storms forward with a series of jabs and rights, all of which miss, and Ibragimov counters with a slapping left hook to the head. The fighters clinch some more, then Ibragimov pulls away. Both fighters miss with right hands and fall into a clinch.

IBRAGIMOV'S ROUND Article posted on 22.06.2010
previous article: News: Oliver vs Pastrana; McCreedy vs Biosse; Escobedo vs. Beltran
next article: Complete Predictions for the Super Six Tournament pt. II: Stage 2 Summary and Adjustments