Summer Fight Night Explosion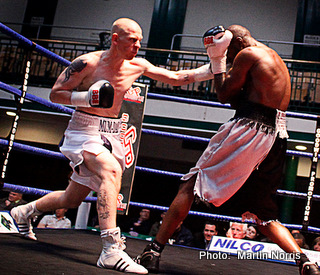 By Ezio Prapotnich - Unluckily for the crowd in attendance at London's York Hall yesterday night, Goodwin Promotions main star, International Light Middleweight Masters Champion Yassine El Maachi (13-4-0) was forced to pull out of his scheduled bout due to a virus that kept him from training for 10 days. The decision was made by trainer Don Charles with in mind his charge challenge for the WBC African title on the 24th of July in Morocco, opponent yet to be named, a chance for Yassine to propel himself in the world rankings which neither he or Steve Goodwin were willing to risk by having The Showman fighting in poor condition and may be losing.

Naturally, the attention turned on the indirect duel between former English Champion Ryan Barrett (20-8-2) and Mark "The Flash" Alexander (10-4-0), who will face each other on September 11 in another Goodwin card.

Barrett took the stage first in the third bout of the evening against fellow lightweight Jason Nesbitt (8-111-2). It was a one sided affair in which Ryan appeared by far the most technically accomplished boxer.. From round 1, the former English Super Featherweight Champion dictated the pace moving around, letting Nesbitt chasing him and welcoming him in with 1-2, right hands, and body shots. There were a few close exchanges in the second but without any damage done on either side, but Barrett came up on top again, if not for effectiveness, surely for having a higher work rate. Jason stepped it up a bit in the third and landed one good body shot, but Ryan swarmed all over him in retaliation and, again, although not showing a lot of power, he displayed more variety in his shots. And that has been more than enough to get him through the last three rounds of an uneventful fight to gain a 60-54 decision.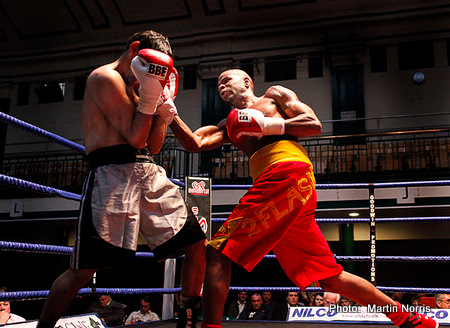 By taking on Barrett's last victim Sid Razak (4-48-0) in another lightweight bout, Alexander was surely looking to make a statement and send a warning to his future foe. But, although dominating the fight and winning by far, he fell just a little short. From the first bell, he took control of the action with a strong jab that he landed at will to head and body. Razak, a fighter who takes very few chances and is usually happy just to survive till the final bell, got caught with every shot without an answer. And that set the pattern of the all fight, with the exception of the third and th 5th where Sid got more adventurous and they mixed it up a bit more, with Mark still totally in command. But, in the 6th and final round Razak put on a very brave effort and really brought the fight to his opponent pinning him on the ropes and catching him to lose by 59-55, whereas with Barrett he did not score any point. If anything, this raises even more expectations about the match between Alexander and Ryan in September.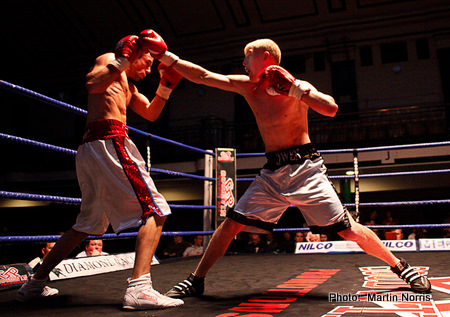 Next, Duke McKenzie's southpaw pupil Tony Owen (7-0-0) put on a truly remarkable performance against Kristian Laight (6-78-6) in a 4x3 middleweight contest. Displaying a blinding hand speed, Tony established himself as the aggressor all the way, producing every punch in the textbook and winning in every department, body or head, fighting from outside or inside. Outclassed Laight only weapon was a bit of showboating in an unsuccessful effort to out psyche his opponent on the very few occasion where he managed to land something. A 40-36 decision for Owen, definitely someone to keep an eye on.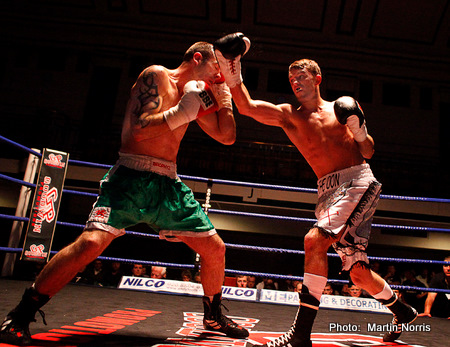 But, in spite of all the above action, the award of best fight of the night goes to the middleweight contest between John Brennan (debut) and last second replacement Chris Brophy (3-40-3), 4 rounds of relentless action, with both men landing clean shots on each other without taking backward steps, which ended in a 39-39 draw. And that's entertainment!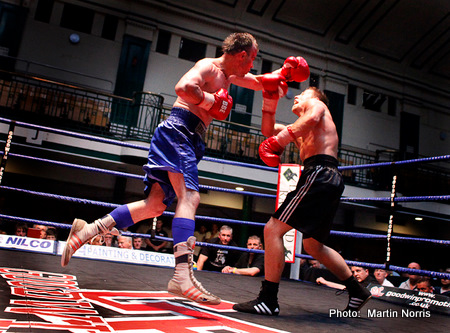 Other results of the night:

Adam Battle(debut) bt Danny Donychev(2-21-0) 40-36, 4x3 Welterweight.
Bradley Evans(4-0-1) bt Karl Taylor(16-138-7) 60-54, 6x2 Lightweight
Michael Norgrove(2-0-0) bt Ryan Clark(1-13-2) 39-38, 4x3 Middleweight
Marco Stephenson(1-1-0) bt Matt Jack(1-5-1) 39-38, 4x3 Light Heavyweight


Article posted on 20.06.2010
previous article: Alantez "Tez" Fox Inks With TKO Boxing
next article: Event Report: Summer Fight Night Explosion, York Hall on 19th June 2010