Andre Ward - Allan Green Final Press Conference Quotes and Video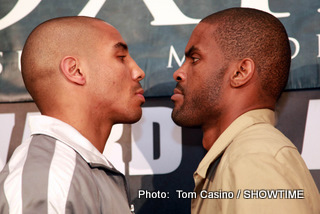 OAKLAND, Calif., (June 16, 2010)Ė-OAKLAND, Calif., (June 16, 2010)Ė-Andre Ward and Allan Green met face-to-face at todayís final press conference in advance of their Super Six World Boxing Classic and WBA World Title tilt on Saturday, June 19ólive on SHOWTIME, 10p ET/PTófrom Oaklandís Oracle Arena. While both men were respectful of one another, the tension in the room was nearly tangible. Whatís at stake in the final Group Stage 2 bout:

∑ The undefeated Ward (21-0, 13 Kos) is making his first world title defense (WBA 168-pounds).
∑ Green (29-1, 20 Kos) is getting his first world title shot and his first Super Six bout (replacing Jermain Taylor).
∑ Both are seeking one of four coveted berths in the Super Six World Boxing Classic Semi-Finals.
∑ With a victory, Ward would clinch a spot in the Semis prior to his Group Stage 3 bout vs. Andre Dirrell; Green would still have a chance in Group Stage 3 against Mikkel Kessler.
∑ If Green is victorious, all six fighters would be virtually deadlocked going into the final and decisive Group Stage 3 matchups..





What the fighters had to say on Wednesday.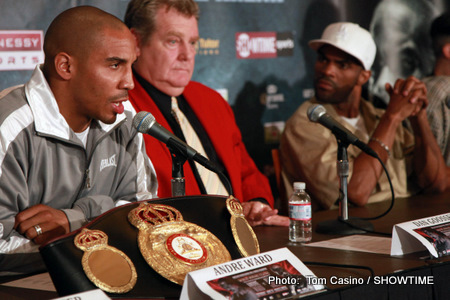 Andre Ward:

"Well this is my favorite part of it right hereÖ fight week baby. The hard work is basically over. All the interviews are basically over and itís time to go to work. This is what I do best. To quote John Wooden, you know I donít let the praises of the people or the criticism get to me. Because itís a weakness to get caught up in either one. I appreciate the praises of the people, I honor that, I thank them for that. And those whoÖ people who have a lot of negative things to say about me, even my opponent, his coach, his team, thatís fine. But Iím locked in on what I have to do. Fight in and fight out. Iíve sacrificed a lot for this moment. Iíve sacrificed my wife, my kids and theyíve sacrificed a lot, tooÖ.. I donít think people realize whatís inside of me and what kind of focus I have. They think when you get this belt that itís time to relax. They think that Iím the one thatís being hunted and to a degree I am, but I have a lot of desire in me, man. And I got a lot of passion in me. I donít know if he wants this belt as bad as I want to keep it, but if he does, then itís going to be a whole lot of fun on Saturday night. Weíre going to have a good show."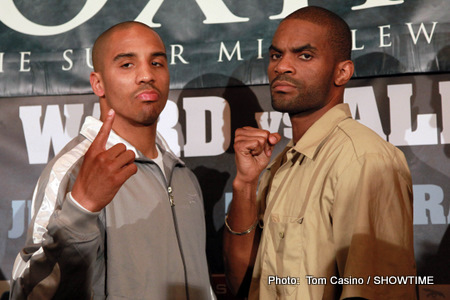 "Iím not going to tell you guys how great I am, how great Iím going to be. Iíve got to continue to show you. Iíve been in this game a long time and I understand itís about putting in the work and showing people. Itís not about these press conferences. Itís not about the interviews. Itís about putting in the work and when itís time to show up, show up. And thatís what I plan on doing. So, I thank everybody thatís involved with this event, SHOWTIME, Oakland, we are getting ready to do it again. Thank you."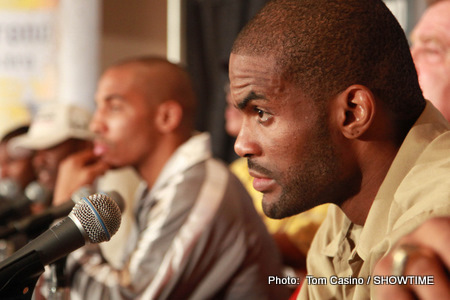 Allan Green:

"Andre Ward is a good young fighter. He hasnít lost since he was twelve or thirteen years old. We understand that. Weíre not minimizing him or undermining him in any way. Thereís no need for me to get chuckling here today. I see children here. I see people here having a good time, but Saturday night I will be the WBA super middleweight champion. Thatís what I came here for. I know what I can do."

"To dissect me youíve got to have a hell of a scalpelÖ to dissect Allan Green, a hell of a scalpel. Because a lot of people tend to think, they want to label me as a puncher. True, I am a puncher, but at the same time a lot of people fail to realize Iím a pure boxer. I do know how to box. I do know how to think. So if anybodyís got it in there mind thinking that Iím just coming to walk this young kid down and blast him out and blow him out the water like Kessler did."

"Like I said, hereís the problem. Mikkel Kessler is from Denmark. He speaks English. Ward speaks English. Kessler understands English. Kessler doesnít understand jive, thatís why he couldnít deal with Andre Ward. I speak jive very well and will Saturday night."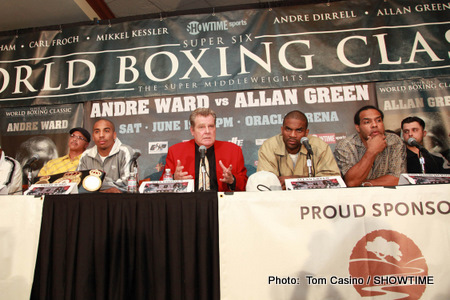 John David Jackson (Greenís Trainer)

"Everybodyís pretty much picked Andre Ward to win. I donít know why we even showed up. James Prince said heís ready to go to war, but one thing you got to remember when you go to war, you leave your head open for punches. And this brother (Allan Green) right here, heís got dynamite in both hands. So, if Andre Ward comes to go to war, thatís exactly what we want. And if he does that, he wonít be champ anymore."

Virgil Hunter (Wardís Trainer)

"The talk is over and we can get down to the grit of it. In my opinion youíre not the champ until you retire the champ. You have to be able to hold on to the title and thatís where our mind set is. Allan Green is not taken lightly. His flaws, weíve identified them. His strengths we have identified them too. A lot has been said about what comes out of his hands, but if you look at his record, we have the better knockout percentage. Judging from the fighterís and competition heís faced, this is the first time that heís really going to get hit. This is the first time heís going to find out how violent Andre really is. Everything we do, we do with speed. If he stays where he is in the speed zone, heís going to get chewed up. We are going to find out who has the dynamite in the fists. We are going to do what we always do. We are going to shock your mind, take your heart and we are going to dissect you down and constrict you and then we are going to give you a venomous bite."

Dan Goossen (Wardís promoter)

"This is the first time in history that the Bay Area has ever hosted two back-to-back championship fights within a twelve month period. First and foremost I want to thank the fans for coming out to Oakland and supporting their hometown hero. When this thing is all said and done, youíre going to see your Oakland fighter, youíre Bay Area fighter, become a pay-per-view star."

SUPER SIX WORLD BOXING CLASSIC SCOREBOARD (Through five fights)

Record Fighter Points

1-1 Arthur Abraham 3
1-0 Andre Ward 2
1-1 Mikkel Kessler 2
1-1 Carl Froch 2
1-1 Andre Dirrell 2
0-0 Allan Green 0
Article posted on 16.06.2010
previous article: Bradley vs Abregu Interview Transcript
next article: Prizefighter Super-Middleweights: Confident Maidenhead fighter to become youngest competitor ever; Tony Salam wins public vote