Conlan receives plaudits from Irish boxing legend Dave 'Boy' McAuley
By Brendan Galbraith - Renowned Belfast trainer, John Breen is looking forward to Friday night's McCloskey-Lauri card and he has a busy roster of fighters on the bill – handling the corner of McCloskey, Joe Rea, Andy Murray and Stephen Haughian.

Another rising Irish prospect that will be fighting under the guidance of John Breen on Friday night is Belfast Flyweight Jamie Conlan (2-0). Breen is brimming with confidence about Conlan's progress in the paid ranks and is already plotting a title surge for Conlan later this year..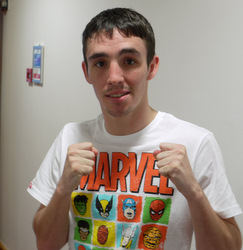 "Hopefully if he wins this fight on Friday night we will get another one or two fights. I think Jamie will win a British or Commonwealth Title fight before the end of this year – he has the ability to do it".

Certainly, with the British Title fight, there seems to be a bit of a queue with the rematch with Sexton-Bayaar and the likes of Luke Wilton in the mix too, so how confident is Breen that you can get Conlan a British Title shot this year?

"I can get it if I want it. I have spoke with Frank Maloney and he said he might come over to the fight on Friday night to look at Jamie, but he said that he said that he will watch him sometime and wants to do a deal with me. Jamie will be winning a British or Commonwealth Title before the end of this year. I am confident that Jamie will do it."

As for Conlan, he is happy to fight whoever Breen puts in front of him:

"I have got to beat who is in front of me. John chooses who I fight and whoever he puts in front of me I will fight them – if he feels I am ready for it then I am ready.

The prospect of British or Commonwealth Title fights for a two-fight pro novice, on the surface, would appear to be a little premature. However, Conlan comes to the pro game as a decorated amateur and with approximately 100 fights in the unpaid ranks, he has won four Ulster Senior Titles, three Irish Titles, two under-21s, Four-Nations Titles, and numerous multi-nations and has twice won best boxer awards in internationals in America and Canada. Aside from Conlan's impressive amateur pedigree, Breen has been delighted with his fighter's conversion to the pro ranks:

"He is a good wee box-fighter. Plenty of courage and as a boxer to go to the very top, you need plenty of courage – Jamie has plenty of courage and loads of ability. He has adapted to the pro game like a duck to water. He looks super."

Breen further supports his contention that Conlan is a classy operator by regaling expert opinion from an Irish boxing great that ruled the world in Conlan's Flyweight division, Dave Boy McAuley. Breen explained:

"Dave 'Boy' McAuley watched him in his last fight in Dublin and I had said to Dave Boy to take a look at Conlan for me. Dave 'Boy' watched him and after the first round he gave me the thumbs up and as the fight went on Jamie started getting through with the body punches and knocked the guy out with a body punch in the 5th round. And Dave 'Boy' McAuley said he is a smasher".

Conlan also revealed that prior to his last fight in Dublin he has met up with McAuley for dinner and was given great tips from McAuley including how to throw good body punches. Commentating on the plaudits he received from McAuley, Conlan said:

"It's great because you look up to Dave Boy McAuley after all that he has achieved and it is great to get those tips from him".

In Conlan's impressive debut win in front of a packed house at the Odyssey Arena on the last fight before the main event of Sexton-Rogan II he was given a rapturous reception by the Belfast crowd.

"The Odyssey is special as it is a big venue with a very big crowd. The Kings Hall is a special venue for boxing and it is going to be something else. It is going to be a different feel to the Odyssey and something that I will relish."

"It is better to get the experience of fighting in the Kings Hall early in your career so when you go back for bigger fights you will not feel nervous and will be better prepared for the experience."


The proposed card for Friday 11th June 2010 at the Kings Hall, Belfast is:

Paul McCloskey (20-0) v Giuseppe Lauri (50-6) EBU Light Welterweight Title
Stephen Haughian (18-1-1) v Kevin McIntyre (27-7) Celtic Welterweight Title
Jason Cook (26-3-1) v Charlie King (16-2) Lightweight
Carl Frampton (5-0) v Ian Bailey (5-4) Super bantamweight
Harry Matthews (9-0) v Ciaran Healy (10-15-1) Middleweight
Kris Carslaw (9-2) v Joe Rea (7-1-1) Light Middleweight
Luis Garcia (6-0) v Nathan King (12-16) Light Heavyweight
Andy Murray (19-0) v Jon Baguley (9-18-1) Lightweight
Gavin Rees (32-1) v Sam Amoako (6-1) Lightweight
Jamie Conlan (2-0) v Delroy Spencer (11-100-3) Flyweight

The Yanjing Beer Fight Night will be live on Sky Sports and tickets priced £30, £60 and £90 are available from Ticketmaster and all usual outlets. Contact Ticketmaster 0844 8472455 (0818 719300 from ROI), Box Office 01277 359900, Julie 07745698372, Francie 07803282224.

Brendan Galbraith can be contacted at bmgalbraith@yahoo.co.uk



Article posted on 10.06.2010
previous article: UK Boxing: McDermott vs Fury; Jamie McDonnell; Yassine El Maachi