The Takeover Of The Home Of Boxing: After Match..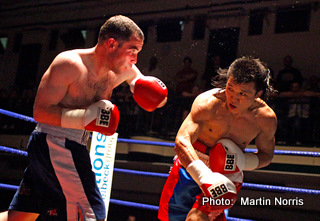 By Ezio Prapotnich - HardKnocks Boxing, Spencer Fearon and Ciaran Baynes' promotional vehicle, delivered exactly what promised: good customer satisfaction. Without major titles at stakes, sanctioning bodies involved, and no politics whatsoever, the crowd had been treated to 6 fast paced and action packed bouts with clear undisputable winners.

Darren Hamilton (6-1) opened the show at Welter weight in a 4 rounder against Ryan Barrett's replacement Ideh Ockuko (1-1). Bouncing back from a knockout loss, Darren has proven he learned from his mistakes. Using good movement to dictate the pace and stay out of trouble, Hamilton outworked Ockuko with his jab, following occasionally with straight right hands and hooks and clinching when necessary to break the action in his favor. The bout ends with a 39-37 decision for Darren and a cut on the left eye for Ockuko..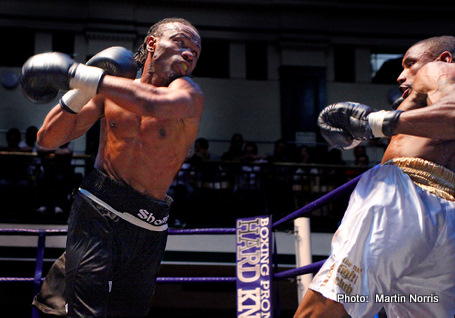 Fighting for the second time as a pro, Light Welterweight Joe Catchpole (2-0) did not fail to impress against Sheffield's Daniel Thorpe (23-102-3) in another 4 rounder. Applying constant pressure, Joe kept his opponent constantly on the back foot and against the ropes, where he smothered him with thunderous hooks to head and body, catching virtually nothing in return and winning a 40-36 decision.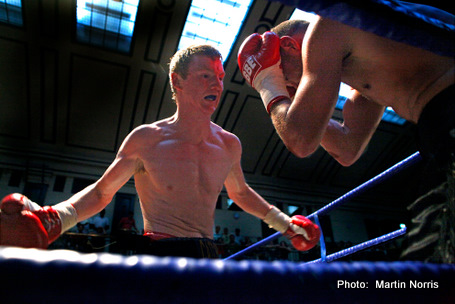 Next, southpaw Nathan Graham (10-1) met Scott Woolford (10-7) at Welterweight for a 6 rounder. Graham won comfortably the first 3 rounds with his constant right jab, followed at times by a straight left hand or hook, occasionally switching to orthodox stance. Woolford gambled more in the second half, coming forward to force toe-to-toe exchanges in which he had some success, but not enough to win. Nathan prevailed in the end with a 58-57 decision.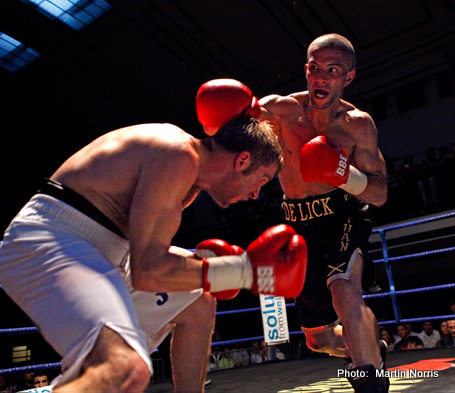 Welsh Light Heavyweight Shon Davies (7-6) replaced at short notice Courtney Fry for a scheduled 8 rounder against Southern Area Super Middleweight Champion Tony Salam (9-1). Shon imposed himself as the aggressor in the first round by stalking Tony around the ring, but his attacks seemed to be rushed and a bit disorganized, while Salam remained perfectly calm and composed, measuring him up for surgical counters, closing the round with a beautiful uppercut that landed flush on Davies chin. In the second, Tony took the initiative first with his right jab, opening up with hooks, uppercut to the body and straight left hands, but soon reverting to counter effectively while Shon chased him swinging wildly. The same pattern repeated in round 3 until Salam caught his man with a perfect right hook followed by a relentless attack that put him down forcing the referee to stop the bout at 2:31.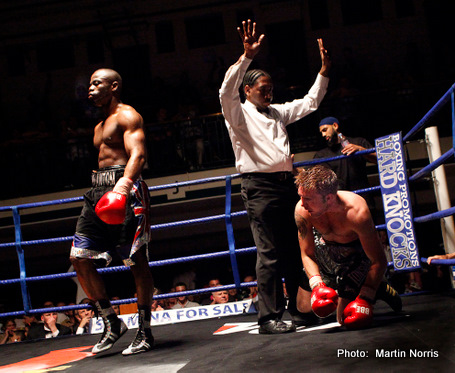 It was then time for WBU Featherweight Champion Choi Tseveenpurev (29-4), loudly supported as usual by his fellow Mongolians fans, to raise the roof with a brilliant performance against Mickey Coveney (9-11) in a scheduled 6 rounder. Choi took his time in the first, bobbing and weaving around his opponent and getting caught in more than one occasion with jabs, hooks and right hands, which did not make any damage though. In the second, the Mongolian Champion pressed on the accelerator increasing his work rate with jabs and hooks. Coveney was still managing to land some right hands until a sudden left on the chin put him down almost at the sound of the bell. He was also cut below the left eyes. Still unsteady at the beginning of the third, Mickey was an easy target for Choi right hands and 1-2, which he landed at will until closing the argument with a straight right at 2:22. Floored once again, this time Coveney was unable to continue.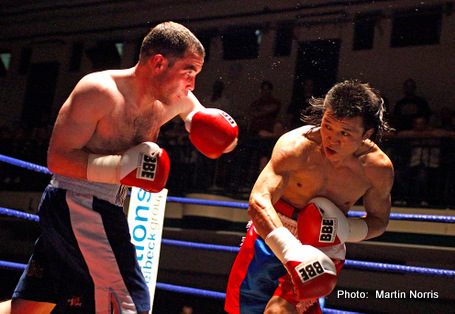 After the Mongolians finished cheering their hero, it was the turn of the Albanian crowd of the York Hall to go absolutely crazy when WBF Middleweight Champion Kreshnik Qato (24-6) walked to the ring for the final 6 rounder of the evening against Matt Scriven (14-70). It was really a joyous scene and a great atmosphere, although the fight in itself did not live up for intensity with the previous ones. In a one-sided affair, overmatched Scriven was kept constantly at bay by Qato's jab. With the exception of the first round, where Matt managed to come forward and apply some pressure on the champion, who, at that point, was just studying his opponent, the Albanian warrior, working behind the jab, increased slowly but surely his work rate and the variety of his shots throughout the bout. By the time we entered the 6th and final round, Qato was completely dominant and the aggressor all the way, backing up his man, who had no more answers to his attacks. 60-54 the final score in favor of the WBF champion.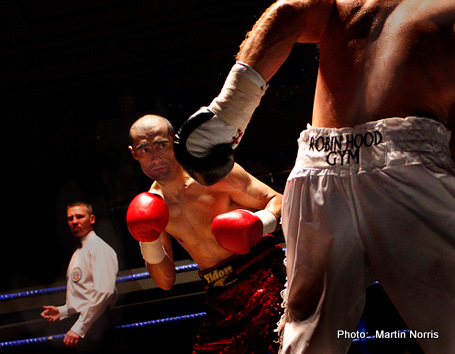 In conclusion, the crowd left the venue with a feeling that resembled more the end of a rock concert than a boxing match. All throughout the evening, the atmosphere was relaxed and cheerful. Hardknocks Boxing formula, aimed to provide a pure source of entertainment to a public not necessarily made of boxing experts, proved refreshing and surely made the point that it's not all about belts and undefeated records. Will this be the new direction of boxing in the UK? Most of all, how well can Hard Knocks unconventional approach compete against the bigger, more established promoters on the scene? It's early to answer but we are definitely curious to see what Fearon and Baynes will come up with next.

Article posted on 05.06.2010
previous article: Juan Carlos Gomez Out-Points Oezcan Cetinkaya In Dreary Affair In Germany