Miguel Cotto vs Yuri Foreman Weigh-In Photos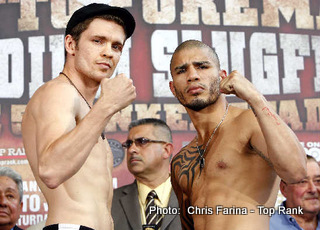 BRONX, N.Y., June 4, 2010 – (L-R) Undefeated WBA World Super Welterweight champion Yuri Foreman, Brooklyn, N.Y., and three-time world champion Miguel Cotto, Caguas, Puerto Rico, pose after weighing in (Foreman 154 lb,Cotto 153.5 lb) Friday at Yankee Stadium for their upcoming World Super Welterweight championship at Yankee Stadium, Saturday, June 5, on HBO Championship Boxing.

Undefeated junior middleweight titleholder Yuri Foreman (28-0-0, 8 KOs) defends his crown against former 147-pound champ Miguel Cotto (34-2-0, 27 KOs) in the "Stadium Slugfest." The bout is the centerpiece of the first boxing card at the new Yankee Stadium, continuing the former Yankee Stadium's long and proud tradition as one of the world's premier boxing venues. The ring, along with thousands of additional seats, will be set up in right field for what promises to be a memorable night for the sweet science.

(L-R) USA Olympian Vanes 'Nightmare' Martirosyan, Glendale, CA, and Joe Greene, New York, N.Y., pose after weighing in (Martirosyan 153.25 lb, Greene 151.5 lb) Friday at Yankee Stadium for their upcoming feature fight at Yankee Stadium, Saturday, June 5, on HBO Championship Boxing..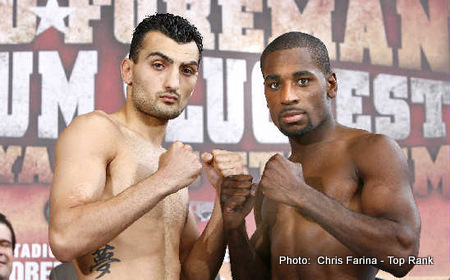 Tommy Rainone Ready for "Stadium Slugfest" at Yankee Stadium on June 5

Long Island, New York (May 31, 2010) - It still hasn't hit welterweight boxer Tommy Rainone how big his next fight is. His opponent - Terry Buterbough of Colorado - has a record of 5-3 (3 KO), and isn't going to ring any bells with his name recognition. The six-round welterweight bout will, however, take place on the biggest boxing card in America this year this Saturday, June 5 at Yankee Stadium in the Bronx, NY. The event - headlined by the junior middleweight title match between champion Yuri Foreman and challenger Miguel Cotto - is expected to draw 30,000+ as well as media from every corner of the world. An opportunity like this comes around once in a lifetime, which is a fact that Rainone is well aware of.

"I still haven't wrapped my mind how huge this event is yet," says Rainone, 13-3 (4 KO), of Plainview, Long Island. "It won't hit me until I leave my dressing room and walk into Yankee Stadium in front of 30,000 screaming fans."

Rainone, 30, says he knows very little about his opponent, but has prepared for the performance of his life. The southpaw specialist trains at the Westbury Boxing Club, which is the same gym he has trained at since he discovered boxing at the age of 17. His trainer, Jorge Gallardo, trained another southpaw Jake "The Snake" Rodriguez to the IBF junior welterweight title in 1994.

The card, entitled "Stadium Slugfest", will be promoted by Top Rank in association with Miguel Cotto Promotions and Yankee Stadium. The main and co-main event will be televised by HBO's World Championship Boxing beginning at 10:15 PM ET/7:15 PM PT.

"I'm a life-long Yankee fan and to be able to fight at Yankee Stadium in front of Yankee greats and my hometown fans, it's a dream come true. I'm just going to soak it all in, make sure to have a great time and make a statement with the world watching me."

Tickets, priced at $400, $300, $200, $100, $75 and $50, can be purchased at the Yankee Stadium box office, all Ticketmaster outlets and Ticketmaster.com. To charge by phone, 800-982-2787. For more information, go to www.TopRank.com. Article posted on 03.06.2010
previous article: UK Boxing: Tony Bellew; Ian Napa; Ali Adams
next article: Australia's Anthony Mundine Wants To Fight Mayweather Junior - Says He's The Only Man Who Can Beat "Money!"