Celestino Caballero at The 2010 UFC Fan Expo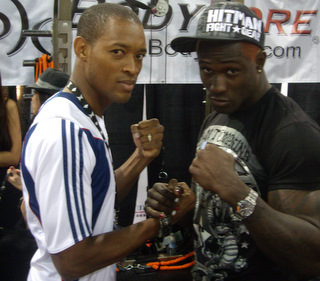 by Jody Kohn - Today I had the opportunity to visit the UFC 2010 Fan Expo with Celestino "Pelenchin" Caballero. He is currently staying with his trainer Jeff Mayweather, so I picked him up at Jeff's and we headed over to Mandalay Bay. He was pretty surprised at how packed the place was. Forrest Griffin, Cain Velasquez, Shane Carwin, Matt Hughes, Ken Shamrock, and dozens of other UFC fighters mingled with the thousands in attendance.

Pelenchin enjoyed stopping by the different booths where companies were promoting their newest products. We got to say hello to a couple of the fighters such as Melvin Guillard and Ross Pearson, but neither of us were in a big hurry to combat the oceans of people surrounding most fighters. On several occasions he was asked to participate in punching a bag that demonstrated some various product. However, even if he wanted to, he was forced to decline. During the second round of last month's fight against Yordan, he injured his hand. His first knuckle is currently about three times it's normal size. He has an appointment to get it checked out next week.

I never had an official interview, but over the course of several hours, I got to speak to him on a variety of topics. Of course his negotiations with Gamboa were definitely a point of interest.. He confirmed the dollar offers that have been reported, and was pretty disgusted by them. To him it is an insult that he would only be offered a quarter of what Gamboa was asking. He also commented that Gamboa was crazy to think he could get 1 million for the fight. He wants the fight, but you definitely get the feeling that the numbers being floated were insulting.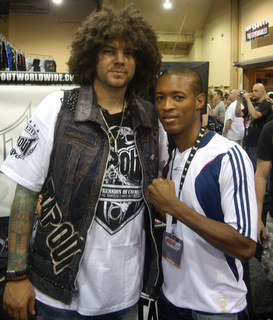 I also asked him if he sees any possibility of a fight with Chris John. He quickly dismissed it, saying there is no chance of that coming anytime soon. John's management according to him, have no intentions of pursuing that fight. It was lost in translation a little, but he seemed to think that John's handlers are a little odd in the way they handle him.

I could sense the frustration in him as once again he is having a hard time lining up an opponent. He wants to fight sooner rather than later, and the contract issues are not something he enjoys.

Overall, it was a great time. Pelenchin was a little more quiet than usual. He seems to be a little frustrated by all the politics involved in boxing. He just wants to fight, but at the same tme he realizes he has to make it worth his while. He got most excited when the topic turned to music. He plans on shooting a video here in Vegas for his next song. In the future, I will keep you updated on how it is going.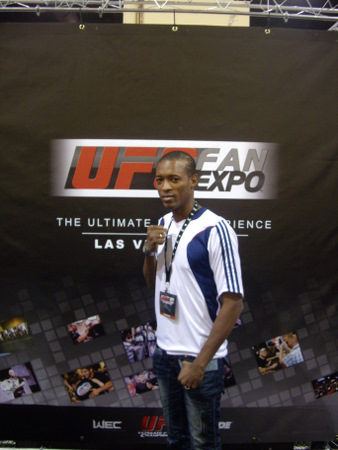 Article posted on 30.05.2010
previous article: Prizefighter champion Willie Casey targets European title shot next
next article: Euro Boxing Roundup: Maccarinelli vs Frenkel; Felix Sturm; Holyfield vs Nielsen?