News: Mike Lee; Mikael Zewski; Lujan vs Berrio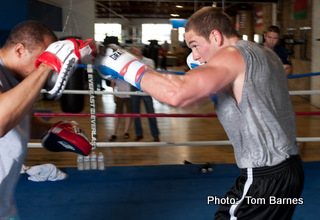 CHICAGO, IL (May 27, 2010) Former Notre Boxing Captain and 2009 Chicago Golden Gloves Champion Mike Lee held an open workout for the local media and fans at JABB Boxing Gym in Chicago on Wednesday afternoon. Along with trainer Ronnie Shields, Lee looked in terrific shape and very sharp as he went through an hour long, spirited training session just three days prior to his pro debut set for this Saturday night, May 29th at the UIC Pavilion in Chicago.

"We've put in the work for the last four months in Houston and Ronnie has done a terrific job preparing me for this. I'm in the best shape of my life and can't wait to get in the ring and put on a great performance on Saturday night" said a very enthusiastic Lee.

Lee will face Emmitt Woods in a scheduled four rounder in one of the feature bout at TOP RANK LIVE..

The main event at TOP RANK LIVE will feature an outstanding ten round welterweight showdown between Mexican veterans Jesus "Renuente" Soto-Karass and Gabriel "EL Rey" Martinez .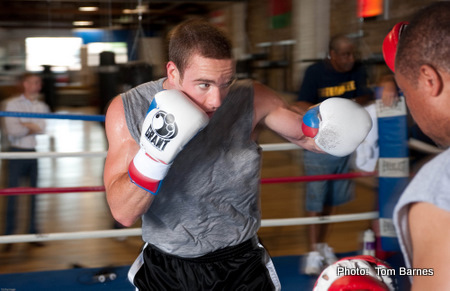 The undercard will feature Chicago's Ivan Popoca, Antonio Avila and Polish heavyweight prospect Krzystof Zimnoch.

Advance tickets for TOP RANK LIVE, presented by Top Rank Incorporated and Chicago's 8 Count Productions, priced at $101, $51 and $31 are now on sale through Ticketmaster (www.ticketmaster.com), the UIC Pavilion Box Office (312-413-5740) and the 8 Count Productions' Office (312-226-5800).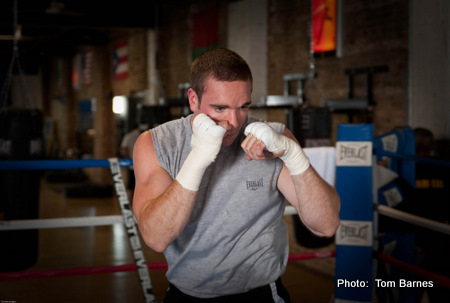 Doors on the evening of the event will open at 7pm with the first bell at 7:30pm. The UIC Pavilion is located at 525 S. Racine , just one block south of the Eisenhower Expressway. For further information, please visit their website at www.uicpavilion.com. The UIC Pavilion is now serving alcohol at all boxing events.

Further information on Mike Lee can be viewed at his website www.mikeleeboxing.com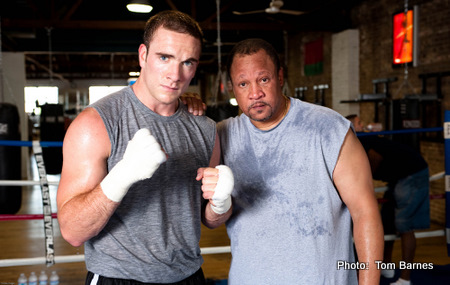 MIKAEL ZEWSKI READY FOR BATTLE IN QUEBEC CITY THIS FRIDAY NIGHT

QUEBEC CITY, CANADA (May 27, 2010) Top welterweight prospect Mikael Zewski will face veteran John Hoffman in a scheduled four round bout in his Canadian debut Friday night, May 28th, at the Pepsi Coliseum in Quebec City .

The Zewski/Hoffman scheduled four rounder is one of the featured undercard bouts on the ESPN2 televised, highly anticipated showdown between legendary Quebec former world champion Eric Lucas and perennial contender Librado Andrade.

Since turning professional earlier this year after an outstanding amateur career, Zewski, 3-0-0 (2KO's), has quickly impressed fight fans in the United States with his devastating power, winning his first two bouts in stunning knockout fashion, both of which were televised on Canada's "Super Channel".

In his most recent bout on May 1st, the 21 year old Trois-Rivières, Quebec native dominated Alex DeLeon, sweeping the judges scorecards in the four round battle held in Iowa City, Iowa .

"I was back in the gym right after the DeLeon fight to prepare for this bout. There's been a great deal of media attention for the main event and I'm very excited and honored to be fighting on the same card as Eric Lucas" said Zewski.

"Lucas is very popular here and they're expecting a crowd of over 10,000 which will be a terrific experience to fight in front of. We also have a very large group coming down from Trois-Rivières for the fight."

The Zewski/Hoffman bout is presented by Interbox in association with TKO Boxing Promotions.

Tickets for this Interbox event can be purchased through the Pepsi Coliseum Box Office, or through the Billetech network by dialing 418-691-7211 (toll free: 1-800-900-SHOW) or by going online to: www.billetech.com. Fans can also procure their tickets at Club de boxe Champion (514-376-0980).


HBO PLUS' "NEXT BOXING GENERATION" RETURNS TO ARGENTINA FOR AN EXPLOSIVE NIGHT OF ACTION

WELTERWEIGHT CONTENDER SEBASTIAN LUJAN MEETS JAILER BERRIO THIS FRIDAY, MAY 28

LOS ANGELES, May 27 - HBO Plus' "Next Boxing Generation" returns for its 17th episode this Friday, May 28, as welterweight contender Sebastian "Iron" Lujan defends his home turf of Argentina against Colombia's Jailer "Reggeton" Berrio in the 10 round main event for the WBC Latino welterweight title at the Estadio Universidad Technologica in Santa Fe.

The event which is presented by Golden Boy Promotions in association with Arano Box Producciones, will air live on the HBO Plus service in Latin America beginning at 11:00 pm local time (10pm ET).

In the 10 round co-featured bout of the evening, the WBC Latino lightweight title will be on the line when unbeaten Buenos Aires contender Marcelino Nicolas Lopez takes on rugged countryman Alberto Santillan

Tickets, priced at 110 pesos (ringside VIP), 80 pesos (ringside), 60 pesos (platea) and 30 pesos (general) are still available for purchase online at www.ticketway.com.ar and in the Olimboxing Gym (Aristobulo del Valle 4136, Santa Fe).

A longtime contender who has bounced back impressively since his lone welterweight title fight loss against Antonio Margarito in 2005, Rosario, Argentina's Sebastian Lujan (32-5-2, 20 KO's) is closing in on another shot at 147-pound gold thanks to a six fight winning streak that includes wins over Walter Matthysse and Jose Luis Castillo. Currently ranked in the top 15 worldwide by the WBC, WBA, and IBF the 30-year old Lujan is intent on sending his fans home happy on May 28.

22-year-old Jailer Berrio (12-6, 7 KO's) has taken no shortcuts up the welterweight ranks since turning pro in 2005, and with a win over Sebastian Lujan, he will take a huge step towards an eventual title shot. Winner of two in a row, Berrio is ready to spoil Lujan's homecoming

Buenos Aires' Marcelino Nicolas Lopez (17-0, 7 KO's) has come a long way in just four years as a pro, winning all 17 of his bouts and earning a reputation as a fighter to watch in the lightweight division. Fresh from a second round TKO of 44-fight veteran Javier Alvarez last November, the 24-year-old "Nino" will face a stiff test in Tucuman's Alberto "El Puma" Santillan (16-4, 5 KO's), a rugged competitor who has won six of his last nine bouts.

In undercard action, Buenos Aires super middleweight Franco Sanchez (11-6-2, 4 KO's) meets up with Uruguay's Richard "Hulk" Viudal (11-1-1, 4 KO's) in a six/eight rounder. Also featured will be three fights featuring Argentina's top prospects, as junior welterweight Jorge Caraballo makes his professional debut against Juan Alejo Orleacq (0-1-0); while cruiserweight Daniel Zanabria (8-0, 6 KO's) faces Rogelio Rossi (12-2-1, 7 KO's) in a four/six round fight, and lightweight Cristian Gonzalez (2-0) meets Federico Malaspina (0-0-2) in a four round battle.

Opening up the event will be a pair of four round bouts pitting debuting Diogenes Caunedo against Ricardo Ocampo (0-1), and another pro debut, Julio Cesar Caceres against Luis Ponce (1-6-2).

"Next Boxing Generation," which was launched in August of 2008 by Golden Boy Promotions in association with HBO Latin America Group, features the top up and coming Latin American fighters in boxing today in exciting bouts that will appeal to fans across all demographics. The series has seen fights take place throughout Mexico as well as in Argentina, Colombia, Panama, Puerto Rico, the United States and Uruguay.

For more information visit www.goldenboypromotions.com, follow Golden Boy on Twitter at www.twitter.com/GoldenBoyBoxing and on Facebook www.facebook.com/GoldenBoyBoxing Article posted on 26.05.2010
previous article: Nonito Donaire - What's the hold up?
next article: Turley primed for all-Welsh Prizefighter clash; Owen: I will still be unbeaten after Prizefighter