Chazz Witherspoon Turns Pro: It Runs In The Family
09.12.04 - Interview by Wray Edwards: This Sunday at the D.C. Convention Center in Washington, D.C., CHAZZ WITHERSPOON, second cousin of former heavyweight champion "Terrible" Tim Witherspoon, makes his four round Pro debut opposite James Daniels, 1-2 from Laurel, MD. Chaz is in his final semester at St. Joseph's University majoring in Pharmaceutical Marketing. On full academic scholarship. Chaz turned down basketball scholarships to stay in his home area of New Jersey.

He won the 2004 National Golden Gloves with five straight KO's; the only man in the tournament to do that. Witherspoon (23)also earned a position as alternate on the Olympic team even though his competition averaged 150 more bouts in fighting experience. Mr. Witherspoon took a few moments to speak with Eastside Boxing to discuss his upcoming fight and his career in general.

ESB: How long have you been boxing and whatever made you think you could do it – did you get into some scraps on the basketball court?

CHAZ: "The future for me in basketball did not look that good. Maybe I could have played some overseas, but as far as the NBA, there was not that much opportunity there. So I thought let me see what else I could get into. That's when I tried boxing because that's what Tim did, and ended up being OK at it, so I decided to do my best."

ESB: Is Tim coaching you or what part has he played in your Career? When did you first see him fight.

CHAZ: I saw him box on TV when I was about seven. It was fun to have a relative be so famous, but it never occurred to me then to want to be a boxer like him…that came much later. In the beginning, when I decided to take up the sport, he talked to me and got me mentally prepared. He told me boxing is tough…not for everybody and got me prepared mentally. My coaches are Wade and Randy Hinnant.

ESB: What was your amateur record?

CHAZ: Out of thirty-two matches I was twenty-five and six.

ESB: When was your most recent loss?

CHAZ: That was during the Olympic box-off which is why I became the alternate. Most of that was what they call computer scored fights which is very different from professional scoring. Then three of my losses were to a guy named Mathew Godfrey…he's a pro now. All but one of my losses were computer scored. You have to learn how to fight in a different way when the bouts are scored by computer.

ESB: Speaking of scoring, what would you think of posting the scores after each round? Do you think it would give you a better way to see how you were doing and step it up if necessary?

CHAZ: Yeah, that would help…definitely.

ESB: Do you think of yourself as an inside fighter or an outside fighter?

CHAZ: I try to be able to do both. I want to be able to do both. Right now I fight well on the inside and I fight well on the outside. I want to have that balance so that I can take on any guy's style and beat him at it.

ESB: What do you think of today's boxing fans?

CHAZ: They are great. One thing I really want to do is share my boxing experiences with them as much as possible. Actually, you cannot truly appreciate it until you do it, but like Tim said, it's not for everybody. In many ways it's more mental toughness than physical toughness, and you don't realize that until you do it. You know you can get hit with a shot and it'll hurt…but you got to tell yourself you have to work through that. You can't just lie down and give up.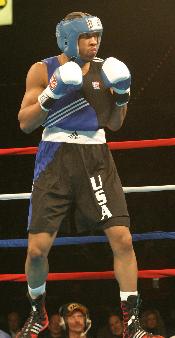 ESB: Which boxers are examples of how you want to be?

CHAZ: I take what I like from a bunch of different fighters. For instance I like the way Ali outsmarted his opponents. He got them mentally before they got in the ring…you see what I'm saying? And he made it look so easy. You know it's not as easy as he made it look. I like how he jabbed. I like Larry Holmes' jab also. I like Mike Tyson's intensity, especially when he was younger. He would scare people with his intensity, and the young Tyson was a great body puncher.

ESB: Ali was so…..graceful….it was like watching…

CHAZ: (interrupting) Yeah that's exactly what he was.

ESB: It was like watching dance combined with fighting.

CHAZ: Absolutely!

ESB: How long have you been training for this fight?

CHAZ: I found out in November, but you see I train five days a week all the time anyway, on general principle, that way I am always ready for a challenge. That should be the life of a serious, professional boxer. Stay that way all during your career. There will be plenty of time for vacations after you've made your mark and your career is over.

ESB: Just to stay in shape.

CHAZ: Plus I'm on a learning curve seeing as how I started so late and I'm trying to make up for that. I increase it a little, to six days a week if it's getting close to a fight. Even though I like Ali, I'm not going to go with the loud mouth. I have a strong work ethic and I'm going to let my work in the ring do my talking for me.

ESB: Have you seen any tapes of this guy Daniels? Do you know much about him?

CHAZ: No I haven't. All I know is that he's about six, three…about my own height, and that he will outweigh me by about ten to fifteen pounds. I will weigh around two twenty-two.

ESB: Who have you been sparring with?

CHAZ: I've been sparring with Jamal Reid and Travis Koffman…he's a top super-heavyweight amateur and just won a tournament.

ESB: Best wishes for your success this weekend and thank you for taking a few moments with Eastside boxing.

This young man was personable and articulate. He has a good sense of humor as well a very dedicated work ethic in all he does. His boxing success and his 3.8 academic record speak for themselves. He informed me that he was a "night person" when I apologized for calling a bit late after the flight back from Las Vegas. That's one more thing in his favor, as boxing is generally a night thing. If his past is any clue, we will be seeing a lot of this young man in the ring.

God knows we need a new solid base for the heavyweight division. Perhaps Chaz Witherspoon will become a new star to help light up the super scene.

Article posted on 09.12.2004
previous article: Jose Antonio Rivera Speaks On Damgaard, Tszyu, Spinks and DLH
next article: DiBella: "Jermain Taylor is ready for anybody"