David Haye haters: Justified or unjustified?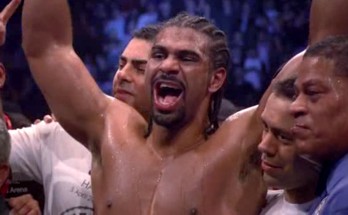 By Joe Hampton - Personality plays a huge part in forming our opinions of people. Certain personalities attract and others repel. For boxers actions speak louder than words, but words can still have a significant effect. David Haye (24-1) is one fighter who likes to talk outside the ring and as a consequence provides ammunition to individuals who feel he doesn't back up his claims, sometimes known as 'haters'. The Hayemaker has come under intense scrutiny since 11th April 2010. On this date the IBF, WBO and IBO heavyweight champion Wladimir Klitschko (54-3) officially called out the WBA heavyweight champ.

Only one week earlier David Haye had defeated the former two-time world champion John 'The Quiet Man' Ruiz via a ninth round stoppage, forcing his opponent to the canvas on four occasions.. Wladimir, meanwhile, had despatched contender 'Fast' Eddie Chambers in the final round of their March 20th event in Düsseldorf, Germany. The timing and somewhat predictable outcomes of these two fights left no doubt in the minds of the fans that Klitschko and Haye's next opponents should be each other. Would the fans finally get to see this hugely anticipated match-up?

In 2009 a contract was signed that would have seen these two elite pugilists meet on June 20th in Gelsenkirchen for Wladimir's titles. The contract was said to be firmly in favour of the champion as the only immediate financial reward for Haye being the revenue brought in by British broadcasters Setanta.

Unfortunately for Haye and British boxing fans Setanta went under owing to the global economic crisis and left the former undisputed Cruiserweight champion fighting purely for world titles. Certain fans would argue that this should be reward enough for a true champion, but the reality is that modern boxing is a business and no boxer fights for free. As Floyd Mayweather says: "If it makes dollars, it makes sense." Well for David Haye it didn't make dollars so it didn't make sense.

He pulled out of this fight citing a back injury as the cause of his inability to follow through with the contract. This excuse is widely believed to be false. Klitschko fans argue that Haye "bitched out" of this fight. However, had Wladimir been in Haye's position I'm fairly sure he would have done the same thing, as would the vast majority of boxers.

Haye would go on to negotiate a contract with WBC king and older brother of Wladimir, Vitali Klitschko (39-2). Once again the British fighter would pull out in favour of an 'easier' fight against the seven foot tall, three hundred pound WBA champion Nikolai Valuev. The Hayemaker signed a deal that was far more beneficial to him than what was being offered by Vitali's promoters.

Haye won this fight via a majority decision in a dull affair. Regardless Haye did what was necessary. After damaging his right hand in the second round, he took the WBA heavyweight title back to the UK. Now with a significant bargaining chip Haye, after beating Ruiz into retirement, could re-enter negotiations with either Klitschko and be confident of securing a fair deal.

The negotiations between 'Dr. Steel Hammer' and 'The Hayemaker' commenced towards the end of April and were given a deadline by the IBF to reach an agreement. That deadline has passed and no deal has been reached leaving boxing fans somewhat frustrated and Haye-haters with further ammunition against the two weight world champion.

Adam Booth, the manager and trainer of the WBA champ has now stated that Wladimir should begin negotiations with the number one contender for the IBF title Alexander Povetkin in order to maintain his grasp on the title. This corresponds with an earlier statement from Booth that Haye wants to fight Vitali first. Booth appears to be hinting that The Hayemaker camp will wait until Dr. Iron Fist has dealt with Albert Sosnowski this weekend and then attempt to thrash out a deal for a fight between the two.

Haye 'haters' claim he is ducking the Ukrainian brothers, saying he is scared. However, this writer would argue that Haye wants to get the most money out of each fight and is willing to make himself the villain in order to achieve this. Having already said he will retire in a couple of years the Hayemaker is clearly only looking for the biggest fights and this means unification bouts against the Klitschko brothers. Haye is doing what all modern day prize fighters aim to do: make the most money from the fewest fights. If this is the reason for hating David Haye, then almost all boxers must suffer a similar hate.

There can be no doubt that Haye is turning himself into the villain in this drama. Even Haye's biggest fans must admit their frustration at his inactivity and inability to follow through with his claims. It is this writer's opinion that unless David Haye fights a Klitschko before the end of 2010 the haters will be entirely justified in claiming he is scared of the brothers. I, however, expect Haye to fight Vitali Klitschko by the end of the year in the biggest fight in the heavyweight division since Vitali fought Lennox Lewis in 2003.

Article posted on 25.05.2010
previous article: Devon Alexander-Andriy Kotelnik Set For August 7th In Saint Louis
next article: Vitali Klitschko Says He Will KO Haye Inside Four-Rounds; But Will The Fight Ever Happen?