Can Kevin Mitchell Still Become A World Champ? The 25-year-old Says He Can, With Better Preparation
by James Slater - 25-year-old Kevin Mitchell, who was stopped inside three disappointing rounds by Michael Katsidis on Saturday night (three disappointing rounds for him, three great rounds for Katsidis and his fans!), has at least partially blamed the loss on poor preparation. Though Mitchell also added that he "takes nothing away from Katsidis", saying the Australian warrior, "won fair and square," the Dagenham man claims a less than stellar training camp had a lot to do with him suffering his first pro loss.

Speaking with Guardian.co.uk, Mitchell explained how he had been living at his mother's house, which in hindsight was far from ideal, and that he was tired after just a few rounds of sparring five weeks back..

"I'm angry now," Mitchell said, with regards to the loss. "I'm pissed off with myself at how it went. Five weeks ago I finished sparring and I was blowing out my backside after about six-rounds. My trainer said, 'What the f***'s wrong with you? You haven't prepared right for this fight.'

"If you're rowing at home, it's not really the way to prepare for a fight. But I'm all right now though I still stayed at my mum's house. The last thing I want to be doing is chopping and changing from my flat and my mum's [house]. It's one of those things - people don't get to see fighters' lives, what goes on behind closed doors."

Many fans will no doubt dismiss Mitchell's poor training reason for his defeat, claiming such talk reveals only sour grapes on the loser's part. But Mitchell is determined to bounce back and become a world champion one day - and he says the way to do it will be by putting himself through an intense three month camp abroad; so as to avoid any and all distractions.

"If I want to be the best world champion out there and be on top of my game I have to do the likes of that - train three months abroad," Mitchell said. "He's [Katsidis] been done (beaten) fair and square twice as well. He's been back from it and I'll be back as well."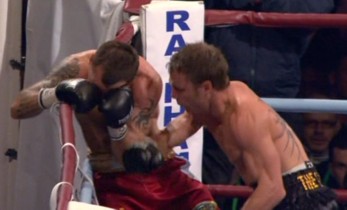 Certainly, training away from home has helped Katsidis enormously. The 29-year-old WBO interim lightweight champion pushes himself to the limit while training in Thailand. Can an away camp really help Mitchell come back and even win a title himself one day?

In speaking with Sky Sports, promoter Frank Warren admits he isn't sure, even though his fighter claims that he himself is "100-percent certain" he will win a world title in the future.

"Kevin needs to take the summer off and then we'll bring him back," Warren said. "He's got to take heart from what Amir Khan did after being done in one-round [by Prescott]. Katsidis is at a far higher level than Breidis Prescott and we'll get back on track. You have to take your hat off to Michael, he had a good game-plan and pulled it off.

"If Kevin fights like that again he won't win a world title. If he learns from it then he can."

And Mitchell DID look the business against Prescott last December, boxing beautifully as he won a wide decision in Newcastle. Maybe the still-learning 25-year-old did simply have a bad night on Saturday. However, to say that is to take away from the terrific Katsidis' win. Poor camp or not, Mitchell must admit he was beaten by the far better man on the night.

A return that culminates with a title-winning effort cannot be written off, but Mitchell faces some hard work - in and out of the gym.

Article posted on 17.05.2010
previous article: What Now For Paulie Malignaggi, Nate Campbell?
next article: Tyson Fury-John McDermott II - The Saga Of The Long Awaited Rematch