News: Diaz/Ngoudjo, Broner/Lora Weigh-In Photos; Maureen Shea Back In Action
Primm, NV – May 14, 2010) Tonight two stablemates of Thompson Boxing Promotions are set to take on their toughest opponents to date. Former two-time lightweight champion Julio Diaz is set to face Herman Ngoudjo in a junior welterweight bout slated as the main event to air live on ESPN from the Star of the Desert Arena in Primm, NV. In the televised co-featured bout, Thompson Boxing's junior-lightweight contender Dominic Salcido of Rialto, Calif. will square off against dangerous and unbeaten Guillermo Sanchez of Buffalo, NY..

Following are the weights from today's official weigh in:

Diaz (36-6, 26 KOs), weighed in at: 140 lbs.
Ngoudjo (18-3, 10 KOs), weighed in at: 140 lbs

Diaz and Ngoudjo pose after weighing in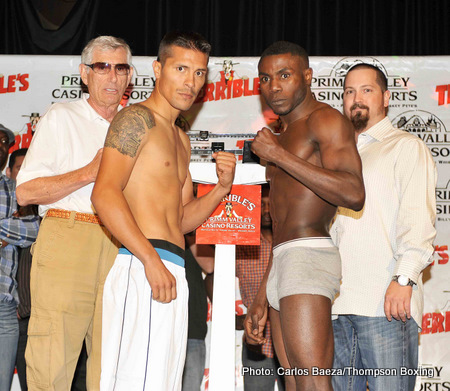 Salcido (17-2, 9 KOs), weighed in at: 129 lbs.
Sanchez (11-0,5 KOs), weighed in at: 128 lbs.

Salcido and Sanchez pose after weighing in




Diaz–Ngoudjo ten-round main event will headline tomorrow evening's boxing action. Presented by Guilty Boxing in association with Vega Boxing and Thompson Boxing Promotions, the event will be held in The Star of The Desert Arena at Buffalo Bill's Casino & Resort in Primm, Nev. and will be televised by ESPN2's Friday Night Fights at 7pm (PT)/10:00pm (ET).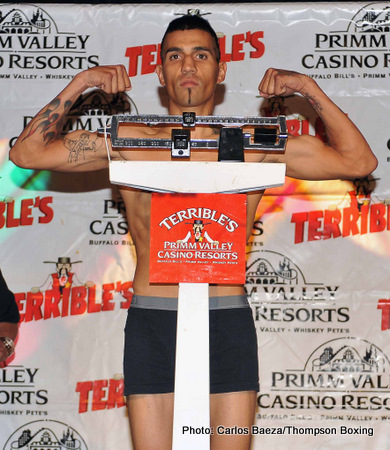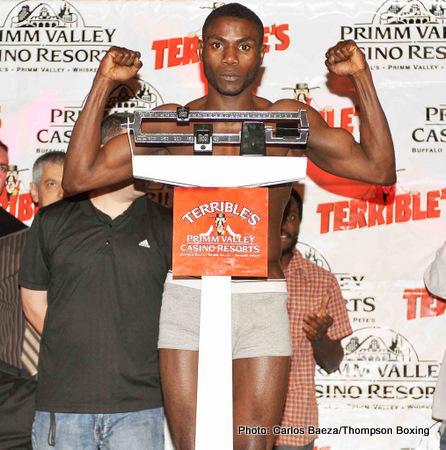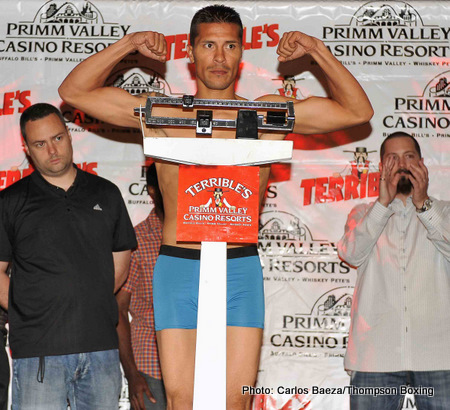 Tickets are $10 and $50. Locals may receive 2-for-1 tickets to select upcoming concerts and sporting events. Those interested may call 1.888.FUNSTOP (1.888.386.7867) for more information and restrictions that may apply. All concerts and sporting events are in the Star of the Desert Arena at Buffalo Bill's Resort & Casino.


PUNCHIN AT THE PARADISE WEIGH-IN RESULTS

All participants for Golden Boy Promotions and Star Boxing's "Punchin at the Paradise" card weighed-in today at the NYS commission's office. Below is the scheduled bout sheet for Friday night's show, with weights, that will take place at the Paradise Theater in the Bronx, and be broadcast live on TeleFutura's "Sólo Boxeo Tecate" friday night fight series.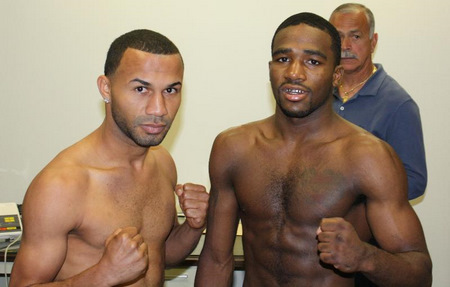 Main Event - Lightweights 10 Rounds
Adrien Broner 132 lbs. Vs. Rafael Lora 129 1/2 lbs.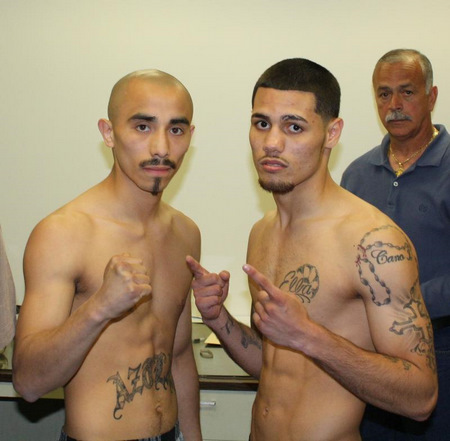 Co-Feature - Lightweights 6 Rounds
Mike Perez 134 1/2 lbs. Vs. Francisco Reyes 135 1/2 lbs.

Cruiserweights 6 Rounds
Ahmed Samir 196 lbs. Vs. John Douglas 197 lbs.

Super Middleweights 4 Rounds
Shqiprim Muriqi 163 1/4 lbs. Vs. Rondu Campbell 165 lbs.

Junior Featherweights 4 Rounds
Raul Lopez 119 1/2 lbs. Vs.Daniel Aquino 120 lbs.

Female Super Featherweights 6 Rounds
Maureen Shea 130 lbs. Vs. Norma Faris 129 1/2 lbs.


Maureen Shea Ready For Showdown in "Moe-Town" Friday Night!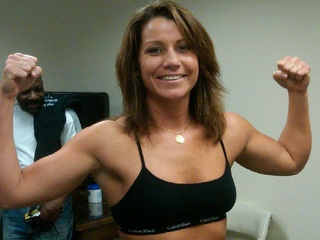 Shea, a native of the Bronx, weighed in at a slim and ready 130 pounds while Faris, 3-2, tipped the scales at 129.5. Shea is working with new head trainer Pedro Saiz for the first time as well as co-trainer Aroz "Terrific" Gist. Saiz, a former pro, challenged for the junior welterweight title in 1999. Gist is a former amateur standout from Paterson, NJ that trained Kendall Holt to the junior-welterweight title in 2008.

"I am feeling great and looking forward to doing what my new team and I have been working on in camp for this fight," said Shea, 13-2 (7 KO).

'I am so blessed and humbled by the beautiful messages and kind words of love and support on my Twitter and Facebook. My supports are with me through it all."

The Paradise Theater is located at 2403 Grand Concourse, Bronx, NY. Doors open at 7:00PM with the first bout scheduled for 7:30PM. Tickets are priced and available at $100, $50 and $30 and are on sale now.

Tickets may be purchased by calling the Star Boxing office at (718) 823-2000. To find out more information about exclusive tickets please call Star Boxing at (718) 823-2000 or visit www.starboxing.com. Tickets may also be purchased through Ticketmaster. Ticketmaster customers may log on to ticketmaster.com or purchase tickets by calling 1-800-745-3000. Tickets can also be purchased at the Paradise Theater Box Office, or by calling (718) 220-1015. Article posted on 12.05.2010
previous article: Khan tells De La Hoya, I want Bradley/Alexander next!
next article: Manny Pacquiao To Return In November, But Who Against - Mayweather, Margarito, The Foreman-Cotto Winner?