Lee and Thiam weigh in for battle
Andy Lee: "This is a must win fight for me. I can't afford any slip ups and I will have to be wary of Thiam's power. He's a dangerous guy and has an awful lot of experience and but these are the kind of fights I need to be winning if I'm going to go on to fight for European and World titles." Mamadou Thiam: "I'm not here for a holiday, I'm here on business. It's nothing personal between me and Andy Lee but I am very confident that I can win. I am punching harder than ever and I can knock guys out with either hand so I won't need to rely on the judges.."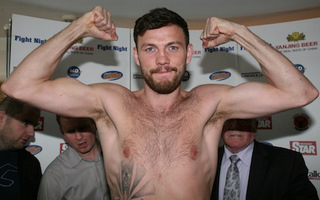 Undercard Action: Limerick's Jamie Power will be looking to make it a night to remember for Limerick fight fans by beating Mayo's John Waldron in the first ever Irish title fight in the Treaty city as they clash for the national Light Heavyweight crown.

Cork based Cuban sensation Luis Garcia faces the first big test of his career when he faces former Andy Lee opponent Alexander Sipos. The German, a former European title challenger gave Andy Lee 10 very competitive rounds in March of last year eventually losing the The O2 on a points decision and he will fancy his chances of simply knowing too much for Garcia who has only had 5 professional fights and is still only 21.

European number 3 Andy Murray (Cavan) will look to stretch his perfect pro record to 19 straight wins and push his claims for a shot at namesake and newly crowned European Champ John Murray with a win over Englishman Amir Unsworth on Saturday night.

Unbeaten Cuban Heavyweight prospect Mike Perez is set create history by having two fights in one night at the University Arena. The Mike Tyson lookalike will open the show against Edgar Kalnars and should everything go smoothly in that fight he will be back in the ring for a second time in a matter of hours to take on Tomas Mrazek.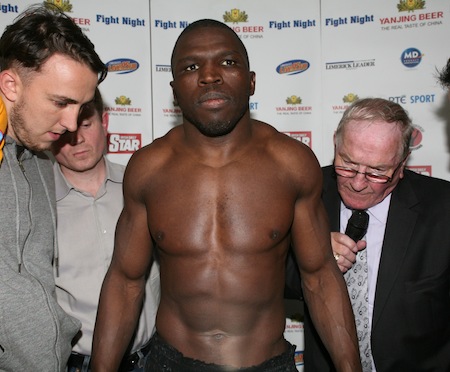 The remainder of the card will see Michael Sweeney look to get over the disappointment of his Irish title bout falling through when he takes on Belfast's Tommy Tolan while in another all Irish clash Mullingar's Paddy McDonagh takes on former Andy Lee opponent and Irish Champ Ciaran Healy in just his third pro fight. The pro debut of Limerick based Galwegian Alan Donnellan rounds out the card as he takes on England's Ryan Clark.

Doors open at the University Arena from 5pm with the first bout at 6pm. A full bar and Chinese food court will also be available at the venue.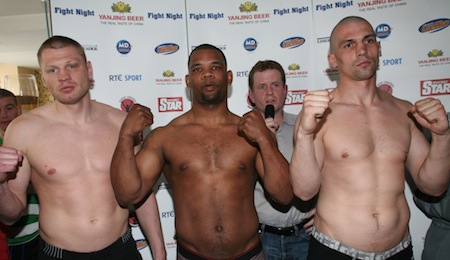 RTΙ TWO's live coverage of the Yanjing Fight Night starts from 9pm but RTE.ie will also stream all tomorrow nights fights live on the web starting with the first bout of the night at 6pm.

Tickets for the Yanjing Fight Night priced €30, €40, €50, €60, €75 and €100 are available from Ticketmaster (phone 0818 719 300 or visit ticketmaster.ie) or locally in Limerick from The University Sports Arena, the George Hotel and the South Court Hotel.

Please find below weights, final quotes and details ahead of Saturday's Yanjing Fight Night in Limerick. The 9 bout card is headlined by Andy Lee's clash with former European Champ, Mamadou Thiam.

Andy Lee (162.25) V Mamadou Thiam (160.5) - Middleweight - 10 Rounds
Jamie Power (175) V John Waldron (173.5) - Irish Light Heavyweight Title – 10 Rounds
Luis Garcia (172.5) V Alexander Sipos (172.25) - Super Middleweight – 8 Rounds
Mike Perez (227.25) V Edgar Kalnars (214.25) - Heavyweight – 4 Rounds
Mike Perez (227.25) V Tomas Mrazek (223.5) - Heavyweight – 4 Rounds
Andy Murray (137.5) V Amir Unsworth (137.5) - Lightweight – 6 Rounds
Paddy McDonagh (168.5) V Ciaran Healy (167.25) - Super Middleweight – 6 Rounds
Michael Sweeney (179.5) V Tommy Tolan (178.5) - Light Heavyweight – 6 Rounds
Alan Donnellan (156.25) V Ryan Clark (155.5) - Light Middleweight – 6 Rounds


Yanjing Fight Night: Lee and Thiam set for the scales


Andy Lee pictured with his trainer Emanuel Steward, Muhammad Ali's trainer Angelo Dundee and Andy's brother Roger at his training camp in Florida ahead of this Saturday's bout with Mamadou Thiam on the Yanjing Fight Night.

Andy Lee and former European Champion Mamadou Thiam will tip the scales at The George Hotel in Limerick at 1:30pm tomorrow (Friday) as they weigh in ahead of Saturday's Yanjing Fight Night at The University Sports Arena.

Lee and Thiam had been due to come face to face on Tuesday but the Paris based knockout artist's arrival was delayed following a cancelled flight so they will finally go head to head at tomorrow's weigh in.

All the undercard boxers for Saturday will also weigh in at 1:30pm tomorrow including both of Mike Perez's opponents. The undefeated Cuban heavyweight will create a piece of history on Saturday by fighting twice in one night.

Limerick's Jamie Power will also weigh in ahead of his Irish Light Heavyweight title bout against Mayo's John "The Warrior" Waldron.

The full line up for Saturday's Yanjing Fight Night is as follows:

- Andy Lee V Mamadou Thiam (Middleweight - 10 Rounds)
- Jamie Power V John Waldron (Irish Light Heavyweight Title - 10 Rounds)
- Luis Garcia V Alexander Sipos (Super Middleweight - 6 Rounds)
- Andy Murray V Amir Unsworth (Lightweight - 6 Rounds)
- Mike Perez V Tomas Mrazek (Heavyweight - 4 Rounds)
- Paddy McDonagh V Ciaran Healy (Super Middleweight - 6 Rounds)
- Michael Sweeney V Tommy Tolan (Cruiserweight - 4 Rounds)
- Alan Donnellan V Ryan Clark (Light Middleweight - 4 Rounds)
- Mike Perez V Edgar Kalnars (Heavyweight - 4 Rounds)

Doors open at the University Arena from 5pm with the first bout at 6pm.

RTΙ TWO's live coverage of the event begins at 9pm. Article posted on 13.05.2010
previous article: Paulie Malignaggi has no room to lose. Khan vs Malignaggi Prediction
next article: Andre Ward - Allan Green Press Conference Quotes