Margarito-Garcia Weights & Quotes
AGUASCALIENTES, MÉXICO (May 7, 2010), -- The warriors who will be featured in Saturday's Latin Fury 14 championship extravaganza had their final say at today's Official Weigh-in.

Latin Fury 14 will feature the return of the Tijuana Tornado, three-time world welterweight champion ANTONIO MARGARITO, who is ending his 16-month ring hiatus with his 2010 debut, against Texas toughman ROBERTO "La Amenaza" GARCIA, who is riding a five-year, 14-bout unbeaten streak..

Promoted by Top Rank, in association with Zanfer Promotions and Tecate, the four-bout Latin Fury 14 will be broadcast Live on Pay-Per-View, Tomorrow! Saturday, May 8, beginning at 9 p.m. ET / 6 p.m. PT, from Aguascalientes, México, which is celebrating the San Marcos Fair. Top Rank's TRLiveStream will air the non-televised undercard bouts, free to fans, at www.TopRank.com/TRLiveStream, beginning at 7 p.m. ET / 4 p.m. PT.

ANTONIO MARGARITO (154 Lbs) -- "I am so glad to get back into the ring. I really missed the crowds and all of the fans -- but I always kept training. I never left the ring. I feel strong and I am ready. During the last year I have always been in the ring working on my timing and keeping sharp. I expect Garcia to charge right at me on Saturday night. That is something I will deal with in the ring."

ROBERTO GARCIA (153 Lbs) -- "My preparation was just not hard, but smart. This has been my best-ever training camp. My claws are sharpened. Working with Freddie Roach also means a lot of film study. Freddie knows everything there is about Margarito.
I am not the same fighter I was two years ago. I'm a world champion in waiting. And one thing is for sure – Margarito is going to have trouble hitting a moving target.

ROBERT GARCIA, Margarito's Trainer --"Our whole training camp went so well. To see Antonio train so hard -- it helps our other fighters, seeing how hard he works and what it takes to fight on a high level. We worked on Antonio's stance, his head movement, little things. He's keeping his hands up better. He's a great listener when we are in the ring training. Antonio is in tremendous shape - he could have made 147 for this fight. We had great sparring and we are prepared for whatever Garcia throws at us."

JORGE SOLIS (130 Lbs) --"I feel great at this weight, at super featherweight. Méxican fighters are complete fighters - skilled and with a lot of courage. I know Mario Santiago is fast with quick hands. But he is a Puerto Rican fighter and we will find a weakness when we are in the ring Saturday night."

MARIO SANTIAGO (130 Lbs) -- "I am facing a tough, experienced, strong fighter in Solis and I am coming into his backyard. This is my first time in México and I know I must be more aggressive. Solis has an excellent right hand, a good left and is smart. I learned my lesson in the Concepcion fight and should have been more aggressive in the early rounds against him. I will not make that mistake twice. This fight against Solis will clear everything for me."

URBANO ANTILLON (135 Lbs) -- "I had my best training camp while training in Big Bear for two months. Rios is hurt and out of this event, but now I have an even bigger fight - a WBA Lightweight Title Elimination Fight. I'm going to shoot the works against Rene Gonzalez."

RENE GONZALEZ (135 LBS) -- "I was originally scheduled to fight elsewhere in México on May 14 so I was already in fighting trim when we got the call last Friday to fight Antillon. He is a strong fighter and this should be an interesting fight. I plan to move around and look for openings – the same way Miguel Acosta beat Antillon. I have studied that video. I'm going to pick him apart."

The Latin Fury 14 pay-per-view will feature the broadcast team of Al Bernstein, Alan Massengale, and former world junior middleweight champion Raul Marquez. The production will be produced and directed by Rick Seara.


Margarito/Garcia Satellite Tour Quotes & Photos

AGUASCALIENTES, MÉXICO (May 6, 2010) – It's getting close to fight time and the three time world welterweight champion, ANTONIO "Tony" MARGARITO is very anxious to get in the ring and fight for the first time in over 15 months.

"I have been working in the gym for over one year but it is not the same as getting into the ring and fighting before a crowd, and without headgear. Saturday night can't come soon enough for me," said Margarito today, during an hour-long International Satellite Tour from his hotel in Aguascalientes, México.

Margarito will battle ROBERTO "La Amenaza" GARCIA in the 10 round super welterweight main event of "Latin Fury 14," the big championship card which will be televised Live on Pay-Per-View from the Plaza de Toros Monumental in Aguascalientes in the final weekend of the San Marcos Fair.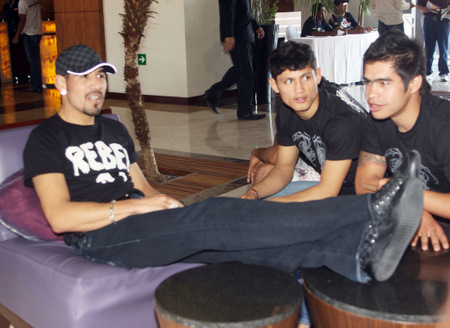 "Its going to be a good fight. Garcia is a big puncher who comes forward and as everyone knows so do I. It will be a great fight for the fans," said Margarito.

Garcia knows he is the underdog, but is confident he will get the victory on Saturday.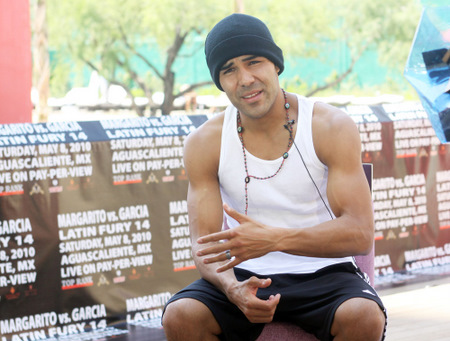 "I am very hungry and this is the biggest opportunity of my career. I will prove to everyone that I can beat the best fighters in the world", said Garcia.

The Official Weigh-In is scheduled to begin at Noon local time on Friday at the "Tecate Boxing Tour" site at the fairgrounds.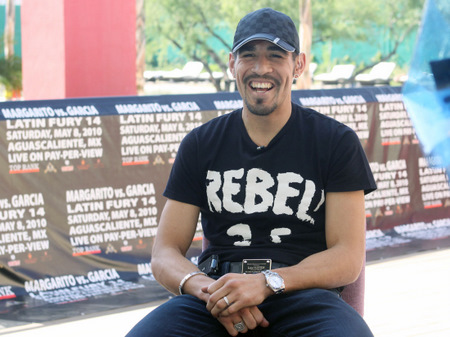 Watch Margarito vs. Garcia Weigh-in and Non-Televised Bouts Live on TopRank.com for Free

LAS VEGAS, NEV. (May 6, 2010)—Top Rank will offer another exciting entry in its webcast series, TRLiveStream, Tomorrow! Friday, May 7, beginning at 1 P.M. ET / 10 A.M. PT, with a live broadcast from Aguascalientes, Mexico, of the weigh-in for "Latin Fury 14," featuring Antonio "The Tijuana Tornado" Magarito's grand return to the ring against the powerful Roberto "La Amenaza" Garcia. The following day, Saturday, May 8, beginning at 7 P.M. ET / 4 P.M. PT, Top Rank will air the non-televised undercard bouts from the Magarito-Garcia card. Both events are available for free and will air exclusively on www.TopRank.com/TRLiveStream.

The latest edition of Top Rank's TRLiveStream series will provide wall-to-wall coverage of the weigh-ins for "Latin Fury 14", including all of the undercard fighters, and culminating with the hard-punching Garcia (28-2, 21 KOs) and three-time world champion Margarito (37-6, 27 KOs) stepping on the scale. The following day, Saturday, May 8, fans can whet their appetites for the main event—which airs Live on Pay-Per-View, beginning at 9 p.m. ET / 6 p.m. PT—by watching all of the non-televised bouts. Among others, the undercard fights will feature the Freddie Roach-trained 18-year-old wunderkind Jose Benavidez (4-0, 4 KOs), unbeaten featherweight Miguel Angel Garcia (21-0, 18 KOs), and Mexican knock-out artist Hanzel Martinez (7-0, 6 KOs).

TopRank.com, the official site of Top Rank, Inc., is the boxing destination on the web. It features exclusive videos of everything from training camps to fight highlights to one-on-one interviews; detailed fighter bios; photo galleries; breaking news; up-to-date schedules; and much more in a dynamic, interactive format. Anchored by Top Rank's Twitter and Facebook pages (twitter.com/trboxing and facebook.com/trboxing) and YouTube Channel (youtube.com/trboxing), TopRank.com offers fight fans a one-of-a-kind online experience.

Promoted by Top Rank, in association with Zanfer Promotions and Tecate, the four-bout Latin Fury 14 will be broadcast Live on Pay-Per-View, on This Saturday! May 8, beginning at 9 p.m. ET / 6 p.m. PT, from Aguascalientes, Mexico, which will be celebrating the San Marcos Fair.

Headlined by the Margarito-Garcia 10-round super welterweight rumble, the pay-per-view undercard will feature World Boxing Association (WBA) interim super featherweight champion Jorge Solis (38-2-2), of Guadalajara, Mexico, defending his title against top-10 contender and one-time world title challenger Mario Santiago (21-2-1, 14 KOs), of Ponce, Puerto Rico; top-five contenders Urbano Antillion (27-1, 20 KOs), of Maywood, Calif., and Rene "Super Chiroz" Gonzalez (27-1-1, 21 KOs), of Managua, Nicaragua, battle it out in a WBA lightweight title elimination bout; and the pay-per-view debut of flyweight sensation Alfonso López (4-0, 2 KOs), of Mexico City, Mexico, the son of legendary world champion and Mexican icon Ricardo López.

Margarito (37-6, 27 KOs), of Tijuana, Mexico, captured his first world title in 2002, winning the vacant World Boxing Organization (WBO) welterweight title with a tenth-round TKO of Antonio Diaz. He reigned as WBO champion for five years, successfully defending his title seven times – five by knockout – including victories over world champions Kermit Cintron, Andrew Lewis and Joshua Clottey. After losing the title to Paul Williams in 2007, Margarito dethroned International (IBF) welterweight champion Cintron in a rematch, knocking him out in their 2008 fight. Margarito claimed his third welterweight title when he stopped undefeated WBA welterweight champion Miguel Cotto in the eleventh round of their July 2008 battle, arguably the fight of the year.

Garcia (28-2, 21 KOs), a native of Reynosa, Tamaulipas, Mexico who fights out of Weslaco, Texas, enters this fight riding a five-year, 14-bout unbeaten streak. Garcia possesses impressive power in both fists, where 75% of his victories have come by way of knockout and many of those stoppages produced by devastating body shots. During his impressive streak, Garcia has captured the Caribbean Boxing Federation interim welterweight title and the Texas welterweight title.

Aguascalientes organizes the largest festival held in Mexico, the San Marcos Fair, which takes place from the middle of April to the beginning of May. The celebration was held originally in the San Marcos church neighborhood, and its magnificent neoclassical garden; since then, it has greatly expanded to cover a huge area of exposition spaces, bullrings, nightclubs, theaters, performance stages, theme park, hotels, convention centers, and other attractions. It attracts almost 7 million visitors to Aguascalientes every year.

The suggested price for the Latin Fury 14 pay-per-view is $39.95. Article posted on 05.05.2010
previous article: Michael Grant returns tomorrow night!
next article: James Toney's MMA Debut Set To Be Against Randy Couture In August