Paulie Malignaggi Open Workout Quotes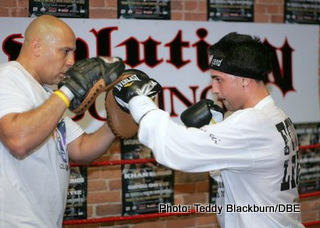 Quotes from Wednesday's Open Workout Featuring Paulie Malignaggi as he Prepares for his May 15 Showdown with Amir Khan at Madison Square Garden

Paulie Malignaggi:

"You're going to see more improvements on May 15. [Head trainer] Sherif Younan and I have a lot of creativity in the gym. Every fight since I've started training with Sherif I've been getting better and better.

"I've put a lot of pressure on myself. I am a perfectionist when it comes to boxing. Come fight night, everything will fall into place like the pieces of a puzzle."

"I believe I'm the faster fighter. If I get hit on chin, I'm not going to wobble. If Amir Khan starts wobbling, I hope they have a pillow for him in the corner, because he's going to sleep.."

"I'm going to enjoy sinking my punches into Khan. Some fights are just business, but not this one. I'm going to enjoy every punch I land."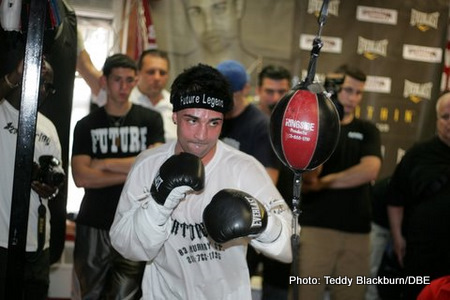 Malignaggi's Trainer, Sherif Younan:

"Since day one, Paulie and I just clicked. We understand each other's styles. My work revolves around speed, and Paulie is all about speed, so it goes hand-in-hand."

"Everything in camp has been wonderful. We've actually enjoyed this training camp a lot. As Paulie and I spend more and more time together we learn more, and we are able to employ more tactics. We can't wait to get into the ring on May 15."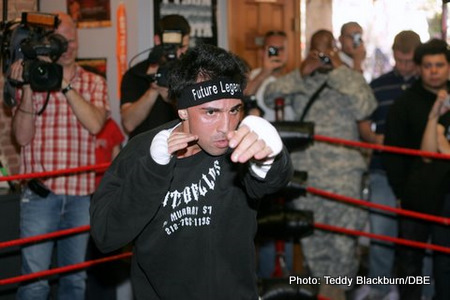 The Amir "King" Khan vs. Paulie "Magic Man" Malignaggi WBA Super Lightweight World Championship is presented by Golden Boy Promotions and DiBella Entertainment in association with Khan Promotions and sponsored by Cerveza Tecate. Khan vs. Malignaggi, along with Nate "The Galaxxy Warrior" Campbell vs. "Vicious" Victor Ortiz, the evening's co-featured bout which is presented in association with One Punch Promotions, will be televised live on HBO's Boxing After Dark in the United States beginning at 9:45 pm ET/PT (delayed on the West Coast). HBO will also show highlights of the Daniel "The Golden Child" Jacobs vs. Juan Astorga bout. Tickets, priced at $555.00, $355.00, $255.00, $125.00 and $65.00, are on sale now and can be purchased at the Madison Square Garden box office, through Ticketmaster charge by phone and online at www.thegarden.com.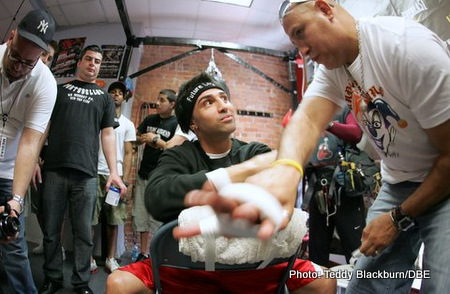 Article posted on 06.05.2010
previous article: Danny Williams Aims To Beat Derek Chisora, Retire - And Then Become A Bodyguard!
next article: News: Randy Caballero; Mike Lee; Yathomas Riley