Prizefighter Cruiserweight II Round by Round
By Ezio Prapotnich - 8 different men, 8 different records, 8 different backgrounds. Some of them are at the beginning of their career, some closer to the end, but they all have a common agenda for the night: to pocket £32.000 and, hopefully, move onto bigger things. With all to gain and nothing to lose, in a night rich of surprises, letís find out who is the last man standing.

QUARTER FINAL 1: MARK KRENCE VS ZAHID KAHUT.

ROUND 1: Zahid Kahut (4-2-0) opens up jabbing but Mark Krence (25-8-0) takes over quickly connecting with body shots, scoring a hook to the jaw and pinning his man in a neutral corner, hitting head and body till he takes a knee and an 8 count. Kahut end the round defenseless on the ropes.

ROUND 2: Kahut starts the round more daring, going after Krence but shows a poor defence and gets nailed with a right hand and an uppercut. Mark takes another round, at the end of which Zahid is bleeding from the nose..




ROUND 3: In need of a knockout, Kahut goes after his man aggressively again, but his guard is still too open and Krence nails him with the right on his way to win a unanimous decision: 30-26, 30-27, 30-26.


QUARTER FINAL 2: LEON WILLIAMS VS JOHN LEWIS DICKINSON.

ROUND 1: The round starts at a fast pace, with the taller Dickinson (8-0) keeping Williams (4-2-0) at bay with his jab. Leon attack is concentrated on the body. It is a very balanced round slightly in favor of Dickinson.

ROUND 2: Williams starts well landing a couple of right hooks and seems to be on the ascending, but halfway through the round Dickinson finds his rhythm again and catches him with straight punches to the head. By the end, Leon is bleeding from the nose.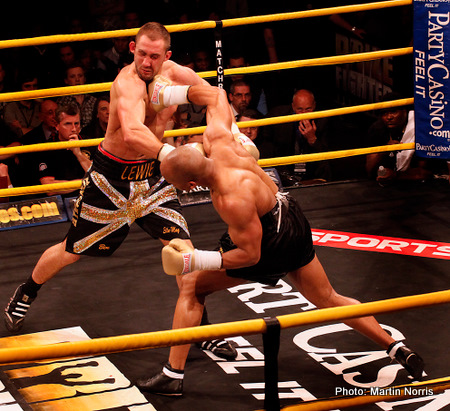 ROUND 3: Williams is now having a hard time getting through his opponent jab and misses swinging with wide hooks. Also, he gets warned for hitting behind the head of Dickinson. He manages to pin his opponent on the ropes a couple of times, but John regains the middle of the ring and ends in control to win a split decision: 28-29, 29-28, 28-27.


QUARTER FINAL 3: JOHN ANTHONY VS DARREN CORBETT.

ROUND 1: Both former Commonwealth champion Darren Corbett (29-6-1) and John Anthony (7-12-0) open up swinging and missing with wild hooks. Darren manages to win an uneventful round connecting with some hooks on the ropes and with a 1-2 combination in the centre of the ring. Besides that, he is mostly clinching and throwing rabbit punches, which causes the referee to warn him.

ROUND 2: The second round is pretty much a replica of the first, with Corbett, by far the most experienced of the two, managing to land the few clean punches, again hooks and 1-2, amongst all the holding.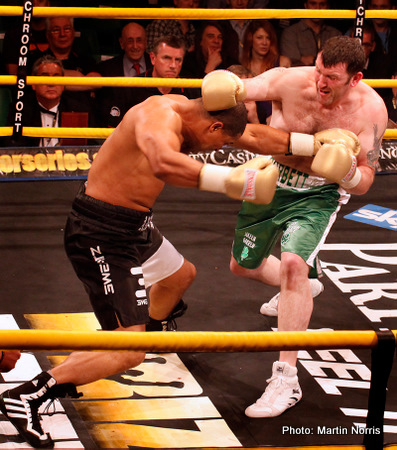 ROUND 3: Nothing new in the third, except that Anthony finally manages to reach the opponent with a swinging left. Corbett wins by unanimous decision: 30-27, 30-27, 30-27.


QUARTER FINAL 4: HERBIE HIDE VS WAYNE BROOKS.

ROUND 1: Hide (49-4) reaches Brooks (6-2-2) immediately with his first jab, follows with a left hook, and knocks him down with a right hand. Brooks beats the count, but instead of moving away and regrouping like he should, walks straight forward into Herbieís right hand, which lands at will.

ROUND 2: Dramatic round. Brooks walks forward again and connects with a 1-2. Hide is cut above his right eye and starts bleeding profusely. The referee allows him a short break to check if he is still able to continue. The fight is allowed to go on and Brooks try to capitalize on the cut but gets caught and ends up bleeding above the right eye as well. Eye for an eye.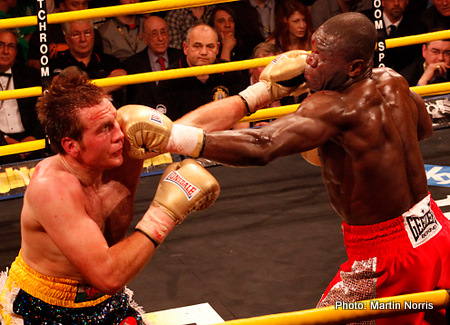 ROUND 3: Hide controls the fight from the middle of the ring and catches Brooks at will with straight punches to the head winning an unanimous decision: 30-25, 30-25, 30-26.


SEMIFINAL 1: MARK KRENCE VS JOHN LEWIS DICKINSON.

ROUND 1: The round starts as an even battle of jabs until Dickinson wobbles Krence with a right and knocks him down with a delayed reaction. Another 1-2 from John Lewis put Mark down again. Although being caught with a left hook, Krence survives a round but stumbles on his stool on unsteady legs and his corner throw the towel. Dickinson wins by tko and moves into the final.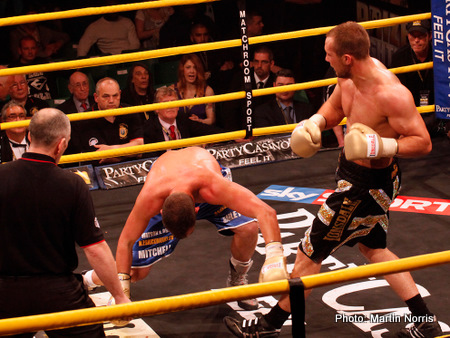 At this point, it is announced that Herbie Hide, who is due to fight the winner of Fragomeni-Wlodarczyk for the WBC belt of the division, has decided to pull out of the competition to prevent further damage that might compromise his title shot. For the first time in Prizefighter history, enters a reserve: Nick Okoth (9-28-5)


SEMIFINAL 2: DARREN CORBETT VS NICK OKOTH.

ROUND 1: Corbett and Okoth lock horns immediately engaging in very close exchanges, trading hooks to body and head. Difficult round to score.

ROUND 2: Okoth opens scoring 2 right hands but Corbett manages to land a big right of his own, until they revert to in-close fighting. Corbett seems to get the better of the exchanges.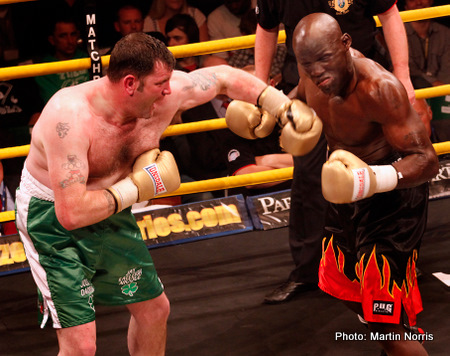 ROUND 3: Okoth starts the round aggressively but Corbett nails him with a right hook and uppercut. It seems like Darren has done enough to win but the judges award Okoth a unanimous decision: 29-28, 29-28, 29-28.


FINAL: JOHN LEWIS DICKINSON VS NICK OKOTH.

ROUND 1: As expected, Dickinson tries to keep Okoth at bay with his jab and manages to make him slip on the floor, but Nick is doing a good job getting under his left and, although not scoring effectively, he is nevertheless managing to disrupt his opponent rhythm. Eventually John Lewis catches him with his straight shots and Okoth ends the round bleeding from nose and mouth.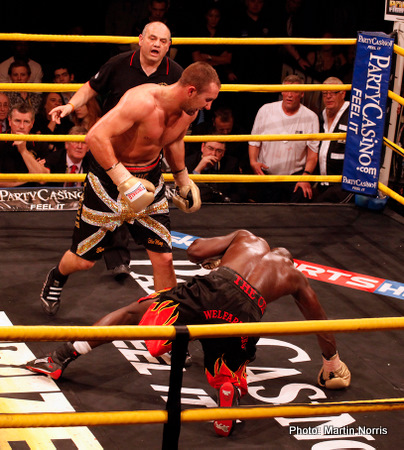 ROUND 2: Same strategies are played in the second. This time Dickinson slips on the canvas but he is still winning the round with his 1-2 combinations.

ROUND 3: Aware of needing a knockout win, Okoth, looking spent, goes after Dickinson throwing everything he has, but slips again. Eventually, he runs out of gas, takes a knee, and gets up to be knocked down, only this time he does not beat the count. John Lewis Dickinson wins by stoppage at 1:08 of the third round and is the new Prizefighter Cruiserweight champion. Article posted on 02.05.2010
previous article: ITV To Broadcast Khan vs Malignaggi