Don "DA BOMB" George, Ready To Explode on ShoBox!
CHICAGO, IL (April 24, 2010) With twelve knockout stoppages in a row, Chicago fan favorite Donovan "DA BOMB" George predicts that Ghanaian veteran Osumanu Adama will be "LUCKY 13" on Friday, April 30th. "I've knocked out the last twelve guys I've faced, Adama is going to be "LUCKY #13" on April 30th" said the confident George. The George/Adamu battle is one of the featured bouts on the Showtime broadcast of "THE NEXT GENERATION OF SUPERMIDDLEWEIGHTS" from Chicago 's UIC Pavilion.

The 25 year old George is wrapping up training in Chicago as he prepares for his first televised network appearance. On Friday afternoon he sparred eight rounds with popular Polish light heavyweight Andrzej Fonfara who is fighting Roger Cantrell in a ten round bout off-TV for the vacant WBC Youth World Light Heavyweight Title..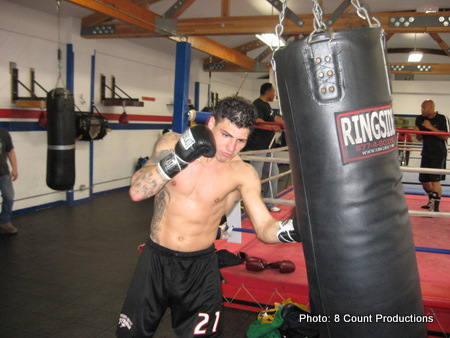 Also featured at THE NEXT GENERATION OF SUPERMIDDLEWEIGHTS is 24 year old Edwin "LA BOMBA" Rodriguez. A native of the Dominican Republic, Rodriguez brings a record of 14-0-0 with ten knockouts into the eight round battle with St. Louis based veteran Kevin Engel, 17-2-0 (14KO's).

Rounding out THE NEXT GENERATION OF SUPERMIDDLEWEIGHTS is a ten round bout between Houston's Marcus "TOO MUCH" Johnson, 18-0-0 (14KO's) and Derek "THE BLACK LION" Edwards, 25-0-0 (13KO's).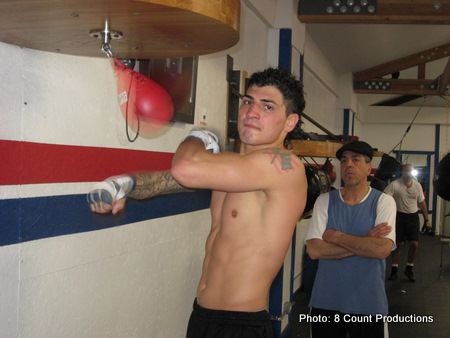 Presented by DiBella Entertainment, Warriors Boxing and Chicago's 8 Count Productions, advance tickets for THE NEXT GENERATION OF SUPERMIDDLEWEIGHTS, starting at $31, can be purchased through Ticketmaster (www.ticketmaster.com, phone 1-800-745-3000) and the 8 Count Productions Office, (312-226-5800). Doors on the evening of the event will open at 7:00pm with the first bell at 7:30pm.

THE NEXT GENERATION OF SUPERMIDDLEWEIGHTS will be broadcast on "SHOBOX, The New Generation" with a start time of 11PM ET, 10PM CST.

The UIC Pavilion is located at 525 S. Racine , just one block south of the Eisenhower Expressway. For further information, please visit their website at www.uicpavilion.com. The UIC Pavilion is now serving alcohol at all boxing events.


Don "DA BOMB" George, Ready To Explode on ShoBox !!!

On April 30, 2010, ShoBox "The New Generation" will feature Cestus Management's undefeated Super Middleweight, Don "DA' BOMB" George (19-0-1 w/17 KOS) in his home town of Chicago, Illinois. "DA' BOMB" who is of Irish and Greek bloodlines is true to his fighting heritage and is ready able and willing to step-up to the next level and fight anybody. The first step will be taken against the tough and rugged African contender Osumanu Adama (17-1 w/13 KOS ) over eight rounds, at the UIC Pavilion in Chicago, Illinois. The fight is guaranteed to be a ShoBox shootout as both of these super middleweights can flat out bang!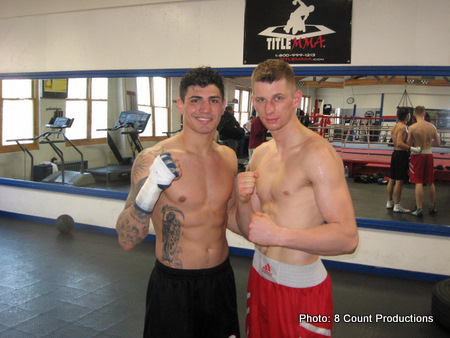 In George's two previous outings he looked very impressive in disposing of the tough and experienced Jason Naugler and the hard punching Phil "The Drill" Williams, delivering sensational 3rd and 4th round knockouts. George who is notoriously know for his knockout power has KO'd 17 of his 20 opponents all within 5 rounds. These wins are a result of George using a good sound defense complimented with a savage offensive style that features an explosive and brutal one punch knockout capability.

George has been in training for this fight against Adama since the middle of February and has had a phenomenal training camp and is ready to put on the type of performance that ShoBox is always looking for, which is quality fighters who produce quality fights, that generate PURE EXCITEMENT!!!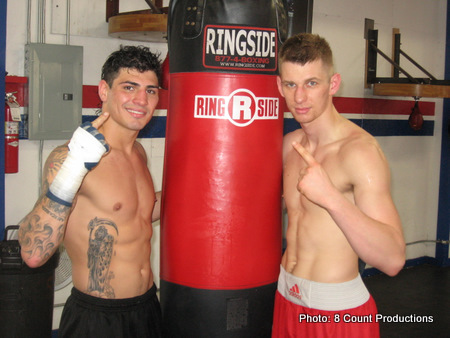 Cestus Management, who is the manager of George and guides his career, feels that their charge has been properly groomed and is ready to experience the next level in boxing. The company's vast experience with the ShoBox series and other premium television networks has served to prepare the Chicago Irish/Greek BOMBER for his first major moment in the spotlight.

Mike Michael (Exclusive Adviser) said, "Donovan George's two previous wins against Jason Naugler and Phil Williams where exceptional. "I've been saying this from day one, that it would only be a matter of time before Donovan becomes a force to be reckoned with in the Super-Middleweight division. Look at the savage ferocity that he displayed in his last two fights and the way that he dismantled two very live opponents in a combined total of seven rounds. In these fights "DA BOMB" produced entertainment, great anticipation, knockdowns and "KO"s and that's what boxing fans want to see when they pay their money.

Michael continued, "I have seen Donovan grow and mature and evolve as an athlete, where i have seen an overall improvement in his ability as a professional fighter. So i am very confident and feel that Donovan is 110% ready to take the next step when he makes his ShoBox" debut. Michael added, "Donovan George always reminds me of the fighters of the 1950's era, who where fearless and fought with a savage go for broke fighting style. I believe that Don "DA BOMB" George is a throw-back and everyone will see this on ShoBox April 30th.


Donovan George Scheduled to Throws First Pitch at Chicago Cubs Game At Wrigleys Field!

On Monday April 26, 2010 , Cestus Management's 168 pound contender Don "Da'Bomb" George is slated to throw out the honorary first pitch, as Chicago's beloved Cubs begin a home stand against the Washington Nationals at the famed Wrigley Field. It is an honor that any sports fan would want but few ever get to experience. George, who is on the rise in his chosen pugilistic profession feels that this is a once in a lifetime opportunity. "This is absolutely amazing for me, I grew up watching the Cubs" with the rest of Chicago and i cannot put into words how i feel, I'm speechless said Donovan George as he winds down training for his fight next Friday.

Mike Michael, who is Cestus Management's Chief Advisor, added, " Chicago has always been a great sports town rich in baseball, football, basketball, and boxing traditions. On Monday Baseball fans across the country will watch Donovan throw out the first pitch and four days later boxing fans across the country will watch Donovan represent Chicago when he fights on national TV; what more can be said.

Donovan George fights Asumanu Adama on THE NEXT GENERATION OF SUPERMIDDLEWEIGHTS which will take place at the UIC Pavilion on April 30th 2010 in Chicago, Illinois.

Advance Tickets starting at $31, can be purchased through Ticketmaster (www.ticketmaster.com Tel 1-800-745-3000); Cestus Management (Tel 856 690 9095) and 8 Count Productions (Tel 312 226-5800). Doors open at 7pm, first bout starts at 7:30pm.

THE NEXT GENERATION OF SUPERMIDDLEWEIGHT: will be televised live on ShoBox The New Generation at 11pm EST, 10PM CST and 8pm PST.

For further information about Don "DA BOMB George please visit; www,cestusmanagement.com For any kind of future interviews to be scheduled with Donovan George please contact Cestus Management at the following contact details; Article posted on 25.04.2010
previous article: Truax-Williams ends in a draw; Abell demolishes Gutcher in St. Paul!
next article: Mikkel Kessler Out-Points Carl Froch In Classic War!