Kessler defeats Froch, captures WBC super middleweight title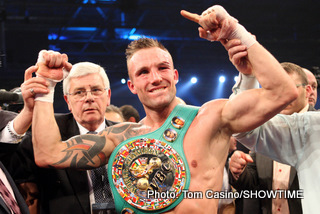 HERNING, Denmark (April 24, 2010)–-Hometown superstar Mikkel Kessler turned in a gutsy and heroic performance—capped by a scintillating 12th round—to win a unanimous decision and register his first points in the groundbreaking SHOWTIME® Super Six World Boxing Classic, giving Carl Froch his first professional career loss at MCH Arena in Herning, Denmark on Saturday night.

Coming off a loss in his Group Stage 1 bout to Andre Ward, Kessler was desperate to get on the board and re-capture the World Boxing Council (WBC) world title belt Froch brought to Denmark. Kessler brought in legendary trainer Jimmy Montoya to help craft multiple game plans for the fight. He also brought to the ring the will to win the fight, a true slugfest between European champions.

All three judges scored the bout in favor of Kessler 117-111, 116-112 and 115-113 (Roger Tilleman, Belgium; Daniel Van De Wiele, Belgium and Guido Cavalleri, Italy, respectively).. Kessler improved his record to 43-2 with 32 KOs and earned two tournament points, joining a deadlock with three other fighters for second place—Andre Dirrell, Ward and Froch (26-1, 20 KOs)—behind Arthur Abraham who leads with three.

"There was a lot of desperation coming off the Ward fight," said Kessler, who resides in Copenhagen, Denmark. "But this was my night. I had a lot of people from my country say that I was finished. It is nice to get my belt back and show them."

Saturday's bout may have been the most action-packed battle in the Super Six tournament thus far. Fought in the center of the ring for virtually the entire night, both Froch and Kessler exchanged big right hands and lethal combinations throughout. Kessler often got off first and remained the aggressor for all 12 rounds.

In the eighth, Kessler stunned Froch with a short right hand that opened up a cut on Froch's nose and had many at ringside thinking it was broken.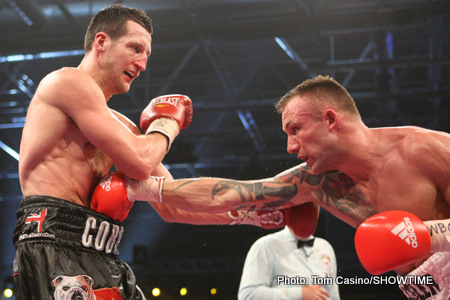 "I (studied) his fights and he isn't good fighting backwards," Kessler continued. "I hurt him with the straight right hand (eighth) and I saw it turn. Then he fought my fight instead of his.

Froch regained his composure and was steadfast, catching Kessler in the 10th with an explosive right hand. A deep cut opened over Kessler's left eye which may have been scar tissue from the Ward fight last November.

"In my last two fights I'm starting to look like a fighter," joked Kessler after the fight. "No more modeling! I have to be careful of the cuts. I have to move my head more."

The 11th and 12th rounds were firefights. Both men were tired, worn down but relentless in pursuit of a knockout and the coveted one-point bonus. The momentum teetered back-and-forth as wide looping punches from both landed at will. With the final bell, the bloodied and exhausted warriors embraced and celebrated a thrilling fight.

"I thought I did enough to win," said Froch, a proud Englishman who showed little sign of disappointment. "I had him hurt two or three times. Actually, I know I had him badly hurt three times. It's my fault though. If I had put it to him more and if I had sustained the pressure I could have gotten him out of there. No one has been able to do that. I wasn't able to do that.

"It was very close but if we were in my hometown in Nottingham, it would have gone my way with the same scores. There will be people who say it was robbery but I won't take anything from Mikkel Kessler. I thought I did enough but that's boxing."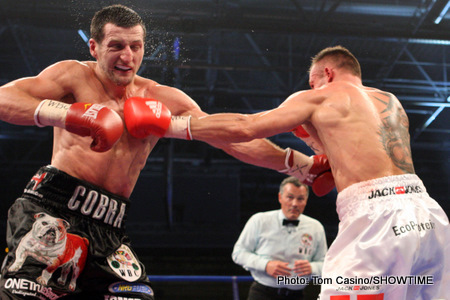 SUPER SIX WORLD BOXING CLASSIC SCOREBOARD

Record Fighter Points

1-1 Arthur Abraham 3
1-1 Mikkel Kessler 2
1-1 Carl Froch 2
1-1 Andre Dirrell 2
1-0 Andre Ward 2
0-0 Allan Green 0

For information on all SHOWTIME Sports telecasts, including exclusive behind-the-scenes video and photo galleries from its events and complete information on the Super Six World Boxing Classic, please visit the website at http://www.sports.sho.com. Article posted on 25.04.2010
previous article: News: Ouma vs Holmes; Michael Oliveira; Boxeo Thompson
next article: Hammertime: Stacey Solomon Says Mitchell Has The X-Factor; Walsh Brothers Aim To Emulate The Canaries