Williams/Cintron flying under the Radar!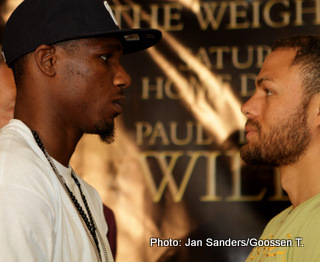 By Coach Tim Walker - Boxing looks good. On April 24, Alfredo Angulo takes on Joel Julio on HBO. On the same night, Carl Froch finally gets it on with Mikkel Kessler on Showtime for the super six tournament. There's still more, on that same night, with heavyweight implications looming, Chris Arreola battles Tomasz Adamek.

A week later, on May 1, perhaps the biggest fight in boxing history takes place when Floyd Mayweather Junior engages Sugar Shane Mosley on HBO PPV. On that same night, and this is a brave move on the promoter's part, Marco Huck and Brian Minto take the next steps in their careers. Then there is the combustible ring challenge the awaits Amir Khan when he faces the more than worthy Paulie Malignaggi. Don't forget about Andrede vs. Lucas, Katsidis vs. Mitchell, and matchups featuring heavyweight champion Vitali Klitschko, light welterweight champion Timothy Bradley, and a very intriguing match, that registers high on my meter, between former Olympian Andre Ward and super-six Jermain Taylor replacement Allan Green. Phew! It's no wonder, and this is not meant to be disrespectful, that the May 8 showdown between Paul Williams and Kermit Cintron has flown way under the radar..

The not yet really talked about matchup between powerhouse Paul Williams (38-1-0 KOs 27) and hard hitting Kermit Cintron (32-2-1 KOs 28) is a great matchup worthy of top billing. But, with the current crop of matches taking place over the next two months, it has unfortunately gotten little more than a bleep on the boxing radar.

In Paul Williams, we have a fighter who is arguably the most overlooked or ducked or disenfranchised welterweight boxer on the planet. So displaced that he has been virtually forced out of the 147 pound division into the lands of 154 and 160 just to land matches. With his freak-of-nature build, his equally freakish skills and old school desire to stand and trade, his name is seldom mentioned when other top welterweights, champions included, are seeking opponents. His last appearance at his preferred weight of 147 was nearly two years ago against Carlos Quintana. A fight he won by first round KO after suffering his first and only professional loss, by unanimous decision, to the same man just one fight before. Since then, he has dismantled an on the rise Andy Kolle, veterans Verno Phillips and Winky Wright, as well as new found super stud, via his stance on domestic violence and defeat of middleweight king Kelly Pavlik, Sergio Martinez.





Kermit Cintron is no stranger to big time fights but many insiders feel he has to give up the kitchen sink to land them.

According to Cintron, reports of his pay scales for certain fights are "not accurate" and "way far off." In a recent statement about him opting to fight Sergio Martinez instead of Joshua Clottey, Cintron stated, "Sure every fighter wants to make the biggest money out there, but it's not always about the money. Sometimes it's about a bigger opportunity." The former IBF welterweight champion's only losses come at the hands of Antonio Margarito. Margarito, preparing to come off a 1 year suspension for attempting to use foreign objects in his hand wraps, is slated to make his return on May 8 in San Marcos, Mexico. Due to the illegal hand wraps scandal many fight fans are dismissing Cintron's losses to Margarito feeling that he might have used the same formula to beat Cintron. Even with the losses to Margarito, Kermit's resume is not without big names and big wins. Angulo, N'dou, Estrada and Matthysse are only some of the names highlighting his boxing record. Most recently he beat Brazil's best welterweight, Juliano Ramos, by 5th round retirement and like Williams, welterweights speak of fighting him, but stop well shy of actually signing the contract.

So what is there for two elite fighters to do when the other upper level welterweights won't fight them? It's simple, fight each other. On May 8 that is exactly what will happen at the Home Depot Center, Carson, California. Williams is a slick boxer who can punch. Cintron is a heavy puncher who can box. If both fighters utilize their best boxing attributes then fans will be in for a real treat. Adding fuel to the mix is a possible future fight with the winner of Mayweather Mosley. Though there is a rematch clause in the contract between Mosley and Mayweather, a win for either fighter would definitely make their chances of facing the winner very possible.

In the midst of everything going on, especially the Mayweather Mosley fight, it is understandable that this fight be sat on the back burner for a while. At least until the smoke of May 1 clears. When it does clear make certain you tune in. This May 8 showdown between Williams and Cintron could very well be fight of the year.


Coach Tim Walker is a contributing writer for Eastsideboxing.com and his own personal blog at boxing4life.blogspot.com welcomes comments. To suggest fighters for Monthly Stud and The Project please email tpwalker@hotmail.com. I welcome questions or comments. Article posted on 24.04.2010
previous article: Mayweather-Mosley: Who R U Picking?? Just the Facts!