Tomasz Adamek v Chris Arreola: At Last A Good Heavyweight Fight!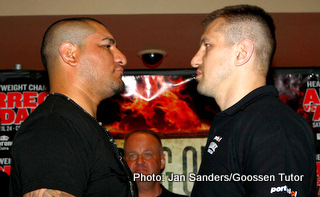 By Paul McCreath: These past few years we have not seen very many good heavyweight fights. Most often we are offered a name fighter against a no hope club fighter with the expected results, a one sided slaughter. Even so-called world title fights have left something to be desired. Since the Klitschko brothers gained their titles we have seen one mismatch after another. Most fights have been so one sided that many fans found them dull to watch. The Haye-Valuev bout was a dud and so was the Holyfield-Valuev match before that. Give David Haye credit. His recent win over John Ruiz was not bad.

Now we have American favorite Chris Arreola meeting the Polish former cruiser and lightheavyweight belt holder Tomasz Adamek in Ontario California on Saturday April 24. This is not a world title bout nor even an eliminator for one of the alphabet titles. It is just a bout between two good and evenly matched heavyweights that promises a lot more action than we normally see. The winner will likely get a title shot sooner or later. Picking a winner here is going to be really tough. The early betting odds have Adamek a slight favorite but as we know those odds are influenced by the amount of action coming in on each fighter.. Arreola fans are sure their man will win by an easy KO while Adamek supporters are equally convinced that Tomasz will outpoint Chris or even KO him. Very few people expect to see Chris win by outboxing Adamek. The ESB ratings have Arreola at # 9 and Adamek at #10. It couldn't get much closer.





Chris has a lot going for him. He has better than average punching power and a good chin. His style is that of a warrior who throws punches with bad intentions. He is not hard to like. In spite of a lot of access weight he does not appear to have any stamina problems. This sort of flies in the face of common sense and some have explained that by saying he has never been really pushed over a long distance fight but Vitali Klitschko certainly pushed him and I thought his defeat was more a case of the difference in ability. Chris was beaten down but he was still going pretty strongly. I just don't know about that stamina question anymore.

The thing about this fight is that neither man has proven himself against a top ten heavyweight. They both probably deserve their rating but remain unproven. The one time Chris stepped up he was soundly beaten by Vitali Klitschko. His best wins are over Jameel McCline, a former contender who came out of retirement for a payday but showed little inclination to fight, Travis Walker, a prospect at the time who has now been KO'd a total of 4 times and by lesser fighters in 3 cases, a DQ win over Chazz Withspoon another prospect whose career has fizzled out and finally Brian Minto, a much smaller man who now fights as a cruiser. That is hardly the record of a proven contender.

Adamek is really no better. His reputation comes mainly from his record at 175 and 200 pounds. As a heavyweight he has fought only twice, a KO over an old and slow Andrew Golota and a more recent decision over Jason Estrada. You could say the Golota win is about equal to Arreola's win over McCline and the Estrada victory roughly the same as Chris' win over Minto. Tomasz scored his best win in 2008 at 200 pounds when he outpointed Steve Cunningham. Adamek has a good chin but likely less punching power. He is better technically and perhaps a bit faster. In size they are closer than it seems. Arreola is listed at 6 foot 4 but some question this. Adamek is 6 foot 1 and 1/2. Weight is where you see the greatest difference. Tomasz is a solid 220 pounds while Chris came in last time at a flabby 263. He has not been below 251 in almost 2 years.

Some have called Adamek a blown up lightheavyweight but remember that Chris also won his amateur title at 175 pounds when in his early twenties. Will 30 pounds of flab really be an advantage?

Age is not likely to matter much in this fight. Chris is 29 and Tomasz 33 but heavyweights mature late so both are still in their primes. Experience could be the deciding factor. Chris has had 29 fights with just one loss. Tomasz has one loss in 41 fights including several title matches at lower weights. As they say, he has been there before. The loss came to Chad Dawson on points at 175 pounds. Adamek claimed to be weight weakened and never fought at 175 again.

I don't have a strong feeling about this fight one way or the other. It could go either way but I lean just a little towards Adamek on points in what should be a very good fight. It will be televised by HBO. Article posted on 20.04.2010
previous article: Floyd Mayweather Junior Won't Be WBA Welterweight Champion, Whether He Defeats Shane Mosley On May 1st Or Not!
next article: Katsidis vs Mitchell: Katsidis Gets Spurs Backing; Mitchell Joins Punk Band Cockney Rejects