Guerrero stops Walker, Porter crushes Pinzon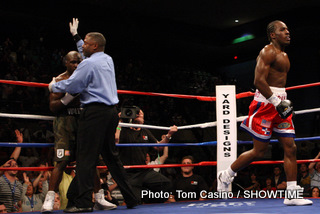 SALISBURY, MD (April 16, 2010) – Undefeated middleweight prospect and hometown favorite Fernando Guerrero earned an impressive second round TKO victory over Chicago's Michael Walker in the main event of ShoBox: The New Generation Friday night on SHOWTIME from the Wicomico Youth and Civic Center in Salisbury, Md.

Unbeaten prospect Shawn Porter dominated Colombian Raul Pinzon, scoring a first round TKO in Friday's co-feature

The doubleheader was co-promoted by DiBella Entertainment and Prize Fight.

Fighting in front of a packed hometown crowd, Guerrero (18-0, 15 KOs) displayed the type of energy and power that has made him such a coveted prospect in the stacked middleweight division. The southpaw came out swinging, drilling Walker (19-4, 12 KOs) with repeated shots against the ropes to close out the first round..

It was more of the same in the second with Guerrero banging away against the ropes and landing shot after shot against his defenseless opponent. With Walker up against the ropes and unable to respond to the onslaught of combinations from Guerrero, referee Malik Waleed was forced to stop the fight at 1:49 of the second round.

"The crowd was a little bit off so I had to spice things up," Guerrero joked. "I said I was going to go with him and fight an exciting fight. I'm going to be the new face of boxing, that's a promise. I work hard like I'm going for a world title in every fight."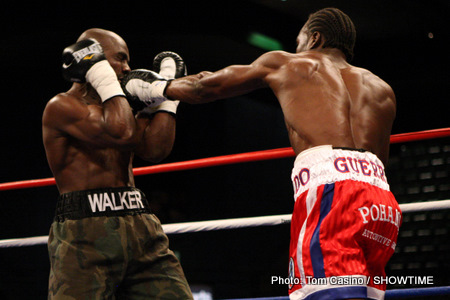 Walker may have been the only person in the building who disagreed with Waleed's decision to end the brutal attack.

"I'm pretty disappointed," Walker said. "I think I could still go. He caught me with a shot but I was recovering. I should have moved when he was hitting me. It's just a lesson learned."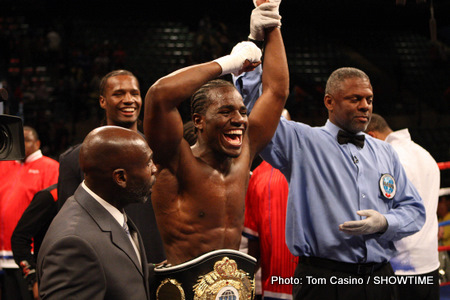 Porter (14-0, 11 KOs), of Cleveland, was equally impressive in his dominating win over Pinzon, although it was tough to measure his performance against a lesser opponent. The unbeaten prospect showed great one-punch KO power and a tremendous work-rate in the short outing. Porter moved to 14-0 in thrilling fashion with an overhand right that connected for a KO at 2:30 of round one.

"I tried to follow the gameplan, use my speed and set up the body shots," Porter said. "I set him up for the overhand right with the body shots.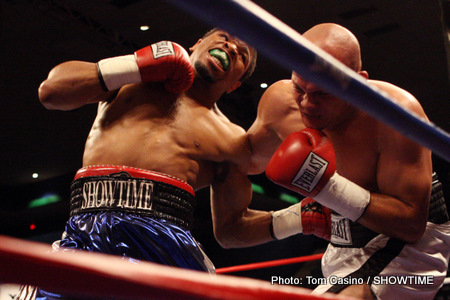 "I can't said I'm disappointed that I didn't get that many rounds. It was a great effort and performance. I know his weight slowed him down. He was definitely too slow for me tonight."

Pinzon (17-5, 16 KOs) took the fight on nine days notice and had trouble making the contracted weight limit.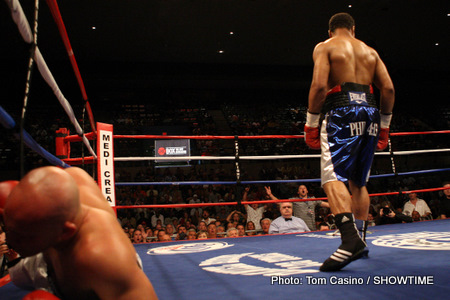 ShoBox play-by-play announcer Nick Charles was impressed with the showing by Guerrero and Porter but would like to see them begin facing top 15 opponents.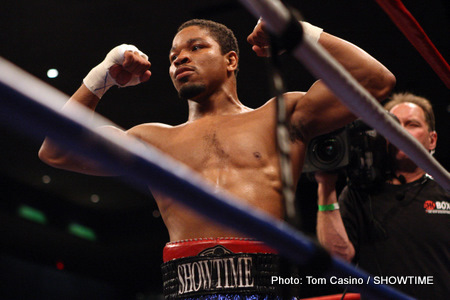 "As measuring sticks the opponents fizzled," Charles said. "But both of them showed the speed and power that translated into electrifying performances. I can't fault them for their level of performance. It's time to match them against some guys in the top 15 that will really challenge them."

Friday's fights will re-air on SHO 2 on Monday, April 19 at 10:30 p.m. ET/PT (delayed on the west coast). They will be available On Demand from April 19 until May 2, 2010.

The aforementioned Charles called the action from ringside with Steve Farhood and Antonio Tarver serving as expert analysts. The executive producer of ShoBox is Gordon Hall with Richard Gaughan producing and Rick Phillips directing.

For information on SHOWTIME Sports Programming, including exclusive behind-the-scenes video and photo galleries, complete telecast information and more, please go the new SHOWTIME Sports website at http://www.sho.com/sports. Article posted on 17.04.2010
previous article: B.J Flores Wants To Prove Danny Green And His Trainer Wrong, Is Willing To Face Green In Australia!
next article: Martinez defeats Pavlik, captures WBC/WBO middleweight titles