Video: Lucian Bute 167.2 vs. Edison Miranda 167
Weigh-In results from Montreal: Lucian Bute 167.2 vs. Edison Miranda 167 l Renan St-Juste 159.2 vs. Dionisio Miranda 159.7 l Pier-Olivier Cote 134.8 vs. Hugo Pacheco 133.5 l Sebatien Gauthier 121.6 vs. Jayson Hayward 121.4

"It's hard to change the style you used during your whole career in nine short months. When you're in an intense situation you quickly turn back to your old habits," states Lucian Bute (25-0-0, 20 K.-O.) about his opponent Edison Miranda (33-4-0, 29 K.-O.), who switched trainers and is now with the renowned Joe Goosen..





Lucian Bute admits that Edison Miranda is a hard puncher and he will have to be very careful for the entire fight. The IBF Super Middleweight Champion also stated, in English: ďIím very happy that HBO has come to Montreal and Iím hoping that they will stay with me for the future.Ē Mr. Luis Barragan, Director of Programming for HBO, was in attendance and had very nice words for both boxers.

"When Lucian began his training camp he had two arms. During the training camp a third arm grew and at the end of the fight Miranda will proclaim he was sure Bute had three arms," states Lucian Buteís trainer Stephan Larouche.

Edison Mirandaís trainer is confident that his training program will make all the difference. "I'm really impressed by the capacity of Edison to follow my directives. When I saw him lose the decision vs Andre Ward in 2009, he only had a heavy right hand to rely on. I've asked him to try new things, and he did them all with extreme precision. Iíve seen see a lot of fighters in my career and Edison has the abilities and capacities of a great athlete. He's one of the best athlete I've see in my gym. If Team Bute thinks that my fighter will be tired after the sixth round then they are in for a bad surprise."

Edison Miranda declared: ďSomeone at the grocery store asked me why I havenít trash talked Lucian Bute. I answered that I respect fighters who earn it and Lucian Bute has earned that respect.Ē


Photos: Bute vs Miranda media workout

IBF World Super middleweight Champion Lucian Bute and IBF #6 rated contender Edison Miranda trained for the media and fans Tuesday afternoon at a crowded InterBox gym inside the Claude Robillard Center. Both fighters and their respective trainers declared they are ready for an explosive fight on HBO. "My preparation for Andrade was exceptional and this time it was even better. I havenít reached my peak in boxing, but after every fight I feel I am a better boxer" said Lucian Bute.

"I'm well prepared, I respect Lucian Bute but come Saturday I'm going to win," declared Edison Miranda. Team Bute and Miranda will face tomorrow at the official press conference in Montreal.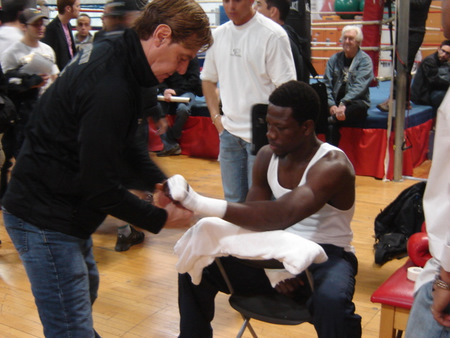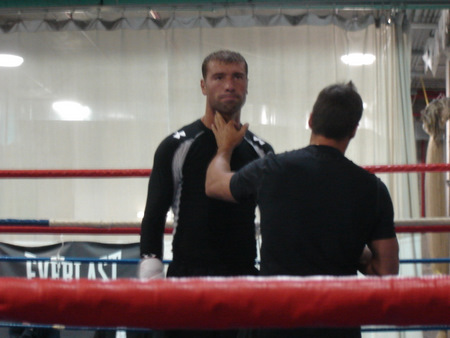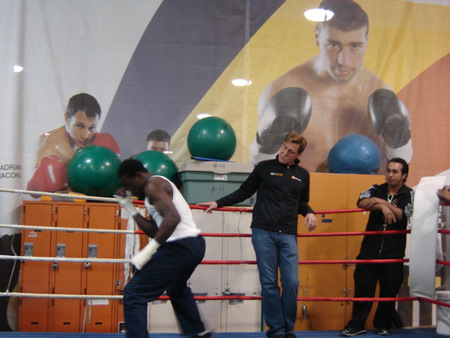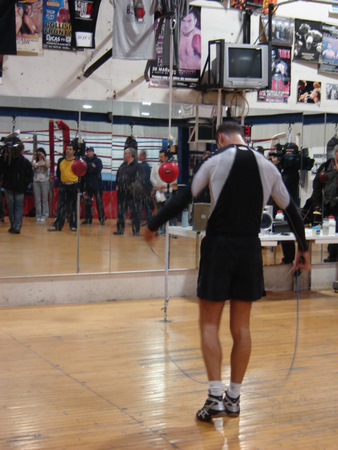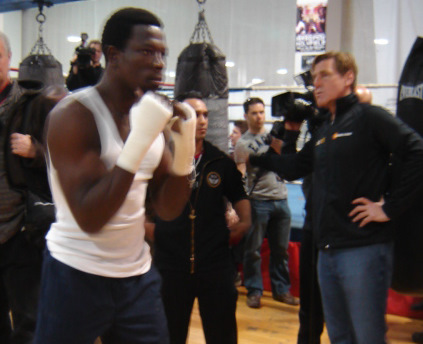 Article posted on 15.04.2010
previous article: Exclusive Interview With Jamie Moore - "I'm Proud Of What I Achieved And I Can't Complain About What Might Have Been"
next article: Weigh-In Video: Kelly Pavlik 159.5 - Sergio Martinez 159.5