Donovan 'Da Bomb' George Runs Strong in Chicago Charity Event
CHICAGO, IL (April 12, 2010) Super middleweight Donovan DA BOMB George joined thousands of Chicagoans early on Saturday morning, April 10th in the WRIGLEY START EARLY RUN in Grant Park to raise money for Voices for Illinois Children and Prevent Child Abuse America . Taking part in the 10K race, the 25 year old George finished with a time of 50:34 for a pace of 8:10 per mile..


"It was a beautiful day, a terrific race and I'm proud to help out with these two most worthy charities" said George.

George is training in Chicago for his first bout on SHOWTIME, as part of THE NEXT GENERATION OF SUPERMIDDLEWEIGHTS on Friday, April 30th at the UIC PAVILION. George, 19-0-1 (17KO's), will face Ghanian veteran Osumanu Adama, 17-1-0 (13KO's) in a scheduled eight round bout.

Also featured on the tripleheader as part of the "SHOBOX, The New Generation" series is 24 year old Edwin "LA BOMBA" Rodriguez, 14-0-0 (10KO's), a native of the Dominican Republic, battling St. Louis based veteran Kevin Engel, 17-2-0 (14KO's).

Rounding out THE NEXT GENERATION OF SUPERMIDDLEWEIGHTS is a ten round bout between Houston's Marcus "TOO MUCH" Johnson, 18-0-0 (14KO's) and Derek "THE BLACK LION" Edwards, 25-0-0 (13KO's), of Winston-Salem, North Carolina .

Presented by DiBella Entertainment, Warriors Boxing and Chicago's 8 Count Productions, advance tickets for THE NEXT GENERATION OF SUPERMIDDLEWEIGHTS, starting at $31, can be purchased through Ticketmaster (www.ticketmaster.com, phone 1-800-745-3000) and the 8 Count Productions Office, (312-226-5800). Doors on the evening of the event will open at 7:00pm with the first bell at 7:30pm.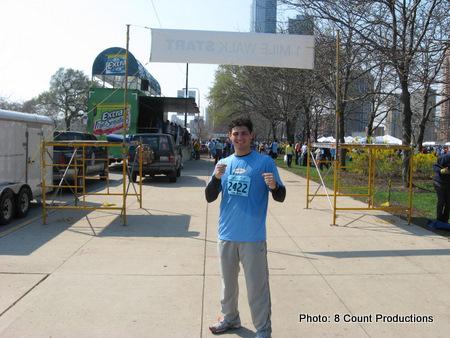 THE NEXT GENERATION OF SUPERMIDDLEWEIGHTS will be broadcast on "SHOBOX, The New Generation" with a start time of 11PM ET, 10PM CST.

The UIC Pavilion is located at 525 S. Racine, just one block south of the Eisenhower Expressway. For further information, please visit their website at www.uicpavilion.com. The UIC Pavilion is now serving alcohol at all boxing events. Article posted on 13.04.2010
previous article: The Next Heavyweight Boxing Generation Is Coming: Boytsov, Helenius, Pulev
next article: News: Thompson vs Beck; Vazquez Jr. vs Bedak; Williams vs Truax