Celestino Caballero Outclasses A Game Daud Yordan Over 12-One-Sided Rounds - Yuriorkis Gamboa Next?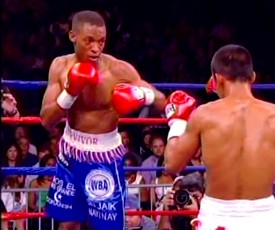 by James Slater - Last night in Florida, on the under-card of the Andre Berto-Carlos Quintana welterweight title fight, former long reigning super-bantamweight ruler Celestino Caballero of Panama made a successful debut up at featherweight. The 33-year-old dominated and widely out-pointed Indonesia's 22-year-old Daud Yordan, winning by a near shutout.

The official scores were 120-107, 119-108 and 118-108, all for the tall Panamanian. Now 34-2(23) as a pro, Caballero is looking at facing the also excellent Yuriorkis Gamboa next. Yordan, who showed heart and courage in losing, is now 25-1(19).

Looking great last night up at 126-pounds, Caballero showed he has carried his speed and stamina levels up with him from 122-pounds. Throwing well over a thousand punches against Yordan, Cabellero never once looked tired. Okay, he was pretty much in total control the whole fight, but the man known as "Pelenchin" proved he will be a formidable opponent for any featherweight out there..

Landing all night his left jab, his right hand to the head and, most hurtfully, his wicked body shots to Yordan's midsection, the lanky 33-year-old gave the untested and largely unknown fighter a beating and a boxing lesson. Only Yordan's raw courage kept him in there at times.

Decked in the 2nd-round by a sharp counter right hand to the head, the young warrior did well to beat the count; doing so just as the bell rang to end the session. Aside from the odd right hand or left hook to the head that got home - bringing encouraging cheers from the crowd as they did so - Yordan resembled a punching bag all the way through the fight.

Cabellero, who was unable to close the show, smiled a lot during the action and it did appear as though he was enjoying the whole experience of his featherweight debut. The sheer class, the incredible work-rate and the advantages in reach and speed the former 122-pound king had proved to be just too much for the Indonesian. Yordan was game as hell and always trying, but in truth he was way out of his depth.

The doctor checked on Yordan during the break between rounds nine and ten, asking the losing fighter if he could see okay. Yordan's eyes were swollen, but he said he was okay and was allowed to continue. It was a pointless exercise really, however, and maybe he should have been retired on his stool - he certainly wasn't winning anything except for some praise due to his bravery.

For one flashing second in the 12th and last round it looked like Yordan might, just might, cause a big sensation. Cabellero, resigned to going the distance and winning on points, lost his footing in mid-ring at the same time as Yordan landed with a left hand to the head. Those fans at the back of the arena may well have thought Yordan had hurt the dominant fighter, but after Yordan had made a furious, last ditch attempt at salvaging the lost cause of a fight, Caballero was back in control and even smiling. Cleary he was not hurt, and the Panamanian finished the round firing off yet more punches.

The reading of the cards was academic, and everyone now looks ahead to the gifted Caballero's next fight. Word is, this may come against WBA featherweight titlist Yuriorkis Gamboa, and what a fight that would be!

Will Caballero's blend of speed, work-rate and class be able to handle the speed, power and aggression of the Cuban? Hopefully, we will find out in a few months!


Article posted on 11.04.2010
previous article: Shannon Briggs Returns on Tuesday, Will Face "The Cajun Connection," Rafael Pedro
next article: Goodwin Promotions: £15,000 bounty on the head of Yassine El Maachi!