Bute vs Miranda: Bute Back In Montreal; Miranda Ready To Put On Show!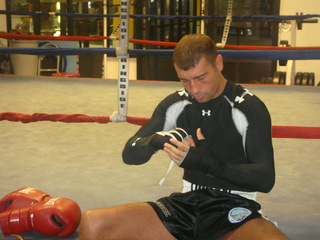 Lucian Bute is back in Montreal after spending the last 9 weeks in Florida training at the Thump Boxing Gym facilities in Miami with Head Trainer Stephan Larouche and Physical Conditioning guru Andre Kulesza.

Lucian Bute (25-0-0, 20 KO) will defend his IBF World Super Middleweight title against Edison Miranda (33-4-0, 29 KO) on Saturday, April 17th 2010 at the Montreal Bell Centre. This bout will be broadcast live on PPV on Canal Indigo, Bell TV and Shaw across Canada and by HBO World Championship Boxing in the United States and Internationally. All Cage-aux-Sports Restaurant/Bars throughout Quebec will carry the entire boxing card live, as well as other select commercial establishments.

"We had a training camp very similar to the one we did for the second Andrade fight. Why change a winning formula? Of course we had different sparring this time, custom made for beating Edison Miranda. We relied primarily on two world class athletes in Randy Griffin and former IBF champion Alejandro Berrio. If I had to describe the camp we had in one word, it would be: amazing." States Stephan Larouche..

"Lucian is a training machine. He strives on it. Eat, sleep and train. But we were not only preparing for Miranda, we were preparing for HBO. We need to follow up on the outstanding first impression Lucian made with HBO fans last November with another dominating performance. I have never seen a more motivated and physically strong boxer in all my life, and I have trained 5 world champions" concludes Larouche.

Never one for many words, Lucian is oblivious to comments from anyone during fight week. "Lucian is not the type of individual who reads, much less responds to everything written about him in the media" states InterBox President Mr. Jean Bedard. "We all know Miranda is ready and believes he will win the fight. We would not have chosen him as the opponent if we thought he would not be ready" concludes Jean Bedard.


Edison Miranda Ready To Put On Show!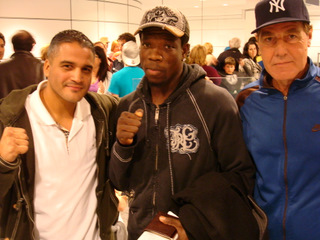 After what is being called 'a perfect training camp', Edison Pantera Miranda will be traveling to Canada on Monday to challenge Lucian Bute for the IBF Super Middleweight championship of the world. The fight will take place on April 17th in Montreal, and HBO will be televising the action live.

"My training for this fight was as smooth as any fight I've ever trained for. I've sparred more rounds and worked harder than any previous fight. I am also more focused than ever before. I have put myself in the best possible position to leave Montreal with the belt – both physically and mentally."

Miranda and his team will be arriving late Monday evening and the schedule for the week calls for a public training session on Tuesday, the press conference on Wednesday, and the weigh in on Friday. An enormous crowd of 15,000 is expected to attend the fight at the Bell Centre.

Miranda claims the fans, which will mostly be for hometown hero Lucian Bute, will not affect him at all. "I would encourage anyone who does not have a ticket yet to buy one now. The more fans the better. And the more people that will witness one of the most action packed fights they will ever see. I've fought all around the world in hostile environments, and it doesn't bother me. In fact, it energizes me. I will feed off the energy in that arena and use it to motivate me further. "

"Bute needs to realize that once he gets in that ring, it's only him and me. The fans will not be in there to help him. Miranda went on to say that the world will witness a new champion being crowned on April 17th. "I said it before, and I'll say it again, I'm going there to win, and win impressively. That's exactly what I will do. Bute should take some nice photos of himself with the belt because in a week, he will no longer have it. I will steal the crown from Bute in front of his very own fans – that's a promise!"

Article posted on 12.04.2010
previous article: Andy Lee back in action in Limerick as European title hunt intensifies
next article: Sam Sexton: "I'll Retire Danny Williams, Then Holyfield"