Bernard Hopkins not that good, Roy Jones not that bad?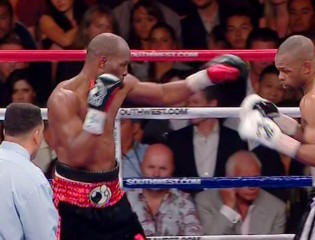 By Robert Jackson: Well the speculation as to who has had the better career, and the better legacy is over and the winner is Bernard Hopkins and Roy Jones Jr. Watching the fight Saturday night, a fight that can only be described as WEAK, neither guy did any thing SPECTACULAR or DOMINANT. Hopkins ONLY won because he was busier. Roy Jones' SPEED BOTHERED Hopkins throughout the fight and if Roy could've put a combination or two together he might have gotten the NOD. Neither GUYS DISLIKE or PRE-FIGHT talk towards the other was translated into in-ring ACTION, BOTH guys fought CAUTIOUSLY and I thought MOST of the fouling was INITIATED by Hopkins. It's usually the case that the initial TRANSGRESSION is missed by the officials but the retaliation is always caught and penalized.

All and all the fight was a decent one, both guys had their moments and displayed theatrics, but it should've been on HBO Champioship Boxing, and I guess after the PPV numbers come out the HBO Exec's will see it this way too. The undercard fights for these BIG fights this year have been atrocious and Saturday's fights did nothing to reverse this trend.

It's evident to this writer and fan that NEITHER man has anything to prove and that NEITHER man is the man they were 5 or 6 years ago, both WILL go into the HOF together.. As for Roy fighting again I will NOT watch him nor am I interested in him fighting any more. To him I say cash your Saturday check and call it a day. I'm also uninterested in Hopkins fighting David Haye who is more than LIKELY to give Hopkins that BEATING he has been able to avoid throughout his WHOLE career. I am kind of interested (a little bit) in seeing how Hopkins would fair against the unheralded and underwhelming Chad Dawson, and after that BOUT win or lose he should also call it a DAY.

Thanks for the memories guys but no thanks for extending your careers beyond 2010.

Article posted on 06.04.2010
previous article: I take it all back! Hopkins-Jones II was a disgrace
next article: Is Advertising Necessary On Boxing PPV Events?