'Left-Hook Lounge': Vivek Wallace's Mailbag feat. Abraham/Dirrell, Guzman, Calzaghe, Williams and more!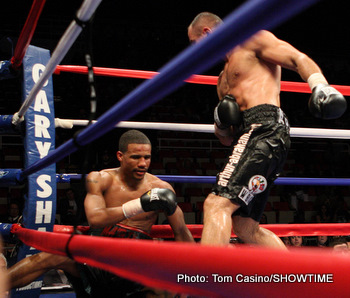 Rene' R. (Ontario, CA): What were your thoughts on the Abraham/Dirrell fight and the way it ended?

Vivek W. (ESB): In my prediction article I had pointed out keys to victory for Dirrell, and in hindsight, those sentiments of mine were echoed in a loud way, as that was the precise blueprint his team used and he executed to perfection. He used speed, reach, and a wide assortment of shots to create a large lead. Now, where things began to get dicey was when Abraham started to land late in the fight. I'll stop short of saying that Abraham was on his way to a victory because Dirrell had a bit more in the tank than I thought he would at that point in the fight, but I could agree with some that the tide appeared to be changing a bit. That being said, I think there was a clear and concise infraction that resulted in a very necessary disqualification.

I reviewed that frame more than 20x, (compliments of DVR), studying everything from their demeanor, to their body language and beyond, and I see no way possible that ANYONE can legitimately tell me that Abraham did not do that instinctively. I wouldn't say intentionally, but instinctively? Without question.....and his response only made it a bit more obvious, as he responded, "I wasn't watching his feet, I was watching his head". Pardon me, but it's a bit hard NOT to realize an opponent is suddenly 3 feet smaller than he was when you stood eye to eye going toe to toe. That being said, I still wouldn't condemn him widely, as anyone who has taken part in athletics can remember a time when the whistle blew a second (or two) after your eyes had locked on something, and in the heat of the moment you completed the act itself. I have. We've all done it. Whatever the case may be, Abraham did in fact act with instinct, but unlike many of the instances with many of us, his act could have cost a man his life..

Some seem to think Dirrell was faking, but aside from reviewing the footage, those people need to ask themselves why would he go as far as crying in the ring, totally under the impression that he was KO'd in front of his fam. There was nothing staged about that, and the medical staff that gave the statement to the media could confirm this. Abraham's comments were totally out of place and his frustration at that point was very evident. Dirrell doesn't have the following to get him the benefit of the doubt in a case like this against a well known vet, but I think people need to commend him for having only 20 career pro fights and dominating a man who many talented men have failed to land cleanly on, let alone hold an uncontested lead on the cards. Changing the subject, the most intriguing thing I took away from the fight was that the 'home turf' trend continues. I thought this would be the fight to break that streak......I guess not.

Javier B. (Miami Lakes, FL): What are your thoughts about Joan Guzman (weight issue and his performance)?

Vivek W. (ESB): I think Guzman's recent antics were the absolute most disgraceful and disrespectful thing a fighter can do both in his personal career and in the sport. For a fighter and his team to even bother attending a weigh-in knowing that he's nearly 10lbs over the contracted weight.....that makes me truly question the intelligence of literally everyone involved. It's not like Guzman had a no weight check clause for his trainer and team barring them from checking his weight during the fight camp. So, how do you explain the entire team coming to the weigh-in and acting surprised at the findings?

Something else I found great intrigue with was the fact that so many fight fans who contacted me directly have chose to give him a free pass. I can remember the mass outburst associated with the return of Floyd Mayweather jr. when he agreed to pay a lofty $600K figure to enter the ring at a comfortable 147lbs, (as opposed to the contracted 145lbs). That response was a stark contrast when paralleled here with a man who clearly NEVER HAD ANY INTENTIONS of fighting at the contracted weight. Some even made the argument that he clearly outperformed Funeka in the fight. Well, hell, I'd think so, considering that he came in at such a comfortable weight that required practically no sacrifice. During camp he didn't eat one less platano, one less bowl of arroz con pollo, or one less bowl of mofongo. He lived like he normally does!

One could argue with reasonable success that perhaps Guzman was weight-drained in the last fight, resulting in a Funeka win. But that argument is for the birds....the guy knew what the weight was and if he felt his best chances at defeating Guzman would have been at that weight, he could have said it from the beginning so the lanky Guzman could have attempted to fill out that wiry frame of his and equal the playing field as well. I just thought it was a pathetic situation and if I were overseeing this matter and given the authority to make a final ruling, not only would Guzman have to forfeit his entire purse, but if I were Goldenboy Promotions, his contract would immediately become null and void. This is now two times too many. I feel his actions have totally taken away from his worth, and despite his undefeated record, he remains a defeated character on principle alone, in my humble estimation.

Marcus O. (Atlanta, GA): What are your preliminary thoughts on the now pending Paul Williams/Kermit Cintron showdown?

Vivek W. (ESB): I like both fighters, but I truly think this is not a great fight for Cintron. If there's one thing that has shown to be his nemesis, it's volume punching from a fighter with good range and a chin. Margarito knocked Cintron out twice by walking through his power to land his own. We can argue that Margarito's gloves may have been loaded, but the reason Margarito stood at a distance gesturing for Cintron to get up once he knocked him down (in the second fight) was because he knew full well that all he had to do was continue to employ that pressure and Cintron would find himself on the ground yet again. Cintron is a far better boxer than many give him credit for, but the unedited truth about him is that similar to what we've seen in Zab Judah, once an opponent proves tough enough to withstand his power, his mental toughness begins to fade like a cheap shirt in the wash!

Judah has improved somewhat in this area, but I'm not so sure we've seen this maturation in Cintron. He looked good against a much less experienced and fairly one-dimensional fighter in Alfredo Angulo, but against Sergio Martinez, he appeared flustered and some would argue was actually beaten with the faulty count he 'managed' to beat. I think the fight will be entertaining, but I'd be lying if I didn't say that I was very interested in seeing what Cintron's frame of mind looks like beyond the 5th round when he realizes he can't penetrate Williams' work rate to land those monstrous shots of his. That, my friends will be the true beginning. If he doesn't respond well, it'll simply serve as the beginning of the end.

Christian I. (Sussex): Joe Calzaghe has recently come clean about his use of drugs. Do you think this has anything to do with failure to return to the sport?

Vivek W. (ESB): I don't. I don't think it has anything to do with his decision not to return at all. The irony here is that unlike boxers from many other countries, the U.K. can safely boast TWO men on the sweet science roster in recent eras that found a way to defeat the irresistible urge of sticking around longer than they probably needed to. Both Lennox Lewis and Joe Calzaghe walked away on the "W" side of the column sheet, leaving little chance to the possibility of them taking one fight too many. Now, as great a move as that was for both of them, I've always said that Lewis is more likely to come back than Calzaghe, and if you know like I know, he won't be doing it either. The reason I say that is because Calzaghe walked away without a blemish on his record, and there's no name in the sport worth trying to add to his resume at the expense of possibly subtracting from his current measure of greatness. Dawson?.....a Hopkins rematch?....Nada!

There's simply no risk worth the (non) reward, so habits or not, I never saw Calzaghe realistically returning to the sport. Now, that being said, I think the realization of this latest news about his abuse is rather sad, and speaks volumes about a man who has given his life to a profession, and suddenly wakes up one day and realizes that he has a lot of time on his hands, a lot of money, and apparently very little else - along a constructive mold. I say that because if he was driven with a passion away from the ring like he was to the one he had in the ring, he'd be too busy to indulge in things that don't create progress. I won't get deep into his personal issue because we all have our demons to exorcise, but what I will say is that I hope he figures it out, because he has a few chaps that need him to show them the way. I respect what he bought to the sport and wish him the absolute best!

Hector O. (Sunny Isles, FL): Marcos Maidana proved his value again and I think he's the best 140lb'er in the sport. Which of the other jr. welterweights do you think pose his biggest test?

Vivek W. (ESB): The great thing about the deep jr. welterweight division is that each of the highly notables bring something different to the table. Literally. Bradley is a fierce competitor with great intensity and evolving ability. Devon Alexander is probably the most all-around gifted, having speed, power, precision, and very solid defense to employ when all else fails. Then you have Khan, who brings power, speed, great athletics, but still somewhat unanswered questions relative to his chin against a big puncher. And that list doesn't even include Valero, veteran Paulie Malignaggi, the gritty Nate Campbell, among others. Maidana is very solid, but I really think his true test would be against a man who can make him miss and make him pay. Alexander showed us this against Urango, Dirrell showed us this against Abraham, and Ward showed us this against Kessler.

Power alone means very little when you face a man who can willfully employ the art of getting away. This is what has made Mayweather a smash in the sport. I think power hitters and brawlers would play into Maidana's hands because he is willing to mix it up with anyone who can punch, knowing that he has power to stop them and a chin to potentially outlast them. Judging by this principle I would say the best possible match for him would be Alexander. He has the stamina to use intelligent footwork for 12 rounds, the power to keep Maidana honest, the speed to keep him off balance, and the defense to make him think. There are many other fights I would like to see him involved in, but Alexander is the one I'd peg squarely to defeat him, maybe even easily.

(Vivek Wallace can be reached at vivexemail@yahoo.com, 954-292-7346, Youtube (VIVEK1251), Twitter (VIVEK747), Facebook, and Myspace).

Article posted on 29.03.2010
previous article: Gary Shaw: "Dirrell boxed Abrahamís ears off; Sauerland is a sourpuss"
next article: Audley: David Haye will lose title if he underestimates John Ruiz