Gamboa and Bahktov Score Wins In Germany
All Results: Yuriorkis Gamboa W 12 Jonathan Victor Barros
Denis Bakhtov W TKO 9 Steffen Kretschmann
Juan Carlos Gomez KO 3 Alexey Mazikin
Mahir Oral TK0 10 Juan Camilo Novoa


Weigh-In Results From Germany

Cuban superstar Yuriorkis "El Ciclon" Gamboa will defend his WBA featherweight championship in Germany for the first time against unbeaten Jonathan Victor Barros from Argentina tonight. At today's weigh-in both contenders brought exactly the limit of 126 lbs. (57.1 kg). The co-main event features German heavyweight hope Steffen Kretschmann in a re-match against PABA heavyweight champion Denis Bakhtov who had knocked out "Kretsche" in one round last summer in Völklingen (Germany). Kretschmann weighed in at 240 lbs. (109 kg), Bakhtov weighed in at 231.5 lbs. (105 kg). The card also features former world cruiserweight champion Juan Carlos Gomez (vs. Alex Mazikin) and middleweight contender Mahir Oral (vs. Juan Camilo Novoa) in fights for the WBA international championship in their respective divisions. The show starts at 6.00pm German time. SAT.1 will broadcast the two main events live starting at 10.20pm.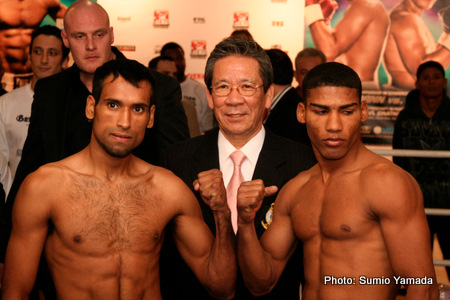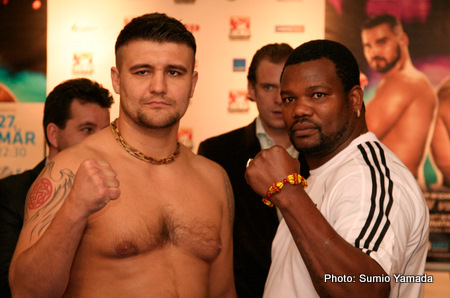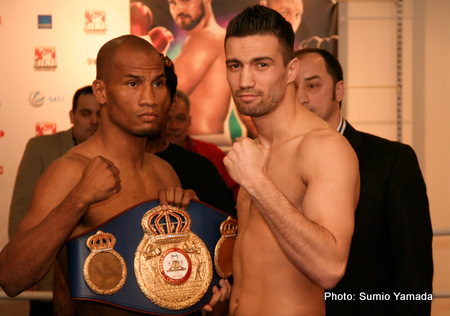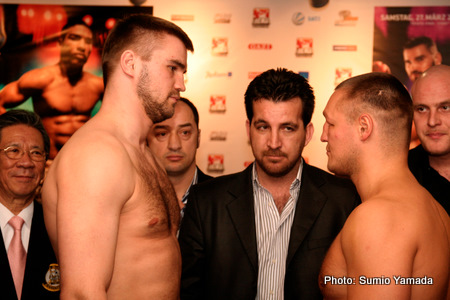 Article posted on 27.03.2010
previous article: Mollo Successful with Return Bout!
If you detect any issues with the legality of this site, problems are always unintentional and will be corrected with notification.
The views and opinions of all writers expressed on Boxing247.com do not necessarily state or reflect those of the Management.
Copyright © 2001- 2015 Boxing247.com - Privacy Policy l Contact