Brian Miller outworks Danny McDermott for a split decision victory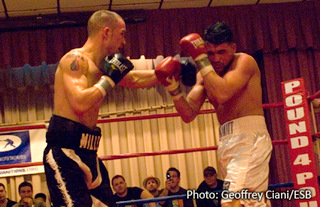 by Geoffrey Ciani @ Ringside - Pound for Pound Promotions presented the "March Badness" card Thursday night at the Schuetzen Park Ballroom in North Bergen, New Jersey. The fight card featured six bouts, most of which showcased local young talent from the New York-New Jersey area. The small scale venue provided a rather friendly boxing atmosphere and some pretty entertaining fights, too.

The first preliminary bout was a four rounder in the junior middleweight division that featured Steven Martinez (3-0, 3 KOs) and Michael Ransom (Pro Debut). After a tentative start from both fighters, the more experienced Martinez took the initiative and soon had Ransom trapped against the ropes where he landed a quick flurry of punches that sent Ransom to the canvas. Ransom beat the count, but Martinez smelled blood and quickly sent Ransom down for a second time before the bout was halted 1:59 into the first round.

In the second contest, junior welterweights Hector Collado (Pro Debut) and Christian Martinez (2-0, 2 KOs) squared off in a four rounder. The two pugilists were willing to engage from the onset and this provided for a nice little scrap with several good exchanges.. Despite their lack of experience, the two fighters exhibited some pretty decent skills. The fight seemed fairly even after two rounds before the more experienced Martinez took charge and knocked Collado out in round three.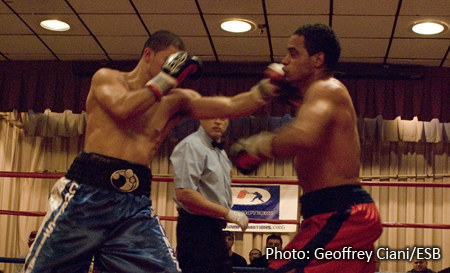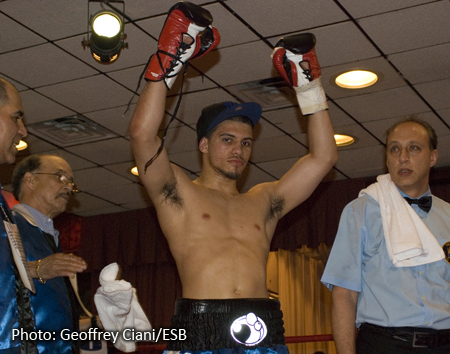 Next up was a four round middleweight fight between Todd Eriksson (0-3-1) and Eddie Edmonds (1-0-1). This was an action-packed fight from the moment it started. Edmonds came out attacking obviously looking to end this one early. In fact, he was so aggressive that at one point he missed his opponent with a left hook that caught referee Sparkle Lee square in the jaw. Lee showed a good chin and withstood the shot without incident before action resumed. Late in the first round, Eriksson landed a good right hand that buckled Edmonds' knees. Back and forth action ensued until the third round when Eriksson knocked Edmonds out with another flush shot.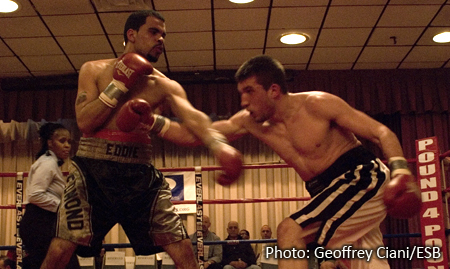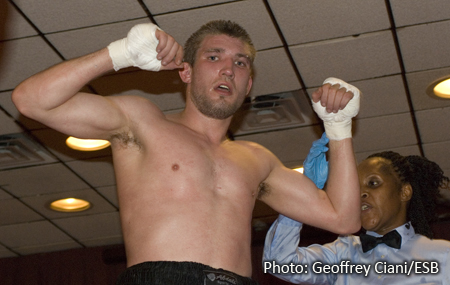 Following that came a six rounder between super bantamweights Eilon Kedem (10-3-4, 7 KOs) and Pedro Antonio Salcedo (3-2, 2 KOs). After a slow first round, things began picking up in the second. The two fighters seemed pretty evenly matched in what amounted to a tactical bout with some pretty good exchanges. After four, neither fighter had much of an advantage but over the final two rounds, Kedem started outworking and outthinking his less experienced foe. After six good rounds of action, Kedem was awarded a unanimous decision victory with scorecards reading 58-56, 59-55, and 60-54. Personally, I had it 58-56 and thought it was a bit closer than two of the official scorecards indicated.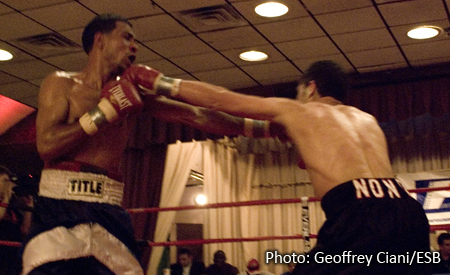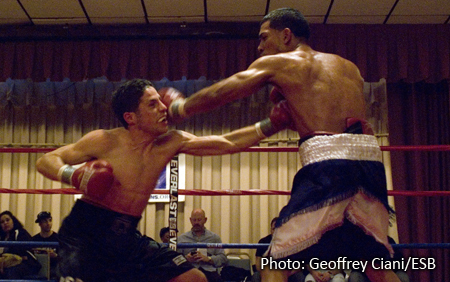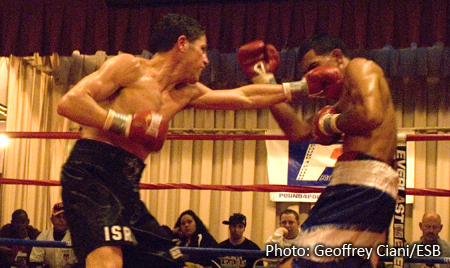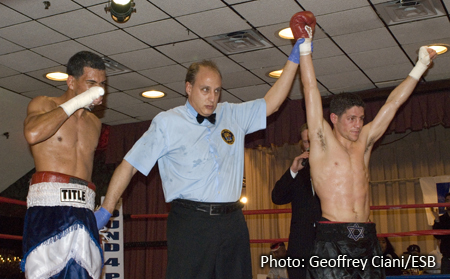 The fifth bout of the evening was a super middleweight clash between Jason Escalara (7-0, 6 KOs) and Jesus Torres (5-0-1, 4 KOs). This one was a total mismatch. From the opening bell, it was fairly obvious that the quicker, stronger, more athletic Escalara was going to win. Escalara simply overwhelmed Torres dropping him four times in the opening round. After the fourth knockdown, referee David Franciosi had seen enough and called a halt to the contest at 2:47 of round one. It was an impressive effort by Escalara which helped fire up the crowd for the moment most in attendance had been waiting for—local lightweight Danny McDermott.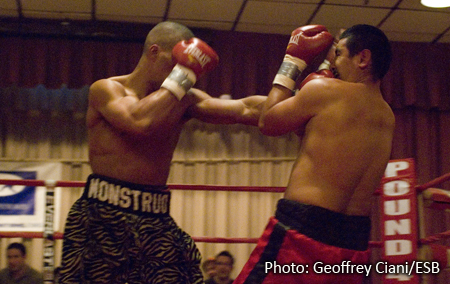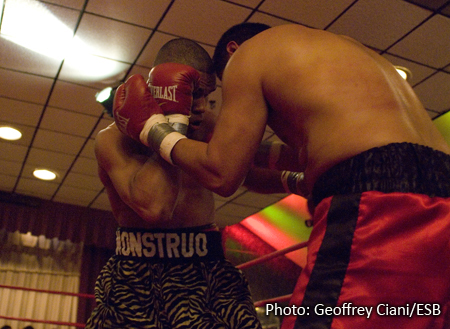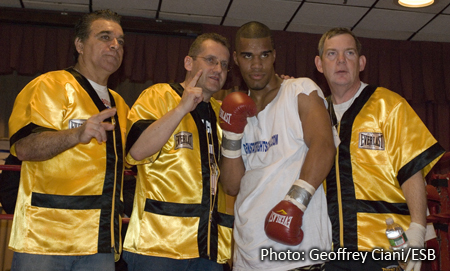 The main event featured the aforementioned McDermott (8-1-1, 3 KOs) from North Bergen, New Jersey and Brian Miller (7-0-3, 3 KOs) from Schenectady, New York. To the delight of the crowd, the two engaged early and often. It became rather apparent early on that McDermott was the heavier handed puncher, and the audience roared with approval whenever he connected. Through two rounds, there was a lot of back and forth action and the two fighters seemed deadlocked. In round three, however, Miller used his superior technical skills to take control. Miller was very successful at crowding McDermott which effectively neutralized his punching power.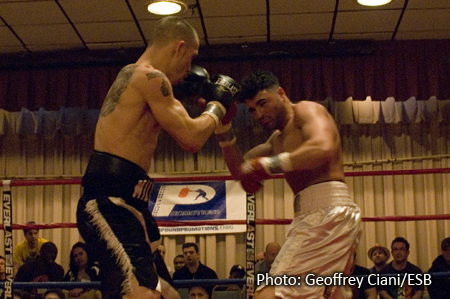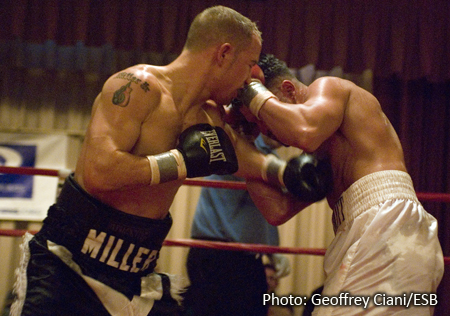 On the inside, Miller was able to tee off on McDermott with a series of short uppercuts. McDermott never found an answer and was unable to adjust. As the rounds progressed, it was more of the same—Miller controlled the distance in close, and McDermott was reduced to throwing wide looping punches which often missed the mark. It was an intelligent effort by Miller who never lost focus and never veered from the game plan. For his efforts, he was awarded a split decision victory (75-77, 78-74, 79-74). I scored it 79-73 for Miller and can only assume the judge scoring the fight for McDermott was swayed by the cheers from the crowd, because this was a clear victory for Miller.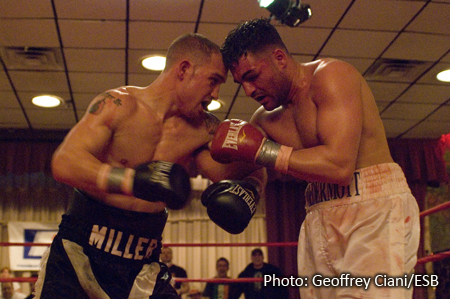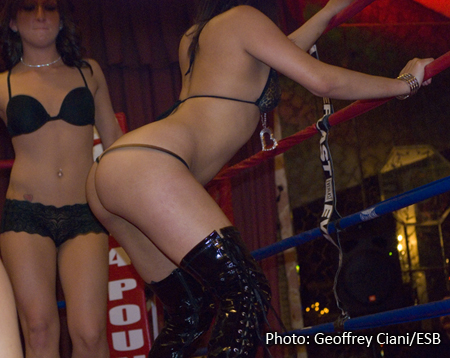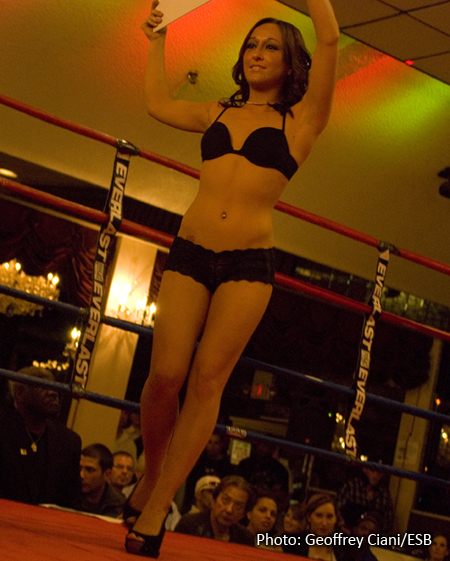 All in all, it was an entertaining night of boxing in North Bergen, New Jersey.

***

To learn more about On the Ropes Boxing Radio please visit our website:
http://www.ontheropesboxingradio.com

To contact Ciani:
ciani@eastsideboxing.com

To read more by Ciani please visit The Mushroom Mag:
http://www.eatthemushroom.com/mag Article posted on 26.03.2010
previous article: Tickets for Lucas vs. Andrade on sale as of April 1st