Morales-Alfaro PPV Presser Quotes
Erik Morales: "I want to thank everyone who has supported us for this fight. I'm ready. I had a lot of preparation and I'm ready to fight again. I think two-and- a-half years of rest were enough. I have a lot of energy and will go back in the ring with a high level." "I know I have a strong rival. It was motivating to train with great gusto and indeed everyone will see a big fight this Saturday at the Arena Monterrey.."

Jose Alfaro: "I'm calm, relaxed, and just waiting for the moment to show how I can fight. That's what we used on my team and I hope everything goes well. Honestly, there is no pressure on me, just the desire to win. I think I'm with someone who was as great as Erik Morales, but beating someone like him will be an important part of my career."

"Morales is the logical favorite because of his experience and victories over fighters like Manny Pacquiao. He had big fights with Marco Antonio Barrera and many more, but I come with the desire to succeed. I had sufficient time to prepare and you'll see on Saturday."


Erik Morales workout pictures and quotes

Morales: "Losing so much weight in recent months isn't going to affect me. For two and one-half months we worked a lot on the technical issues but we also made the best effort trying to achieve peak physical condition. I also mean that I was six months into the plan to establish a steady weight loss and here are the results. We planned to work hard to get into top form and I reached it."

Morales: "This is a good match against Alfaro. We know that he is very strong, but that's why we wanted to fight someone like him. I will not defraud anyone, let alone myself, and this is the optimal test. I will be the strongest, smartest and most experienced in the ring against Alfaro."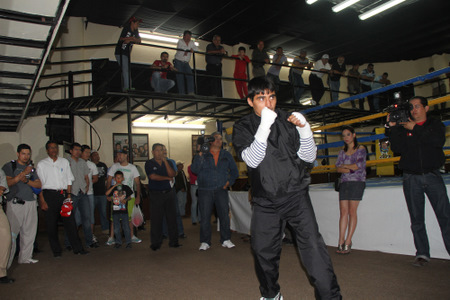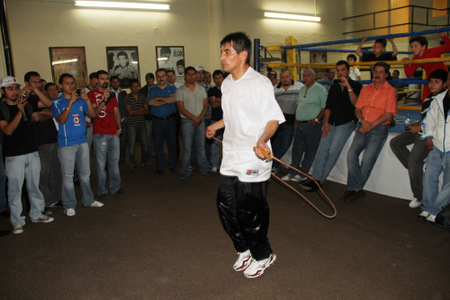 Article posted on 25.03.2010
previous article: Michael Sprott: I'll KO Audley Harrison and dedicate belt to late sister
next article: Arthur Abraham vs Andre Dirrell: Weigh-In Video, Photos