Albert Sosnowski Says Vitali Klitschko Is "Pretty Predictable," Says He Does Not See The May 29th Fight As A Huge Step Up In Class
by James Slater - Though the majority of fans were quite shocked and surprised when it was announced how the comparatively little-known Pole, Albert Sosnowski would be challenging WBC heavyweight king Vitali Klitschko on May 29th - these fans immediately downplaying the fight as a mismatch - Sosnowski himself appears to be very confident going into the match.

Referring to the fight that will take place in Germany at the end of May as his "dream fight," the 31-year-old with the good 45-2-1(27) pro record insists the fight will not represent a huge step up in class for him; even though the U.K-based Pole has never fought anyone in "Dr Iron Fist's" league before.. The former European heavyweight champion went further, saying Vitali is a predictable fighter who has only faced opponents he has picked due to their inability to punch and be aggressive. Sosnowski says he will come to fight hard and that he will provide Klitschko with a "stubborn" challenge.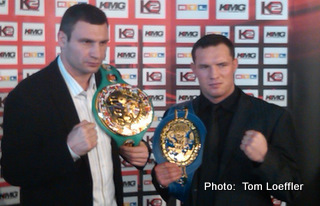 "I am very dedicated and still very young in the heavyweight division, and just starting at bigger things," Sosnowski told TotalEssex.co.uk. "I am very happy and excited about my upcoming match with Klitschko. I love the opportunity and I'm going to use that chance and win the world title.

"I do not think it is a huge step up in class [for me]. He [Vitali] is very schematic and pretty predictable. For the past few years he has picked out his opponents from guys who do not punch, who are not aggressive, who do not have that will - I will be much more stubborn, faster and dedicated."

Certainly, though it would be one huge upset if Sosnowski were to somehow manage to defeat Vitali in May, the Polish warrior would have to be a major disappointment to put on a worse challenge than the one the trash-talking Kevin Johnson did when he faced Klitschko in December. Johnson may be a far more polished boxer than Sosnowski is, but he didn't even appear to try to do anything but survive when he met the champion. It's possible, of course, that Sosnowski could also freeze when the realisation of the enormity of his task hits him, but if the Pole who was set to face Audley Harrison doesn't crumble mentally, he has the physical strength to perhaps make things interesting for a few rounds.

At 38 going on 39, Vitali cannot go on forever, and every time he fights on he runs the risk of falling foul of Father Time. Could this happen against Sosnowski in a little over two months time? Probably not, but it is possible we could wind up getting a much better fight than some people think. For sure, I don't see this fight being the 12-round stinker Klitschko's last fight was.

Article posted on 24.03.2010
previous article: Big Fight Fiasco - Steve 'USS' Cunningham Breaks His Silence Over Godfrey Pulling Out And More
next article: UK Boxing: Kevin Mitchell; Rendall Munroe; Jamie McDonnell; Frank Maloney