Lindsay outclasses brave Arthur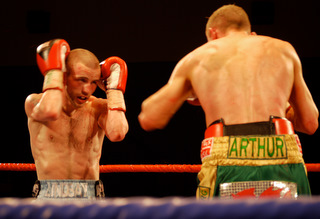 Ringside Report by Brendan Galbraith – Martin Lindsay scored an emphatic points win over gallant Welshman Jamie Arthur to retain his British Featherweight Title and extend his unbeaten record to 16-0. This fight represented a crossroad to both fighters, for different reasons. In pre-fight interviews, Arthur, although enjoying his resurgence in the squared ring, stated that he was contemplating retirement if he lost and Lindsay noted that a victory was vital to stay on course for potential European honours.

Fifteen minutes prior to the live 10pm Sky broadcast and the large contingent of Martin Lindsay fans are filing into the Leigh Sports Arena, immediately injecting strong vocal support for the Belfast Man, with renditions of Fields of Athenry and Lindsay chants reverberating around the Arena.

Both fighters enter the ring, looking composed and ready for battle, Richie Davies issues his final instructions and the first bell sounds..

The opening round was a tight, cagey, feeling-out round. Both fighters traded body shots and jabs but most of the dangerous hooks were hitting gloves – an even round.

The second, started much the same, but as it progressed Lindsay was beginning to succeed with more hooks. Towards the end of the second, Lindsay connected with a right hook to the temple and dropped Arthur. Arthur returned to his feet and nodded to the referee that he was ok to continue. Lindsay continued his onslaught and quickly dropped Arthur with another hook. Arthur again beat the count and was allowed to continue. A few seconds later and the bell rang to reprieve Arthur and allow much needed respite and words of advice from his corner.

The third round was an untidy one from Lindsay, who seemed to be loading up and trying to conclude the argument with one-punch rather than work behind his boxing to set it up. Still, Lindsay was also, continuing to evade Arthur's busy work and ended the round by backing Arthur onto the ropes and scored a couple of eye-catching left-handed shots. Round 3 to Lindsay on my card.

In the fourth, Arthur started as the aggressor, but he was unable to cash in on this good work as Lindsay danced away from trouble and cleverly used his high guard to soak up Arthur's combinations. In the second half of the fourth, Lindsay landed a big right hook just above the jaw line – but Arthur absorbed the shot and stayed out of trouble to complete the round. Lindsay takes the fourth on my card.

The fifth was Arthur's best round, although his face was reddening, he stepped up the work rate and took the initiative for most of this round. Although, most of this work was hitting Lindsay's gloves, he still got threw with several of his shots during exchanges. This was the only round that I scored in favour of Arthur.

Round six was a close round, but once again, Lindsay was able to display both a tight defence and respond with good eye-catching blows, in particular a good left-handed shot towards the end of the round.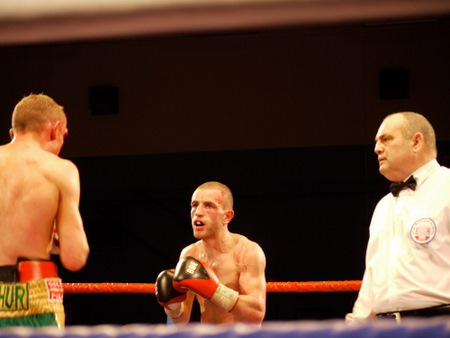 Round seven was a turning point in the fight and from this juncture, Lindsay exerted complete control. Arthur was buzzed by a heavy combination and several follow-up shots, but to his credit he showed a good chin and a lot of heart to survive this round. Round 8 was another good session for Lindsay. Round 9 was much the same and evidently Lindsay was enjoying the contest, showing excellent footwork as he avoided Arthur's searching jab and returning to score his own shots.

Round 10 was another clear round for Lindsay and during the break I noticed how relaxed and comfortable Lindsay was – he was smiling at something that his trainer, Gerard Nugget Nugent had said to him. In the eleventh, Lindsay launched a brutal onslaught and was now really teeing off on Arthur. Matters were worsened when there was a nasty head clash, resulting in Arthur sustaining a cut above his right eye. In the final round, Arthur bravely gave it his all and deserved to see the bell to complete the championship rounds. At the end of the contest, both fighters embraced and continued the warm sportsmanship that has been evident from the build-up to this title fight.

On my card, I had it 119-108 in favour of Lindsay.

The three judges, Phil Edwards, John Keane and Mark Green scored it in favour of Lindsay, respectively: 118-108, 119-108 and 117-110.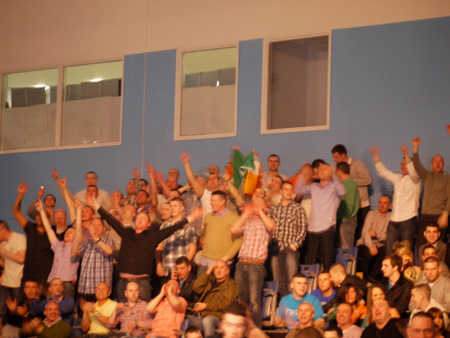 Although, the scorecards rightly reflect a comprehensive victory for the Belfast man, it disguises much of the hard work that was put in by Arthur. Arthur, like Lindsay, was in excellent condition for this fight and it was his impressive fitness that enabled him to both, withstand the heavy shots that were piercing his guard and still come forward with brave efforts to land his own. On the night, Lindsay was simply a classier boxer and in particular showcased a superb defensive boxing display. Arthur might have been contemplating retirement, but he still showed that he has a lot to offer and he might come again. His problem with this first challenge was that he was facing an opponent who looks to be a level above domestic class and may eventually vacate to secure higher honours. In that scenario, a case could be made for Arthur to return in the future and face a different opponent for the British Title. However, in the short-term, Lindsay is fixed on defending his British Title.

I spoke to Lindsay afterwards in his dressing room and the champion confirmed that he had signed with Frank Maloney and that he anticipates that his next fight will be a defence of his British Title in Belfast, perhaps at the beginning of June. On his performance, he told me:

"I was comfortable, I was not bothered at any point. I was happy to do the 12 rounds."

Lindsay confirmed that the damage inflicted on Arthur that led to the 2nd round knockdown was a right to the temple. Elaborating on this, Lindsay said:

"I think that I was a little too eager to get the early KO and this led to me missing a lot. I had to go back to basics – working my jab."

After lauding Lindsay's defensive display in my notes, I was then momentarily questioning my own judgement, when I heard Lindsay tell his trainer, Gerard 'Nugget' Nugent, that he felt that he had got hit with too many shots. I quickly realised, that this was a reflective and self-critical young pugilist whose immediate thoughts were concentrated on articulating a synthesis of 'what needs to be improved'. I noted in my pre-fight interview article, that Lindsay is an assured and likeable champion, who refrains from verbal exchanges with his opponents – preferring to do his talking in the ring. Post-fight, immediately after a brilliant televised win in front of a large army of travelling supporters, it would be understandable, no expected, for a fighter to allow himself a moment to celebrate the fruits of a tough training camp and 12-round shift. Not Martin Lindsay.

Lindsay's impressive performances in the ring, coupled with dedication and self-awareness to continually improve, point to a trajectory that should lead to further titles. Maloney has made a shrewd signing. Belfast awaits the next instalment. Article posted on 22.03.2010
previous article: Gary Davies, Karl Place and John Watson star in Lindsay-Arthur Undercard
next article: News: Joelo Torres; Jones vs. Munoz; Huck-Minto