Abraham Arrives In Detroit For Fight With Dirrell Saturday On SHOWTIME
DETROIT (March 21, 2010) -- One week ahead of the hotly anticipated Super Six World Boxing Classic clash between undefeated tournament points leader, Arthur Abraham (31-0, 25 KOs) of Germany, and Andre Dirrell (18-1, 13 KOs), of Flint, Mich., next Saturday, March 27, at the Joe Louis Arena live on SHOWTIME® (10:30 p.m. ET/PT, delayed on the West Coast), "King'' Arthur has arrived in Detroit.

Abraham landed Saturday evening following a nine-hour flight from Frankfurt. After checking into his downtown hotel, he immediately went for a run at the Detroit River..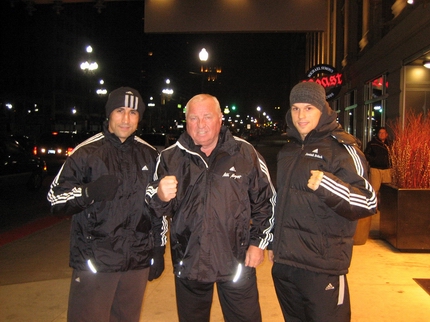 "Fresh air and some jogging will help me to shake off the jetlag," he said. "We had a good trip over and I feel in great shape."

On Sunday, Abraham worked out with his coach, Ulli Wegner, wearing special University of Michigan training gear.

"Even in Germany we know that the University of Michigan is one of the best and one of the most famous universities in America," he said. "I am participating in the Super Six World Boxing Classic tournament to show that I am the best boxer in the world, so I am working out in a uniform that symbolizes excellence.

"The Michigan Wolverines have a great sports tradition, just like the state of Michigan has a great boxing tradition thanks to legends such Joe Louis and Thomas Hearns.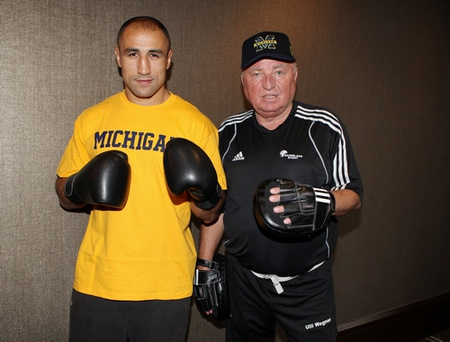 "I am in America to become a legend myself, and that is the reason why I will defeat Dirrell on March 27."

Tickets may be purchased at www.OlympiaEntertainment.com, the Fox Theatre and Joe Louis Arena box offices, at Ticketmaster locations and www.Ticketmaster.com. To charge tickets by phone, please call (800) 745-3000. Photos by Wende.


Andre Dirrell vs. Arthur Abraham: Tale Of The Tape

NEW YORK, (March 16) - With less than two weeks before their group stage 2 bout, Andre Dirrell (18-1, 13 KO's) and Arthur Abraham (31-0, 25 KO's) will clash in the SUPER SIX WORLD BOXING CLASSIC showdown on March 27 from Joe Louis Arena in Detroit, Mich., at 10:30 pm ET/PT on SHOWTIME®. The Measurement Of A Fight or as most would refer, The Tale Of The Tape gives you the physical measurements of a fighters advantages and disadvantages over the other. Only one will prevail when Dirrell pits his greater size, speed and athleticism against Abraham's accurate counter punching, defense and versatility. But there is one thing that the Tale Of The Tape cannot give you, the size of a fighters heart, determination and will to win. And that's where this fight will be decided.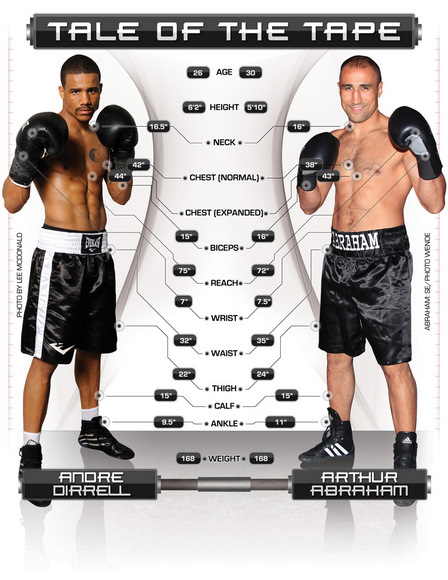 Article posted on 20.03.2010
previous article: Gamboa hits Germany to defend WBA featherweight title next week in Hamburg
next article: Arthur Abraham: "It's better to die in the ring rather than to lose"