Who Is Celestino Caballero? My Thoughts And In the Champs Own Words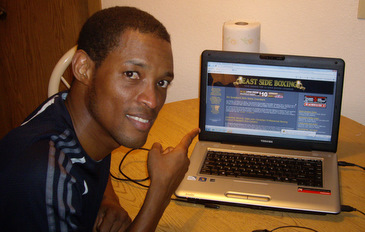 By Jody Kohn - Welcome to the second of my weekly updates and interviews with Super Bantamweight Champion Celestino Caballero. In doing this project, I hope to offer more than a series of interviews that have the same questions and answers that you can read in almost any other interview you come across. Instead, I want to give the reader insight into the life of a boxing champion both in and out of the ring. As I go forward, I will start to focus more on Pelenchin's desire to promote himself in this market, as well as sharing his experiences living in a new country that does not offer him the same level of recognition he enjoys in Panama.

Talking to Pelenchin inside of a cheesy Las Vegas souvenir shop as our wives looked for some trinkets to take back to Panama on their upcoming return home, I realized something about him that is hard for most Americans like myself to understand. I told him that winning his upcoming fight with Duan Yordan would surely get him much bigger paydays in the very near future. He agreed, but immediately said that what it would really mean to him is that he would get more opportunities to prove to the world that he is the best. He has said repeatedly in interviews and in casual conversations that to him it is not about the money. Sure the money is nice, but he is doing it to prove that he has put in the work necessary to be among the best in his craft. He is doing it for himself, his family, and his country. He wants the world to know that he came from a ghetto in Colon and he has made himself into a world champion. That all sounded great, and it wasn't that I didn't believe him, but it just never really rang home until then..

Then I realized who I was dealing with. Here was a guy who was staying in a place that most of us would consider beneath us. He doesn't have transportation here. Jeff or I give him rides to and from the gym. He needs to walk almost a mile to go shopping and gets to carry all those heavy bags all the way back to his room. He rarely gets out unless my wife and I drag him out. None of this fazes him a bit. Of course, growing up as poorly as he did, all of this must seem like paradise. No luxuries are visible inside of his place, unless you consider a laptop a luxury. For him, focusing on being the best boxer he can be is all that matters. Still, he knows that boxing is a business.

As he nears 34, Caballero knows his time to capitalize on his talents is growing short. In Panama, being a celebrity brings you the adoration of the entire nation, but not necessarily the money to go with it. There are not the outside opportunities to cash in that stars in the United States or Europe often enjoy. Being married to a former Panamanian celebrity, I know this as well as anyone. So a guy like Pelenchin needs to explore opportunities here in the United States. He has begun working with a firm that will focus on promoting him to the American market. His website, www.Pelenchin.com is set to open any day now, and he has opened a twitter account (CPelenchinC) to interact with boxing fans. He hopes that through these and other projects he is working on, he will be able to expand his fan base.

The following interview was conducted on March 11, in his apartment. It followed his training session in Richard Steele's Boxing Club.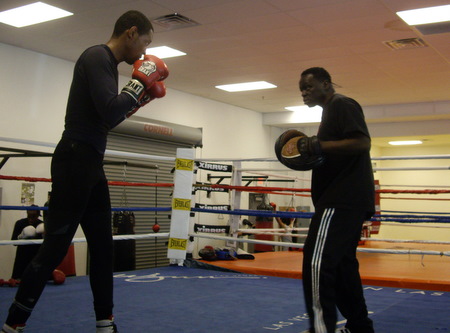 JK- Thanks again Pelenchin for taking time out of your schedule for the readers of Eastsideboxing.com

CC- It's no problem

JK- How did you begin your boxing career?

CC- My family was very poor when I was growing up in Colon. One day we had no food to eat and the arena next to my house was having boxing matches. They asked me if I would like to fight for $5. I said yes so I could buy some food for us. After this night, I knew that I had to be a champion boxer.

JK- What do you know about your upcoming opponent Duan Yordan?

CC- I do not know much at all. I have seen a little of him on tape. I am just training very hard right now with Jeff. We will work together and come up with the correct plan to win this fight.

JK- Has the contract been finalized yet?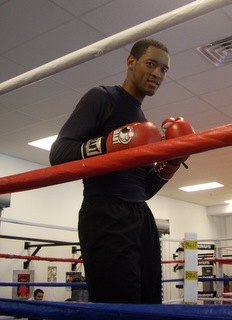 CC- Right now we are reviewing the contract. If everything looks good, we will sign it very shortly.

JK- Have there been any promises made to you about any future opponents after this fight?

CC- None. After I win this fight I want to start negotiations on another fight immediately. Nothing has been offered yet. But I want to fight the best fighters available.

JK- What are some of the advantages you will enjoy as a fighter at 126 lbs?

CC- I will still be a very big fighter in this weight class. Fighters will have a lot of problems with me. And there are a lot of fighters at 126 that do not have my credentials, but have a bigger name. I want to show them that I am better than all of them.

JK- How much longer do you see yourself boxing?

CC- Maybe 3 more years until I retire. I want to retire young and as a champion.

JK-What does your daily training routine consist of?

CC- I get up very early and run between 1 and 2 hours depending on the day. Then after lunch I go to the gym. There I train for 3 hours. I do a lot of cardio, pad work, and sparring.

JK- What does your diet consist of?

CC- Really I eat a little of everything. I just do it in small portions. I try to avoid rice, though. No soda, alcohol, and limited amounts of fatty foods.

JK- OK, Pelenchin, enough with these softball questions. I want to get to the serious stuff. The things that people really want to know.

CC- OK.

JK- Do you sing in the shower? and if so, do you sing your own songs?

CC- (laughs) I love to sing in the shower. I just kind of make stuff up, nothing specific. Whatever comes into my head. None of my songs.

JK- Who would win if you and Jeff were to have a match right now?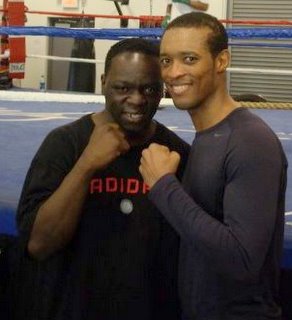 CC- (laughs again) Obviously, I would win.

JK- How?

CC- KO round 1

JK- What is your biggest pet peeve?

CC- I hate when I see a sink full of dirty dishes.

(Note: He was having trouble coming up with one, but his wife had no trouble reminding him this was a huge problem for him. He quickly agreed.)

JK- What is one food that you could never give up?

CC- Tea and bread. I could never live without these things.

JK- Finally, what do you think about living in Las Vegas?

CC- I like Las Vegas. I am very comfortable here. I really enjoy training with Jeff. He is very nice to me. God willing, I want to finish my career working with Jeff. We have great chemistry. Vegas is a very interesting city. Someday I hope to own a home here.

After the interview, we headed out to do a little shopping. In the couple weeks I have been around them, the Caballeros have grown more acclimated to their new environment. Celestino is acting more like one of the "guys" than he had previously. I think being a superstar in his country has conditioned him to act in a certain manner, much as stars do here in the United States. Now he more freely throws out jokes such as telling me how we were both going to be in trouble once our Panamanian wives saw that we were watching a concert on stage that featured some very scantily clad girls singing and dancing as only girls in Vegas can. He was right, we were. Any husband of a Panamanian can vouch for the unparalleled jealousy of a Panamanian wife.

This brief setback aside, he and his wife obviously enjoy time spent together that was not possible in Panama. Walking with him around town and not having people constantly steal her moments with him is a new experience. While he may never reach the level of fame that a Floyd Mayweather Jr. enjoys, you wonder how much longer Pelenchin will be a complete unknown now that he has set his sites on the American market. Article posted on 13.03.2010
previous article: Samuel Peter Crushes Nagy Aguilera In 2nd-Round - The Nigerian Is A "Nightmare" Once More!
next article: Ricky Hatton Press Conference Set For Next Week - "Hitman" Will Officially Announce His Retirement