Weigh-In Results: Huck vs Richards, Povetkin vs Mora, Frenkel vs Simms
Here are the weights from Berlin ahead of Team Sauerland´s show at the Max-Schmeling-Halle on Saturday night. Today´s weigh-in took place inside Berlin´s famous central railway station where WBO Cruiserweight Champion Marco Huck and challenger Adam Richards needed to be restrained following a little pre-fight bust-up..


WBO Cruiserweight Title: Marco "Captain" Huck (Champion): 90 kg vs Adam Richards: 90,4 kg
Heavyweight: Alexander Povetkin: 101,4 kg vs Javier Mora: 116,8 kg
IBF Intercontinental Cruiserweight Title: Yoan Pablo Hernandez (Champion) : 89,8 kg vs Cesar David Crenz: 90,7 kg
Cruiserweight: Alexander Frenkel: 88 kg vs Michael Simms: 90,7 kg
Heavyweight: Kubrat Pulev: 110,3 kg vs Danny Batchelder: 100,5 kg (Pictures: Photo Wende).

WBO Cruiserweight Champion Marco "Captain" Huck and American challenger Adam Richards exchanged a few niceties today when they came face-to-face after the official press conference. Huck made fun of Richards´ nickname "Swamp Donkey". He said: "He looks like a donkey and he behaves like a donkey – he is a donkey! There is no way a donkey will take the title away from me. He thinks he can just come here and beat me but he is terribly wrong. I will punish him on Saturday."

Just like the champion, Richards was also oozing with confidence: "I am here to win the title," he said. "We have very similar styles. We are both very aggressive and go forward, so it will be a very interesting fight. It will be a real war!" Richards would not allow himself to be provoked by Huck´s remarks: "I´m either called swamp or swamp donkey so that is no insult to me, he is just giving me props"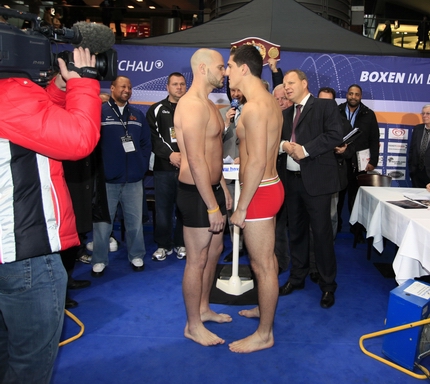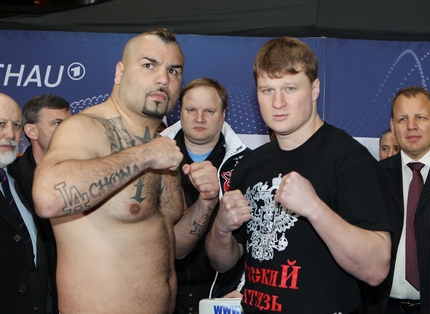 Meanwhile, Huck´s coach Ulli Wegner expects a tough battle. "Marco has matured as a fighter," he said. "But he needs to stick to our game plan. Richards is a tough guy but if Marco fights to his potential I have no doubt that he will make another successful defence"

It will be a busy night for the German star coach, who will also be in the corner for fellow cruiserweight hopefuls Yoan Pablo Hernandez and Alexander Frenkel. The latter takes on Michael Simms, while Hernandez will defend his IBF Intercontinental Title against Cesar David Crenz. "It is a privilege to be working with three super-talented cruiserweights," Wegner said. "They all have a golden future ahead – if they take care of business on Saturday night."





Also in action will be top-ranked IBF challenger Alexander Povetkin, who needs a victory over Javier Mora to remain Wladimir Klitschko´s mandatory challenger. "I am in top shape," he said. "I am tired of talking about Klitschko. If the fight happens, I will be ready for him." Added star coach Teddy Atlas: "Alexander keeps learning very fast. He is very talented and got what it takes to be successful in boxing. I am sure he will put on a strong performance on Saturday night."


Video: Alexander Povetkin, Marco Huck, Alexander Frenkel Open Workout

WBO Cruiserweight Champion Marco "Captain" Huck, American challenger Adam Richards, IBF mandatory challenger Alexander Povetkin as well as cruiserweight hopeful Alexander Frenkel and IBF Intercontinental Cruiserweight Champion Yoan Pablo Hernandez all participated in a public work-out today in Berlin´s famous Axel-Springer-Passage. All fighters will be in action on Saturday night when Captain Huck makes a second defence of his WBO title. His opponent presented himself in strong shape on Tuesday afternoon despite a horror trip from Houston, which had left him stranded in Amsterdam after missing his connecting flight.





After a long wait, Richards (23-2, 15 KOs) made it to Berlin and eventually to his downtown hotel on late Monday night. "Everything is fine now," he said. "It was a long journey but I am here and that is all that matters. I will be ready for Huck. It will be an exciting fight with two bulls going forward all the time."

Captain Huck (27-1, 20 KOs) proved his punching power and explosiveness when working the pads with coach Ulli Wegner. "This is the first time I will be defending my belt in Berlin," he said.

"I really want to impress my fans and put on a good show. Richards is a tough opponent, but he has never been inside the ring with someone like me. He will not leave the country with my belt!"





Also in action will be up-and-coming heavyweight star Alexander Povetkin (18-0, 13 KOs). The 2004 Olympic gold medal winner will make his second fight under the guidance of star coach Teddy Atlas, taking on Javier Mora (22-5, 18 KOs). Today the duo gave the crowd a look at their training routine during the public session. "It is great to work with Teddy Atlas," Povetkin said.





"He is a great coach and I keep learning new things every day. I need to stay in shape for Klitschko so I want to put on a convincing performance on Saturday. It is great to be fighting in Berlin again. This is where I defeated Eddie Chambers to become the IBF´s mandatory challenger so I am keen to continue where I left it."



Article posted on 10.03.2010
previous article: Jerry Jones - Bob Arum Conf Call Transcript
next article: Clottey Team Member Says Pacquiao Won't Be Able To Sing After Saturday's Fight; Says Pac-Man Will Be Hospital Bound!