Darchinyan decisions Guerrero, Zappavigna defeats Angulo
RANCHO MIRAGE, Calif. (March 6, 2010) – In an exciting, wildly entertaining one-sided slugfest, Vic "The Raging Bull'' Darchinyan (34-2-1, 27 KOs) of Australia retained his World Boxing Council/World Boxing Association (WBC/WBA) super flyweight crowns with a hard-fought, 12-round unanimous decision over Mexico's Rodrigo "Gato'' Guerrero (13-2-1, 9 KOs) in the main event on a special edition of ShoBox: The New Generation Saturday on SHOWTIME®. Undefeated Lenny "Lenny Zappa'' Zappavigna (23-0, 15 KOs) of Australia captured the International Boxing Organization (IBO) lightweight belt with a controversial 12-round decision over Fernando "La Fiera" Angulo (22-7, 14 KOs) of Venezuela by the scores of 116-111 twice and 114-113 in an excellent, non-stop action, bloody co-feature at The Show at Agua Caliente Casino Resort Spa.

The hard-hitting Darchinyan triumphed by the scores of 120-108, 118-110 and 117-111 but it was anything but automatic for the 34-year-old Australian-based Armenian who landed countless hellacious shots throughout but could never floor the game Guerrero.

A virtual unknown going in, Guerrero fought with poise and determination and never seemed in awe of the surroundings – the vast-majority of the fans in attendance were pulling for Darchinyan – nor was he intimidated by the heavily favored defending champion..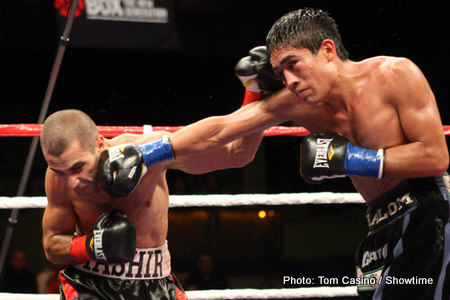 "If I don't train hard for this fight, if I take this guy lightly, this is a much harder fight and maybe I lose,'' said Darchinyan, who is hopeful his next start with be a rematch with Nonito Donaire. "This kid is a very good fighter. I hit him with a lot of good punches, but he took them all and kept coming back.

"I have never had an opponent stand up to me like he did.''

The talented Guerrero, 22, who fights out of the Marco Antonio and Jorge Barrera stable and had the brothers in his corner, was disappointed but encouraged despite having an 11-fight winning streak end.

"I am not happy that I lost, but I feel really good that people finally got to see who I am, that I can fight and that I came here to win and not to lose or fall down,'' said Guerrero, who was cut on the right eye by an unintentional butt in the fourth round.

"Actually, I thought the headbutts did the most damage. I was never hurt by any of his punches.''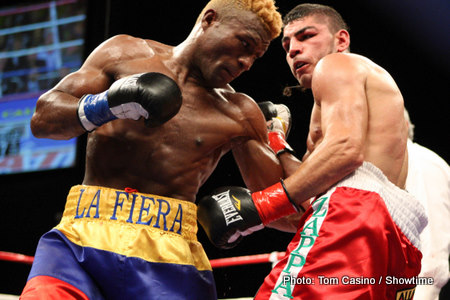 Zappavigna, who suffered a nasty gash on the right eyelid in the first minute of the eighth round, got an extra point when the referee penalized Angulo for holding and hitting and holding in the ninth, was ecstatic afterward.

"This was what I wanted, a tough fight, a war,'' Zappavigna said. "Everybody expects me to go in and blow guys away but I wanted a war. I wanted fans to see that I could fight 12 hard rounds. The cut obviously had an effect on me, but I was not going to be denied.

"I came her determined more than anything to win that belt, and I got it.''

Angulo, who was born in Ecuador and resides in Caracas, Venezuela, was convinced he got jobbed.

"This was a total robbery. I definitely did enough to win the fight,'' he said. "The point they took away was totally unnecessary because we were both doing the same thing. The timing of it was bad. It will go on my record as a loss but I know in my heart that I won.''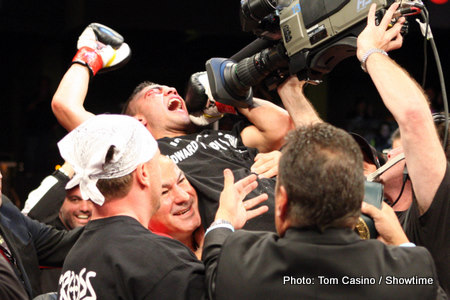 A doubleheader promoted by Gary Shaw Productions, LLC, will re-air this week as follows:

DAY CHANNEL

Monday, March 8, at 10 p.m. ET/PT SHO 2

Saturday's fights will be available ON DEMAND beginning on Tuesday, March 9.

Nick Charles called the action from ringside with Steve Farhood and Antonio Tarver serving as expert analysts. The executive producer of ShoBox is Gordon Hall with Richard Gaughan producing and Rick Phillips directing.

SHOWTIME Sports Boxing Schedule: The Super Six World Boxing Classic resumes on Saturday, March 27, when Andre "The Matrix" Dirrell (18-1, 13 KOs) of Flint, Mich., faces "King" Arthur Abraham (31-0, 25 KOs) of Germany in a Group Stage 2 bout at Joe Louis Arena in Detroit, Mich., live on SHOWTIME® (10:30 p.m. ET/PT, delayed on the West Coast).

When ShoBox returns on Friday, April 2, Golden Boy Promotions will present its first fight card in the series' history when undefeated Cuban southpaw junior middleweight Erislandy Lara (10-0, 6 KO's) faces Danny Perez (34-6, 17 KO's), of Carlsbad, Calif., in the 10-round main event live at 11 p.m. ET/PT. In the co-feature at The Joint at the Hard Rock Hotel & Casino in Las Vegas, Puerto Rican featherweight standout Carlos Velasquez will box an opponent to be announced.

Group 2 bouts in the Super Six World Boxing Classic continue with a doubleheader on Saturday, April 24, beginning at 9 p.m. ET/PT. In the first fight, undefeated Carl "The Cobra'' Froch (26-0, 20 KOs) of Nottingham, England, defends his WBC world title against former WBA 168-pound champion Mikkel "Viking Warrior'' Kessler (42-2, 32 KOs) in Germany (same-day delay). Immediately following, unbeaten World Boxing Association (WBA) 168-pound champion Andre Ward (20-0, 13 KOs) will defend against "Sweetness" Allan Green (29-1, 20 KOs), of Tulsa, Okla., live on SHOWTIME.

The fourth installment in what perhaps has already been the greatest boxing trilogy of all-time: Israel Vazquez vs. Rafael Marquez, will take place in the main event on SHOWTIME CHAMPIONSHIP BOXING Saturday, May 22, at 9 p.m. ET/PT, at STAPLES Center in Los Angeles. "Magnifico'' Vazquez (44-4, 32 KOs) of Huntington Park, Calif., by way of Mexico City, leads Mexico City's Marquez (38-5, 34 KOs) in the epic series, 2-1, winning the last two. In a tremendous semi-main, Yonnhy Perez (20-0, 14 KOs) will defend his IBF bantamweight title against unbeaten Abner Mares (19-0, 12 KOs).

For information on SHOWTIME Sports Programming, including exclusive behind-the-scenes video and photo galleries, complete telecast information and more, please go the new SHOWTIME Sports website at http://www.sho.com/sports.

About ShoBox: The New Generation

Since its inception in July 2001, the critically acclaimed SHOWTIME boxing series, ShoBox: The New Generation has featured young talent matched tough. The ShoBox philosophy is to televise exciting, crowd-pleasing and competitive matches while providing a proving ground for willing prospects determined to fight for a world title. The growing list of fighters who have appeared on ShoBox and advanced to garner world titles includes: Leonard Dorin, Scott Harrison, Juan Diaz, Jeff Lacy, Ricky Hatton, Joan Guzman, Juan Urango, David Diaz, Robert Guerrero, Kelly Pavlik, Paul Malignaggi, Kendall Holt, Timothy Bradley, Bernard Dunne, Yonnhy Perez, Yuri Foreman and Andre Ward. Article posted on 07.03.2010
previous article: Results: Logan McGuinness Now 10-0; Shields Upsets Lange; Coy Evans Wins
next article: Golden Boy Promotions Presents First ShoBox Event: Erislandy Lara vs Danny Perez