Darchinyan got the win, but Zappavigna got a gift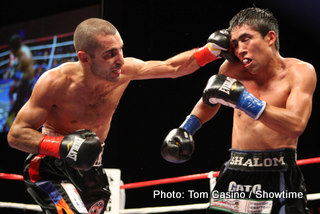 By Paul Strauss: Vic Darchinyan handled the inexperienced Rodrigo Guerrero relatively easily, but he came away with a lot of respect for the youngster, who took everything the Raging Bull could hit him with and kept coming. Vic said he was hitting him so hard that he could feel his knuckles through the padding hitting against Rodigo's head, but did that deter the macho mexican from continuing to press the action........no it did not. All in attendance came away with the opinion that more will be seen of this young southpaw, who suffered his first defeat.

In fact, as Steve Farhood pointed out in the prefight information, the youthful flyweight was fighting in the USA for the first time, as well as fighting a southpaw for the first time, and finally fighting for a title for the first time. It would have surprised no one if he proved to be a nervous wreck. But, he was just the opposite. He remained calm and cool, and unnerved by the overwhelming odds he faced. He also was not awed by the threat of Vic's power, and he proved to have one of the best chins around, at least at the super flyweight division. One can only hope that he didn't suffer too much punishment in the twelve round pounding he took from Vic..

In the post fight interview, Darchinyan concurred with Steve Farhood that he would like to get a rematch with Nonito Donaire, but regardless he will be moving up in weight class. He suggested Donaire should fight Rodrigo Guerrero (for a tough fight)!

In the undercard, hot prospect Leonardo Zappavigna was stepping up in his level of competition by taking on Fernando Angulo. It seemed like the right time to meet La Fiera, as the little Ecuadorean lost three out of his last four bouts, and had been having trouble making weight. Plus, Angulo had only twelve days notice to take this fight, and once again he couldn't make weight, and even though he took the fight on short notice,he couldn't get any concession from Zappavigna's camp. That seemed to "tick" him off and motivate him to make the younger undefeated fighter pay.

Over the course of the first five or six rounds, the fight was very even. But, in the sixth, Zappa (sic) suffered a bad cut to his right eyelid. You could take you choice as to whether the cut was caused by or worsened by a punch or head butt. Regardless, it proved troubling to him,, but he fought back ferociously, as did Angulo. Their exhanges were furious and equally matched; although, Angulo seemed to be getting in more clubbing rights to the side of Zappa's head.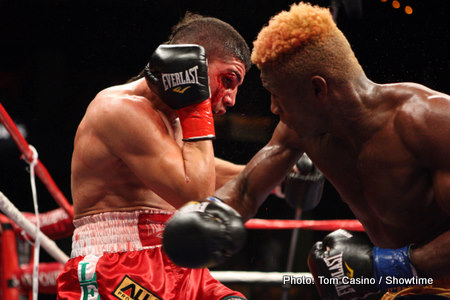 The doctor took a quick look at the cut eye in the eighth, and quickly said the action could continue. It was at about this time in the fight that the two were roughing each other up on the inside, while at the same time holding and punching, etc. Referee Pat Russell instructed them three times to break, but when they did, Angulo let one more left go (toward the cut eye). That was enough for the referee to stop the action and take a penalty point away from Angulo. It would later prove to be academic.

Zappa's gift in tonight's action wasn't so much that he got the victory, but it was in the one-sided scoring. Many of the rounds were very close, and could easily have been scored for Angulo, but they weren't. Two judges had it 116-111, the third scored it 114-112. Nick Charles, Steve Farhood and AntonioTarver all felt it was a close fight, so much so that they thought the penalty point might be a deciding factor. It easily could have gone Angulo's way,, but the man from down under walked away with the UD and kept his undefeated record intact. Article posted on 07.03.2010
previous article: News: Edwin Rodriguez; Madison-Wiggins; Michael Franco; Derek Ennis