Dmitry Pirog: A Russian Middleweight Ready To Storm American Rings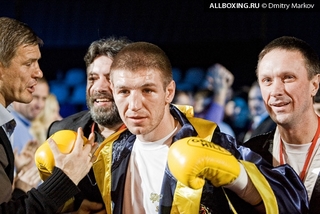 by Pavel Yakovlev - In the past year, Russia's Dmitry Pirog has emerged as a world-rated middleweight. Currently 15-0 (12 knockouts), Pirog is ranked second by the WBO, 10th by the IBF, and 15th by the WBA. Increasingly, boxing fans are expressing interest in seeing Pirog fight a top echelon opponent, and boxing pundits are writing glowing reviews of his performances.

After winning a one-sided victory over the dangerous and experienced Kofi Jantuah last June, the stage is set for Pirog to fight regularly outside of Russia. The Jantuah fight took place in Germany, and other high profile bouts in Europe and America are certain to follow. Pirog hopes to fight in the United States soon in order to raise his profile with American fans.

American fans will be pleased with Pirog. He is an action-intensive boxer with busy hands who rarely clinches. His style is an unusual blend of European technical boxing and classic American tactics, which emphasize aggression and effective upper body movement. He can defend without having to retreat or cover up. Pirog's uncanny defensive instincts and his capacity to throw punches from unusual angles, in fact, have reminded some pundits of James Toney..


PROFESSIONAL CAREER

Pirog fought his first professional fight in Gelendzhik in July 2005, stopping Sasun Oganyan in six rounds. Following his debut, Pirog rose rapidly to the top of Russia's boxing ranks. In April 2006, he won the Russian middleweight title by out pointing the vastly more experienced Sergey Tatevosyan (25-5; 13 kayos) in Moscow. This victory is remarkable given that Pirog had only three professional fights going into the match, while Tatevosyan had already been in the ring with world level professionals such as Roman Karmazin, Khoren Gevor, and Howard Eastman.

In October 2007, Pirog made another big step forward by stopping Alexey Chirkov (18-2; 11 kayos) in three rounds. Pirog acquired the WBC Asian Boxing Council middleweight title as a result of this victory. Prior to this bout, Chirkov had lost only to world rated boxers Gevor and Matthew Macklin.

In his next fight, Pirog kayoed Aslanbek Kodzoev (19-2-1; 13 kayos) in four rounds. Pirog won the bout by a clean knockout, scoring three knockdowns in the process. Noteworthy is that Kodzoev entered the match with a reputation for being durable: in an earlier loss to Mexican puncher Marco Antonio Rubio, Kodzoev was never hurt before retiring due to a rib injury. Through this win, Pirog won the vacant WBO Asia Pacific middleweight title.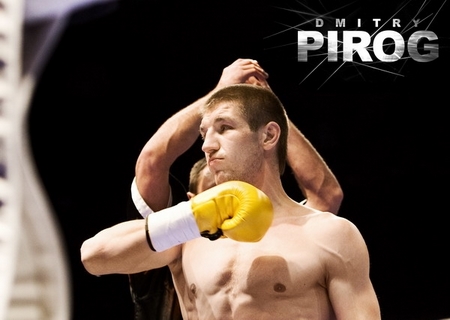 Tough Serbian Geard Ajetovic (16-2-1; eight kayos) was next, and Pirog won a one sided decision in their July 2008 match. The final scores were 100-90, 100-90, and 100-91. The value of this victory can be measured by the fact that several months later, Ajetovic put on a very competitive losing effort against Matthew Macklin in England, losing that fight only by a close decision.

Pirog finished 2008 with another impressive win over a high quality opponent, stopping Kuvanych Toygonbayev (29-4; 18 kayos) in five rounds. Toygonbayev, an Uzbekistani veteran who had previously beaten Oba Carr, was completely dominated by Pirog. Never before had Toygonbayev been defeated so quickly and in such efficient fashion. The victory earned Pirog the WBO Asia Pacific middleweight title.

In June 2009, Pirog won his biggest career victory to date, completely dominating Ghanaian Kofi Jantuah (32-3-1; 21 kayos) over 12 rounds. The final scores were 120-109, 120-109, and 120-108 in favor of Pirog. Observers were amazed that the Russian, fighting in only his 14th professional fight, so easily handled the veteran Jantuah. The loss was the most one-sided defeat of Jantuah's career, as he had previously put on competitive losing efforts in world title bouts against Arthur Abraham and Kassim Ouma. Pirog had no problem dodging the strong and dangerous Ghanaian's punches, coolly controlling the action with his flashy left hand, versatile combinations, and airtight defense.

Several times in the bout Jantuah seemed bewildered by his inability to hit Pirog, and by the Russian's variety of punching angles. The Ghanaian, a composed and poker-faced veteran of 35 professional fights, simply did not know what do against Pirog. Unable to block Pirog's punches or mount an effective offense of his own, Jantuah constantly resorted to backing away in an unsuccessful effort to find time and punching room.

The Jantuah victory earned Pirog the WBC International middleweight title. Pirog's polished, domineering performance also signaled to the boxing world that he is a legitimate world level boxer who has the potential to beat the division's best fighters.

Since defeating Jantuah, Pirog has fought once, scoring an easy fifth round stoppage over American Eric Mitchell (22-6-1; 11 kayos). Through this win, Pirog acquired the WBO Asia Pacific middleweight title.






FIGHTING STYLE AND ATHLETIC QUALITIES

The wiry muscled, 5'11" Pirog is rarely hit with a solid punch. Once he finds his range, Pirog stands directly in front of his opponent and fires punches from multiple angles while simultaneously slipping everything thrown at him.

Pirog's elusiveness is extraordinary: he constantly moves his upper body in circular weaving motions from the waist, incessantly shifting his shoulders laterally at the same time. He effortlessly ducks punches by bending his head up or down, or by leaning back from the midsection. Pirog's arms and elbows are always tucked tightly against his ribs, making him impervious to body blows. Impressive also is that Pirog never overcommitts when slipping the jab.

Offensively, Pirog's skills are considerable. Using his busy, stiff left jab as a probing punch, Pirog constantly finds and exploits openings in his opponent's guard. The Russian never misses an opportunity to work the body, and he is a superb combination puncher as well.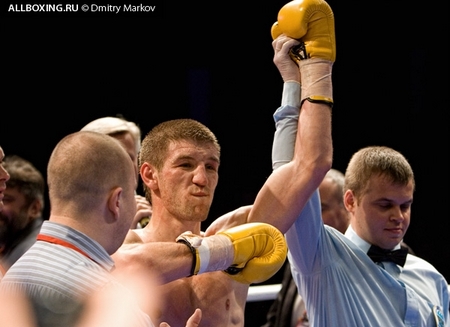 It is impressive that even while attacking, Pirog uses evasive defensive maneuvers. In his bout against Jantuah, for example, Pirog frequently scored with sharp combinations, then instantly executed downward rolling maneuvers with his shoulders to preempt Jantuah's counterpunches.

The left uppercut is one of Pirog's favorite weapons, and he throws it often as a lead punch. Pirog also has a flashy left hook, which he doubles and triples to the head and body. Although known chiefly as a stand-up boxer/fighter, Pirog can fight on the inside too: at close quarters, he rips his opponents with uppercuts and hooks from both hands.

Pirog has mastered the right uppercut. On the inside, Pirog throws this punch tight and straight up the middle. From long range, Pirog rips opponents with uppercuts while slipping the left jab.
Whenever Pirog's control of the distance is compromised, he does not run, cover up, or brawl. Instead, he takes one or two steps backwards, causing his opponent's attack to fall short. Then, Pirog immediately finds his range and resumes punching.

Although Pirog is not a dazzlingly fast boxer, his hand and foot speed is far above average. It is fair to say that Pirog has quicker than many of the middleweights currently rated in the worldwide top 15. Even so, Pirog does not need exceptional speed to succeed at what he does: his superb sense of timing enables him to constantly beat his opponents' to the punch. The Russian's timing and well-synchronized boxing maneuvers suggest that he is always thinking several moves ahead of his opponent.

In terms of punching power, Pirog is not known as a powerful one-punch kayo artist. However Pirog does pack a stiff wallop in both mitts. Given the ease and fluidity with which he throws combinations, it is likely that Pirog will be scoring many kayos in the future. Any single left hook or right hand from Pirog can hurt an opponent sufficiently that he can finish them off with barrages of well-placed follow-up punches. Also, it is important not to underestimate Pirog's power based on his recent performances against Mitchell, Jantuah, Togonbayev, and Ajetovic, as these fighters are known for their durability.


PIROG'S PROSPECTS AGAINST THE WORLD CHAMPIONS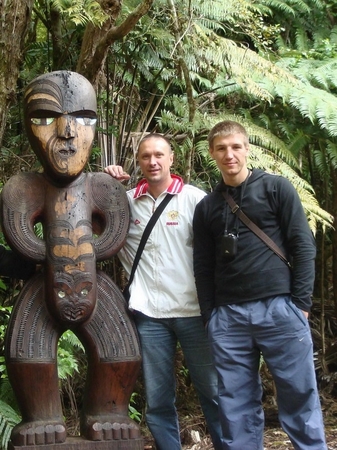 So, what are Pirog's chances against the world's middleweight champions? Boxing pundits are unanimous that Pirog's prospects are strong. The only questions are how soon will Pirog be ready to fight a champion, whether his chin and stamina need to be proven, and how much seasoning he needs against contenders before making a big move.

According to this writer, Pirog should rate as a very live underdog against WBA champion Felix Sturm. Although lacking Sturm's top-flight experience, Pirog seems to have busier, quicker hands than the champion. In his fights with Randy Griffin, Sturm was troubled by his opponent's aggressive combination punching to the head, particularly by jabs and hooks. Pirog's versatile combinations and unusual punching angles could confound Sturm similarly. Pirog's slick head movement also gives him the capacity to slip Sturm's key weapon, the left jab. Deprived of his jab, Sturm will have difficulty connecting with follow-up punches to the head. Also, Sturm's left hook to the body – which he relied upon to wear down Koren Gevor last year – may not be effective against Pirog. Pirog keeps his arms and elbows glued to his ribs whenever he is within punching range.

The Russian's chances against IBF titleholder Sebastian Sylvester, in this writer's view, are excellent. Nearly four inches shorter than Pirog and much less versatile as a boxer, the mechanical Sylvester would be at a disadvantage in the open ring during this bout. Sylvester is a steady pressure fighter who relies on superior strength to wear his opponents down, and is hittable as he plods forward. The German has a history of suffering facial injuries, and he was noticeably hurt in his fights against Amin Asikainen and Frank Mezaache. Pirog's command of punching angles and the high volume of punches he throws would likely trouble Sylvester greatly. Although Sylvester has a fast, powerful left jab that he uses effectively as a range finder, it is questionable if this punch will benefit the champion against the taller, elusive Pirog.

The most intriguing question is how Pirog would fare against WBC and WBO champion Kelly Pavlik. Without doubt, Pavlik would rate as a solid favorite over Pirog if the bout were to take place immediately. But the perception among boxing pundits is that Pavlik has slowed down since his drubbing by Bernard Hopkins in 2008. Indeed, the once invincible looking Pavlik did absorb some unnecessary punishment in his recent wins against outclassed opponents Marco Antonio Rubio and Miguel Angel Espino.

Do Pavlik's recent performances show signs that he could be upset by Pirog? According to Charles Farrell, a long-term boxing agent, promoter, journalist, and former manager of world champions, the answer is yes.

"I think that Pavlik is extremely vulnerable right now, and that there are a number of guys in the division who might be able to beat him," explained Farrell. "I don't like the Martinez fight for Pavlik, and would absolutely keep him away from Pirog. Dmitry is a seriously tough kid, and the risk/reward factor for Pavlik argues strongly against his taking a fight like that. It's not the best time for Pavlik to fight someone who is aggressive, undefeated, and just coming into the peak of his own self-confidence."

Another authority, the well-known boxing analyst, writer, and ESPN radio host Frank Lotierzo, offers a more cautious – but still optimistic – assessment of Pirog's potential.

Regarding Pirog's chances against Pavlik, Lotierzo stated, "That's hard to say without knowing what kind of chin Pirog has because he is hittable. Pavlik isn't the same fighter who beat Miranda and Taylor, but Pirog needs a little experience at that level before I could give him a legitimate shot, perhaps in another 18 months."

Lotierzo explained, "I see Pirog as being hittable versus upper-tier opposition because he tends to lean in a little bit when he's reaching for his opponent. I sense against the top of the division he can be hit with his opponents lead punch, but not so much in a rat a tat tat fashion. But I think off the draw the class of the division can find him. If his chin is really good it won't be a problem, but if it's only good it will leave him vulnerable to finishing punches."

Despite being cautious about Pirog's present chances against Pavlik, Lotierzo is definitely upbeat about Pirog's potential. Lotierzo continued, "Pirog has excellent punch placement and an outstanding sense of distance. He also knows when to get off and then step back to wait for the counter opening. And he's uniquely good at finding the angles with his feet and legs. He's not a big puncher, but he gets good leverage on most of his punches. We'll have to watch as he's moved along to find out what kind of chin he has and whether or not he has the stamina of an upper-tier contender."

To this writer, at least, a consolidation of the experts' assessments points to one strong conclusion. If Pirog's chin and stamina prove to be solid, there is a very serious chance that he will emerge as the world's best middleweight. Article posted on 06.03.2010
previous article: Scottish Boxer Craig McEwan To Fight In Las Vegas On Jones-Hopkins Undercard