Martin Honorio Back in the Lightweight Picture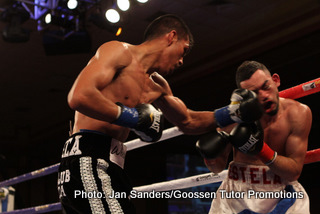 By John G. Thompson - Wilton "Pretty Warrior" Hilario 12-1-1 (9 KO's) showed a tremendous heart, a good chin, and constant aggression, despite losing about every round to Martin "El Brochas" Honorio 28-4-1 (14 KO's). The NABO Lightweight Champion from Mexico City was simply too much for the up and coming fighter from the Dominican Republic now living in Minnesota. While Hilario succeeded in dictating the pace by constantly coming forward, he played right into the hands of the experienced Honorio, who stuck and moved throughout the fight, drastically out-throwing and out-landing his opponent. The fight was promoted by Goosen Tutor Promotions on ESPN2's Friday Night Fights broadcast from the Pechanga Resort & Casino in Temecula, California.

Honorio's resume boasts wins over Rogers Mtagwa, Frankie Archuleta, Steven Luevano, and John Molina (handing him his only loss to date) for the vacant WBO NABO Lightweight Title in a ten round unanimous decision. Honorio's last loss was back in 2007, which came by way of a career derailing first round knockout at the hands of Robert "The Ghost" Guerrero, who recently relinquished his title in order to care for his wife Casey.. The boxing community wishes the Guerrero family all the luck in the world during his wife's battle with leukemia.

Hilario on the other hand had fought almost exclusively in Minnesota and had never been past the eighth round. His stamina did not prove to be an issue, although his lack of a jab did, as he constantly pressed forward without throwing, giving Honorio plenty of opportunities to throw shots of his own. In the second round Hilario really came out charging, however Honorio moved and countered effectively. When Hilario got to close for the taller and lankier Honorio, he simply tied up. During one clinch Hilario hit after the referee ordered them to stop punching and break. Honorio responded with a blow to the back of Hilario's head. Hilario tried to complain to Boxing Hall of Fame Referee Doctor James Jen Kin, but was instead warned not to punch when told to break. Hilario was able to land in the latter part of the round as Honorio became more aggressive.

By the fourth round Honorio started to land clean shots to the head and body of Hilario. He even became the aggressor on a few occasions. After the round, heavyweight Los Angeles native and Chris "The Nightmare" Arreola joined the ringside commentators and stated, "Honorio's just picking this guy apart." In the fifth round Hilario landed a right which seemed to stagger Honorio for just a second. Hilario landed another good right, and then threw another, but this time Honorio picked it off with his glove and shook his head at Hilario. Great action ensued at the end of the round as Hilario finally backed Honorio into the ropes and forced him to exchange. Hilario caught him with a great right, but Honorio came back with a combination which caused Hilario to hold as the bell rang.




Honorio threw punch after punch at the start of the sixth round, a right-left combo putting Hilario down. Hilario got up before the referee started the count and Honorio came in quickly, landing a left-right hook combination which put Hilario down into the ropes. Hilario got up looking more angered than hurt and managed to move his head well, press forward and make it through the round. The corner of Hilario tried to encourage him after the round, telling him, "He's threw his wad! You're back in the fight!"

This was not the case, however, as Honorio again came out swinging in the seventh. By this point it was clear that Honorio had completely dominated the match, throwing and landing many more punches than Hilario. At the start of the eighth, ringside commentator Joe Tessitore stated, "Honorio has been on his game all night long." In the ninth, Honorio managed to pin Hilario against the ropes and then unload, landing some clean, flush shots to the head. In the tenth round Honorio's backward pace seemed to slow, making for some good exchanges, although Honorio may have taken more punches than he needed to if he had kept moving.

At the start of the twelfth and final round, it was obvious that Hilario needed a knockout to win, though it was Honorio who came out firing, looking for the stoppage (and perhaps bigger fights in the future) as he backed Hilario into the ropes and threw numerous combinations. Hilario pressed forward and tried to go for the knockout himself, exchanging with Honorio even after the final bell. Martin Honorio earned a unanimous decision with one judge scoring the bout a shutout at 120-106 and the other two scoring it 119-107. ESPN calculated the punches at 390 thrown and 120 landed for Hilario compared to 823 thrown and 270 landed for Honorio.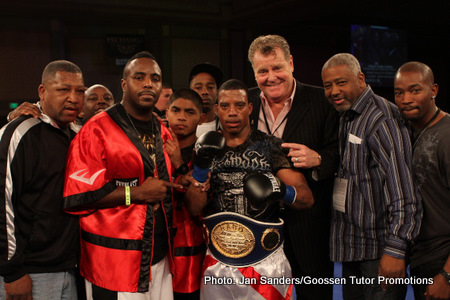 In the first televised bout of the evening, twenty-two year old prospect Rico Ramos 15-0 (9 KO's) of Los Angeles, California knocked out Cecilio Santos 24-13-3 of Mexico City, Mexico. Rico won the first three rounds in a relatively unimpressive fashion, having predicted a first round knockout. Ramos appeared to be looking for the one-punch stoppage with the left counter, but could not seem to land it cleanly. In the fourth, he wisely through a one-two towards the head of Santos, then a very accurate left to the body, just under the guard of Santos. Santos moved backwards to the ropes grimacing in pain. As Ramos moved in, Santos went down, still in pain from the body shot. The referee counted him out. Cecilio Santos has now been knocked out four times in his last five fights.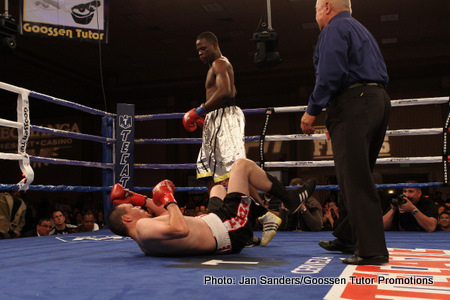 Mike Dallas Jr. of Bakersfield, California improved to 12-0-1 (3 KO's) stopping Fabian "El Lobo" Luque 21-10-4 in the first round. Luque has now been stopped nine times in his career, five times in a row, or to put it another way - hasn't won a fight since 2006.




In other action, twenty-seven year old John "The Hammer" Molina 19-1 (15 KO's) of Covina, California bounced back from his ten round unanimous decision loss to Martin Honorio in November of last year by knocking out thirty nine year old Ricardo Medina 31-36-5 (who had also lost to Martin Honorio) in the first round. The former NABF Super Bantamweight Champion from Sinaloa, Mexico now fighting out of Philadelphia has been fighting professionally since 1988 and should perhaps consider retirement.

Questions or comments? BoxingWriterJohn@gmail.com Article posted on 07.03.2010
previous article: Fury Blasts Out Blasko! Will Face McDermott In May 22nd Rematch Next
next article: Belfast's Darren 'Raging Bull' Corbett Primed for Ring Return