Celestino Caballero - Exclusive Interview!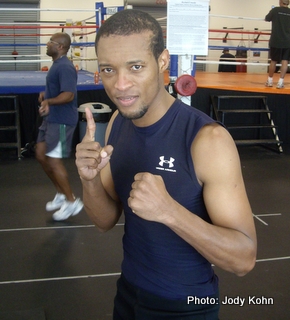 by Jody Kohn - Just who is Super Bantamweight champion Celestino Caballero? In his native Panama he is a national hero. His shy wife prefers to stay at home rather than go out with him and face the never-ending barrage of fans anxious to get a picture and spend a little time with him. Behind Mariano Rivera and Carlos Lee, he is the most famous active athlete in the country. He also has a budding Raggaeton career. His songs loudly play during his entrance to his boxing matches and while he trains. "El Campion del Ghetto" can't help but sing along even while in the middle of pad work.

In America, things are a little different. I have spent several days with "Pelenchin" here in Las Vegas. We have toured large parts of the city. Outside of the gym where he trains, he has not been recognized once. He was, however, mistaken for a member of the FC Barcelona football club. Although he enjoys the anonymity, it is obvious that he would like people here to know who he is. Not out of ego. He is just proud of who he is now and where he has come from.

Call him a champion and he will correct you. He is a "super" champion. Ask him where he is from and he will talk all day about Panama and Colon. He is often accused of being arrogant and a loud mouth. His challenges to Juan Manuel Lopez have become legendary. So has been the reluctance of many of the sports top fighters to face him. He doesn't understand the politics that have taken over the sport. He had two belts. Why would anyone not want to fight him? Without having his career guided by an image conscious promoter, Pelenchin is often left on the outside looking in. A great fighter in search of great fights..

I had the opportunity to spend some time with Pelenchin after his training session today in Las Vegas. During a brief sit down in the gym and a trip to Wal Mart, I was able to ask the WBA champ a few questions about his training and what he thinks about some of his contemporaries. In the first of a weekly series, this is what Caballero had to say in his first ever interview in English (mostly).

JK-Pelenchin, thanks for taking the time out of your schedule.

CC-No problem. Thank you.

JK-How did your upcoming fight with Duan Yordan come about?

CC-Lou Dibella called my manager and asked if i could take a fight on April 10 because another fight had been cancelled. My manager called me and asked if I could fight on this day. I told him I am always ready to fight! We were lucky because he had been trying to find a fight for me because my promoter has not been doing anything.

JK-Are you going to stay at 126 after this fight?

CC-If I win this fight, I will think about if I want to stay at 126 or go back to 122. It depends on the opportunities I will have open to me.

JK-How hard is it for you to make 122?

CC-It is very hard. I need to do a lot of dieting to make weight. But I can do it.

JK-What do you weigh right now?

CC-I do not know. I don't weigh myself. Maybe 135.

JK-What is your ideal weight?

CC-I think the best weight for me and my future is at 130. Maybe 126. But really I don't care what weight I fight at. I want to fight the best fighters. My goal is to fight the most powerful guys no matter where they are fighting. Right now there are a lot of good fighters at 126.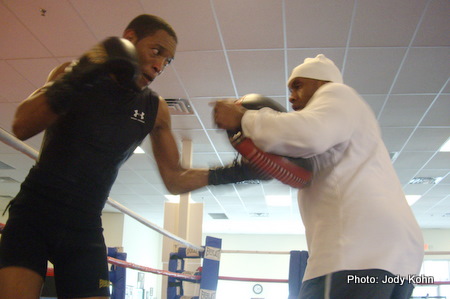 JK-Do you think your large frame is the reason why so many fighters do not want to fight you?

CC-I don't know exactly. There have been other tall fighters like Chico Corrales who fought people much shorter. And many shorter fighters are not afraid to fight a tall person. Juanma, I do not know why he is afraid to fight me. But he is.


JK-What has Jeff Mayweather been able to add to your game?

CC-He has helped me a lot with a jab. Before I did not use it enough. It is a lot quicker now. We work on new combinations and now I can hit harder. My movement is better. He told me I am a good boxer and he likes me because I work very hard. I will be very dangerous for all my opponents. Jeff is very happy i am with him. I am happy to to get the opportunity to work with him, too.

JK-I would like to ask you about some of the guys that fight in and around your weight since I know you will say whatever is on your mind.

CC-Laughs

JK-If/when they square off, do you like Juanma or Gamboa?

CC-Juanma talks too much. He always is saying "I am the best!" But Gamboa would win if they fought.

JK-Have you or your representatives ever contacted Marquez or Vasquez about a fight? Have they ever contacted you?

CC-Never

JK-Would you be open to fighting Chris John in Indonesia?

CC-Yes! i love to fight in my opponents country. i fought in Canada and Thailand and i loved it.

JK-What would be your strategy in this fight?

CC-To hit him very hard

JK-Do you get nervous when you fight in other countries?

CC-No. It is fun for me. I want the fans who hated me before the fight to cheer for me after the fight.

JK-What do you think of Rigondeaux?

CC-He is a good boxer. But if he fights another good boxer i would like to see his strategy. He is very dependent on his left. If a very smart boxer knows this, he will take his left away from him. Then I want to know if Rigondeaux can make adjustments.

JK-Who is going to win the Pacquiao/Clottey fight?

CC-Manny. He is too fast.

JK-Mayweather or Mosely?

CC-Mayweather is very smart. He is fast. Mosely is good, but Mayweather is better.

JK-Who were some of your heroes in boxing growing up?

CC-Eusebio Pedroza was my hero. Ismael Laguna, Duran, Sugar Ray Leonard. Many.

JK-Thanks for the time Pelenchin and good job on your first English interview.

CC-Gracias

In the weeks to come I will be spending a lot of time with Caballero as he prepares for his showdown with Duan Yordan. Always entertaining, I will be sure to get his views on a wide variety of subjects. Stay tuned for next weeks column where I will get a lot more personal on topics involving Juanma, Gamboa, his promoters, and more. Article posted on 05.03.2010
previous article: Quotes From the "ShamRock'd" Press Conference
next article: Helenius vs Oloukun on March 26; Povetkin vs Mora on March 13