Prizefighter Recap: Prince takes the Prize
Brendan Galbraith - It was the morning after the night before, still trying to fathom the events that had unfolded in that great East End Bastion of Pugilistica, York Hall; I am navigating my way through the bustle of commuters and tourists on London's Underground. The unanswered questions persist. What to make of Brett Flournoy's undoing in the final round of his duel with Prince Arron? Flournoy had comfortably won the first two rounds, on my card, by skilfully doing what the Prince's first two victims, George Hillyard and Bradley Pryce, failed to do – evade The Prince's long rangy jabs whilst stepping inside to unleash his own arsenal of body and head punches..

Paradoxically, at the end of the first two rounds, I had reversed my question of how will Flournoy combat The Prince's rangy style with how will Prince Arron respond to this tenacious counter-punching Southpaw? The penultimate round then took an unexpected twist. Flournoy switched off and the Birkenhead counter-puncher found himself countered with a chopping right and dispensed onto the canvas. Standing over him was referee, Dave Parris administering a count. Flournoy, returned to his feet, evidently unhurt, and finished the round strongly. However, the real damage was incurred was the 10-8 scorecard that he had conceded, and a seemingly comfortable two-round lead had been, at least, cancelled out by a reckless finale.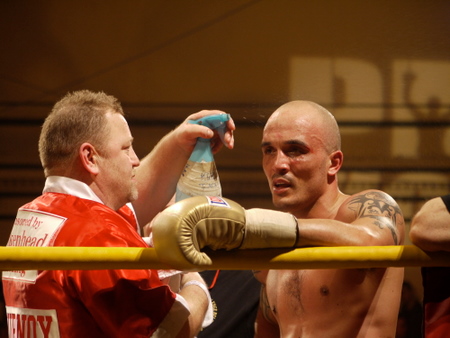 Awaiting the results of the judges' scorecards, there was a pensive silence at ringside – I didn't hear anyone stick their neck out to predict a winner and I wasn't about to either. I wondered what would happen if they scored a draw? Would they split the money evenly and share the trophy? In the programme, there are six bullet points that briefly describe the rules of Prizefighter – the most pertinent one states: 'each contest lasts a maximum of three rounds with standard boxing rules applied'. So, presumably, if there is a draw then the prize i.e. trophy and money is shared. That would seem a bit odd. Surely, this exciting Prizefighter should have a winner that is crowned on the night. It is not as if we will have a defending champion who may retain the trophy if the contest is scored a draw. At least then there is some kind of rationale - to be a champion you have to beat the champion. But a Prizefighter draw? It doesn't seem right. This isn't the Charity Shield. This is boxing. No, this is Prizefighter boxing.

Anyway, the announcement of the judges' scorecards quickly dashed any such conjecture. No Draw. In fact, not even a split decision. All three judges, John Keane, Richie Davies and Howard Foster, unanimously agreed that Prince Arron was the winner. Flournoy looked crestfallen. I felt bad for him. He had boxed superbly all night seeing off the sporadic flurries from Prizefighter 'veteran' Danny Butler and edging a closely fought semi-final with classy boxer Steve O'Meara. He had barely enough time to recover before he was called back into the ring for the decider with, well-rested, Prince Arron.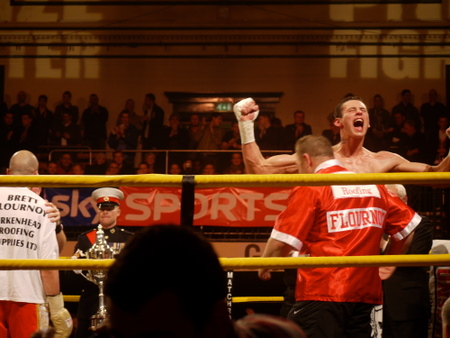 Prince Arron had come into this Prizefighter competition as a second joint favourite (with Neil Sinclair). Ryan Rhodes had expertly predicted on Sky the previous week that Prince Arron would prevail. I had my doubts. Somehow, I could not banish the memory of his two-round demolition at the hands of John Duddy, just over two years earlier.

Stepping into the ring for his first bout of the evening, against the backdrop of strong home support for Canning Town brawler, George Hillyard, Arron looked a little tense. However, from the first bell Prince Arron grew in confidence and I quickly realised that my pre-tournament apprehensions about The Prince were unfounded. Prince Arron silenced the crowd by comfortably evading Hillyard's mistimed lunges, sidestepping and countering with his rangy jab. Prince Arron concluded one of the most convincing UD's of the evening and never allowed Hillyard to settle into the fight.

Against Bradley Pryce in the semis, Aaron eased into the fight by circling Pryce and flicking his left jab with pinpoint accuracy and impressive speed. At the end of the first round, Pryce shook his head as he returned to his corner – clearly disgusted with himself. Despite, the efforts of Enzo Calzaghe to implore his man to use better head and foot movement to surmount the Prince's reach advantage – it was to no avail. The Prince was growing in confidence and mixing up his scorching jabs with heavy rights. The shot of the fight was preserved for the third round when Pryce walked into a big right. Pryce, clearly frustrated at having to rush his naturally slowing-starting game, chased The Prince around the ring. Prince Arron, knowing that he had exerted complete control, smiled as Pryce missed with his wild shots. At the bell there was no doubt about who had won. The pre-tournament favourite, Bradley Pryce had, like so many of the other Prizefighter favourites, come up short and was out of the competition.

At least, it wasn't all bad news for Pryce. In his earlier fight, he was able to even the score against his nemesis Neil 'Sinky' Sinclair. Sinclair, who stopped Pryce in the eighth round of their first fight in 2003, was reported in the build up to Prizefighter, to have had the best training camp of his career and was punching harder than ever. Pryce had lamented that the last fight was 'boy against man' and that this time it would be 'man against old man'. On paper, this was the standout fight of the night.

When both men entered the ring, there was an increased intensity and sense of expectation that was palpable. Amongst the motley crew of stylists, sluggers and rangy pugilists – this contest was going to provide the fireworks – a case of last man standing.

From the first bell – both fighters seem determined to get the big guns off first. In doing so, there were frantic wild lunges and misses. Sinclair, known for his propensity to take his opponent out early (i.e. 26 of his 33 wins by KO) was so wild with some of his shots that he uncharacteristically lost his balance and momentarily touched the canvas.

Pryce took the opener on my card with slightly more accurate work out of an untidy first round display from both men. The second round saw Sinclair start well with effective right and left leads. Then in the middle of the round there was a clash of heads that opened up a cut near Sinclair's left eye. Pryce finished the round stronger with good success with an eye catching overhand right, but Sinclair did enough to take the second on my card. In the third, Pryce went on to do the better work and eventually pulled through with a split decision victory. In the end the much anticipated rematch between Pryce and Sinclair failed to live up to its hype. At ringside, I could not put my finger on why this happened. Sinclair seemed to be too trigger happy and not focused on the other aspects of his game that create the openings for his big shots. Instead, I have scribbled notes such as 'Sinclair timing off' and 'both men abandoned boxing and slugging it out'. Sometimes, these slugfests produce spectacular results as witnessed with Renda-Samuels 1. Not on this occasion.

There were no other explosive fights on this Prizefighter card. The sole knock down was the Flournoy knock down in the final. So, this was not the most explosive Prizefighter and after the Sinclair-Pryce it was a little flat in that regard. With the benefit of hindsight, perhaps it might have been different if the heavy-handed Yassine El Maachi had been added to the card?

However, what the competition lacked in power-punching displays, it partly compensated with the silky boxing skills of Steve O'Meara, who provided a slick master class of excellent footwork, setting up his array of overhand lefts, right leads, uppercuts and jabs to the body whilst making his first opponent Martin Concepcion miss. O'Meara comfortably out boxed Concepcion to make a mockery of the near evens odds that the bookmakers had this fight priced at. O'Meara's semi-final against Flournoy, was a much tighter affair with both men sustaining cuts before the judges finally awarded a split decision in favour of Flournoy.

Overall, the sold-out York Hall crowd, were treated a series of, on the whole, evenly matched fights, with some styles blending better to make better fights than others. As I continued my journey home via the London Underground, changing trains at Monument and walking towards Bank Station, other questions were in my thoughts.

O'Meara v Flournoy over 8 - 12 rounds – who wins that one? Or how about Flournoy v Prince Arron over 8-12 rounds? Maybe Pryce v Sinclair over 8-12 rounds would have given us the explosive fight that we craved? And would Pryce figure out Prince Arron's rangy style over 10 or 12 rounds? Damn. I could have asked him there and then at Bank Station, as I just walked past a seemingly disorientated [as in 'which platform for our train?'] Bradley Pryce accompanied by ex-World Champ Gavin Rees and two other travelling companions.

In a sense, the most recent instalment of Prizefighter highlights that the 3 x 3 round format is actually a good seedbed that will enviably throw up appetisers of match ups that might be better enjoyed over the championship rounds or at a minimum an 8 rounder. Not this is much compensation for those who tune in to see explosive all action duels in this 3 round format. In the meantime, congratulations to Prince Arron. Article posted on 05.03.2010
previous article: Arthur Abraham - Andre Dirrell Interview Highlights
next article: Angelo Dundee: "I thought Muhammad was a dope to be on the ropes"