David Diaz Open Workout Quotes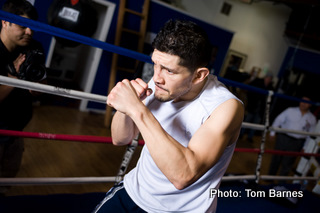 CHICAGO, IL (March 5, 2010) Former World Boxing Council lightweight champion David Diaz held an open workout for fans and media Friday at JABB Boxing Gym in Chicago .

Diaz is finishing preparations for his showdown with Humberto "ZORRITA" Soto for the vacant WBC Lightweight title on Saturday, March 13th at Cowboys Stadium in Dallas, Texas, headlining the pay-per-view undercard of THE EVENT: PACQUIAO vs. CLOTTEY, World Welterweight Championship.

Diaz spoke about the fight with Soto, his preparations and fighting at Cowboys Stadium.

"Soto is a great fighter and has been a great champion. I know he's taller but it's always that way for me, no matter who I fight. This fight is huge for me, it's an awesome opportunity for me to get my title back and bring it back to Chicago.."

"We've prepared very well here in Chicago and I'm ready to go to war against Soto. I've had great sparring with Jose Armando Santa Cruz, Ivan Popoca, Willie Hernandez and Jimmy Herrera. Whatever it takes to win, I'm ready."

"I've seen Cowboys Stadium on TV and it looks amazing, but my focus is on Soto and the fight. No matter where they put the ring, my job is the same. We'll take pictures there the day before, but come fight night it's just the ring and us fighting in it, may the best man win."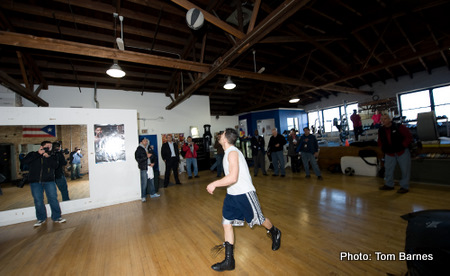 "I'm very excited and very happy and can't wait for March 13th to get here."

Diaz (35-2-1, 17 KOs), of Chicago , is looking to regain the WBC lightweight title he lost to pound for pound king Manny Pacquiao in June 2008. A 1996 U.S. Olympian, Diaz captured the WBC interim lightweight title by knocking out defending champion Jose Armando Santa Cruz in the 10th round of their 2006 rumble. He successfully defend the title against future Hall of Famer Erik Morales in 2007, winning a unanimous decision in one of the year's most exciting fights and sending the three-division world champion into a three-year ring exile. Diaz, currently world-rated No. 7 by the WBC, won his last fight, a 10-round decision over Jesus Chavez.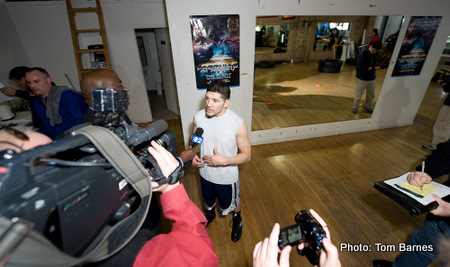 Soto (50-7-2, 32 KOs), of Los Mochis, Mexico, captured the vacant WBC super featherweight in December 2008, winning a lopsided unanimous decision over former WBC interim super featherweight champion and top-rated contender Francisco Lorenzo. Soto successfully defended the title three times in 2009, knocking out Antonio Diaz, Benoit Gaudet and Aristides Perez in a nine-month span, all the more impressive considering they had a combined record of 61-5-1 when he fought them. He enters this fight riding a six-fight winning streak, his most recent victory a December 2009 10-round lightweight unanimous decision over former International Boxing Federation (IBF) lightweight champion Jesus Chavez.

Remaining Tickets to Pacquiao vs. Clottey, priced at $700, $500, $300, $200, $100, and $50, can be purchased in-person at the Cowboys Stadium box office in Arlington , or by calling Ticketmaster at 800-745-3000. Tickets can also be purchased online at www.ticketmaster.com.

The Pacquiao vs. Clottey pay-per-view telecast, beginning at 9 p.m. ET/6 p.m. PT, has a suggested retail price of $49.95, will be produced and distributed by HBO Pay-Per-View® and will be available to more than 71 million pay-per-view homes. The telecast will be available in HD-TV for those viewers who can receive HD. HBO Pay-Per-View®, a division of Home Box Office, Inc., is the leading supplier of event programming to the pay-per-view industry. For Pacquiao vs. Clottey fight week updates, log on to www.hbo.com or www.toprank.com . Article posted on 06.03.2010
previous article: Michael Katsidis-Kevin Mitchell - A Great Fight For Great Britain!
next article: FNF- Martin Honorio scores easy win over Wilton Hilario