'Left-Hook Lounge': Vivek Wallace's Mailbag feat. Pacquiao/Clottey, Arreola/Adamek, Cintron/Williams, and Mosley!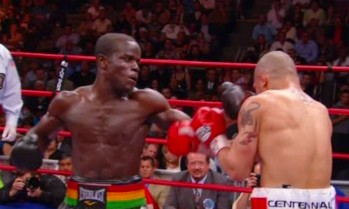 Rob W. (Brooklyn, NY): I'm a little concerned about Pacquiao/Clottey being stopped early due to headbutts. Do you think that the referee will be aggressive and prevent Clottey from doing this?

Vivek W. (ESB): Being a hardcore fan of fundamental textbook fighting styles, I've watched Clottey for years, I've admired his style for years, and I've analyzed his style for years. When it comes to him and headbutting, while I can firmly agree that some fighters do use this method to create an unfair edge, I can truly say that I don't believe that Clottey is that type of guy. When you study his style, the first thing you notice is that his impenetrable defensive posture is literally built on protecting any and every angle that a punch can land; literally everything from his face down to his complete midsection. As a result of this position, he tends to crunch forward, which also solidifies his leg base, serving as a shock absorber when the opponent returns fire, as well. Being that he's always coming forward and always in that defensive posture to pick off shots while doing it, it puts a very active puncher (like Pacquiao) in the way to either be accidentally hit, or accidentally initiate the but themselves..

Do I think it would be intentional if it happens? Absolutely not. Do I think it will happen in this fight? Honestly, I give it an 85% chance. Pacquiao's hyper style paralleled with this type of defensive posture will definitely make for a combustible situation. If you go back and watch the first Morales fight with Pacquiao, this very same scenario played itself out, and it resulted in a headbutt then as well. You can also go back to the Baldomir fight when Clottey took his first career loss as a result of being disqualified for headbutting. In this case, it came while he was clearly ahead on points. If he had that fight in the bag and didn't abandon that style to avoid headbutts then, my money says he won't abandon his defensive strategy in a war like this either. I will say this though....if a headbutt does happen, it'll be interesting to see how Pacquiao handles it, because in my observation, that was when his true problems started against Morales in that particular fight. Clottey is far more dangerous. Guess we'll have to wait and see.

Jason R. (Los Angeles, CA): I read your interview with Joshua Clottey Saturday and I saw him address the possibility of getting another bad decision from the judges. Do you think this is something he really has to worry about?

Vivek W. (ESB): My short answer is yes. To expand on that a bit.....one of the things that Clottey and I have talked about in the past was the uncanny scenario of me being weird enough (for lack of better terms) to publish such an article, only to see fate be freaky enough to actually parallel it by making it happen. It was an intuitive inclination that in a very eery way came to life right before our eyes. While I'd stop short of calling myself an expert in this area, I'd be the first to say that with a big fight against Pacquiao looming and having him actually sitting in the audience that night, there was no way possible that I saw Clottey getting the nod, yet I knew he had the skills to get it done after studying him for so long. Although few writers out there felt compelled to go on this limb with me, I didn't see it as a conspiracy theory to have this vision or speak on it publicly at all. I'm a realist, and I know that this type of occurrence is one of the things I hate the most about the sport I happen to love the most. Granted, some would say he could have done a little more to help fortify that win, but it was my impression (as well as those around me) that he was at least 2 points ahead coming into the last round, so I felt it was academic at that time like he said he did after the fight.

When it comes to that scenario playing itself out again, of course with the Mayweather/Mosley winner looming in the backdrop, many will feel this way like I did, again. But, aside from that, you have to remember that this sport seems to rely heavily on that famous philosophy. The one that states that you have to "take it" from the champion and remove all doubt. Considering that Bernard Hopkins is the ONLY champion I can recall losing his strap in a split decision in recent times, I would have to say that whether we agree with it or not, that philosophy apparently is alive and well. So, no question we have to look at things objectively from all angles, because there are many tough calls that can make this fight a 'tough call'. You have the effective aggression argument - which would undoubtedly go to Pacquiao due to work rate. You have powershots, which could go either way. There are just so many things that could make this a tough win for Clottey without a KO. Bottom line, unless Clottey outright dominates, it's a tough vision for me to see him taking a decision. To play devils advocate for good measure though, the last time Pacquiao fought in March it was a highly contested showdown against another counter puncher (Marquez - 03/15/08). Hopefully this one lives up to the hype - less the drama in the end.

Timor K. (Northridge, CA): How do you see Adamek/Arreola playing out?

Vivek W. (ESB): Honestly, I think it's gonna be a better fight than many think, and I think the outcome will be different from the way many seem to think. Many are looking at Adamek to be the easy winner because Arreola is known for looking less than stellar, (physically), but I'll tell you what, to me, this is a classic example of why we're taught early in life never to judge a book by it's cover. Arreola has one "L" on his record. One. And that came at the hands of a man that had every possible advantage one could have over an opponent. Height, reach, athleticism, stamina, power, you name it. Adamek, on the other hand, is 3 inches smaller, gives up two inches in reach, and is relatively new to the division. The funny thing here is that Arreola comes in with a 86% KO ratio, yet there are people actually saying that they expect him to get KO'd by a fighter with a 65% KO ratio. Sorry to disappoint, but I'm afraid Pacquiao is the only fighter in the sport feared by others with a KO ratio in the 60's. I like Adamek, but the only thing I give him is experience (240 + rounds boxed compared to Arreola's 86). Aside from that, I think Arreola has all other intangibles, starting with a great chin and much greater power at the heavyweight level. I don't know who ultimately wins, but if I had to make a pick right now, I'd have to put my dough on the doughboy! (Pun intended).

Marcos B. (Miami Lakes, FL): Word has it that Cintron and Williams are in talks. Do you think Kermit Cintron has a chance against Paul Williams?

Vivek W. (ESB): I think Cintron has shown great improvement and maturity, but to put it rather bluntly, there's a limit to everything. While I think Cintron's power would be a problem for nearly anyone, when I think of Williams' chin and workrate, I just think that Cintron would have to take two many shots to land that power and frankly, I don't think he'd handle that too well for 12 rounds. I do think it would be a good fight and they'd be quality opposition with name status for each other, but as much as I like Cintron, I just really have a hard time seeing him defeat Paul Williams. If he's able to do it, though, I do think that would be a signature win and it would show that he has improved much since his days against Margarito, the last fighter he fought with a wicked work rate. So, in many ways it's a good gauge for him. I hope the fight is solidified and I hope we get to see it soon. I like both men and would love to see them test their skills against one another.

Leo B. (London, UK): Taking into consideration that his tenure at lightweight was only one fight, all things remaining equal, who would you have liked had a prime Shane Mosley met the Manny Pacquiao that we saw at lightweight against David Diaz?

Vivek W. (ESB): Wow....Now this one is intriguing. I just think it's so very difficult to pick against Pacquiao. At that point he was truly beginning his peak which culminated to what we see in him now. I find it very difficult to choose against Pacquiao, but in his last official fight at lightweight, Mosley was a stunning 31-0, with 29KO's. That says a lot! The odd dynamic here is that Pacquiao is the smaller man that has everyone fearing his power, yet Mosley was a legitimate KO artist at the time, batting a wicked 93%! Ever since that point, when he went up in weigh, his KO percentage dropped 18%, while Pacquiao's has seemed to go up. But, as it relates to the fight itself, I think it's a tough matchup to call because these men are both built on the same foundation.....speed, power, and a warrior-like spirit. It's really hard to go back in time and say who "would have" won, and truthfully, I don't know that there's a way to accurately do that. Both men had pretty solid test to that point in their respective careers, but neither had faced an opponent who was truly like the other. I can't speak for then, but in this era, I still think it has all the trimmings of a good fight. After Mosley defeated Margarito, I felt this would be the best stylistic fight to be made and I think they would still look great against one another. We don't know what the future holds, but a future matchup may very well be a part of it. All both of these two men have to do is win, and that isn't unthinkable. Stay tuned.

(Vivek Wallace can be reached at vivexemail@yahoo.com, 954-292-7346, Youtube (VIVEK1251), Twitter (VIVEK747), Facebook, and Myspace).



Article posted on 01.03.2010
previous article: Will Samuel Peter be able to restart his career against Nagy Aguilera?
next article: Andre Dirrell Looks Forward to a Super Six Showcase in Michigan - Dirrell vs Abraham